Power Rankings: A look at all of IU's scholarship players through non-conference play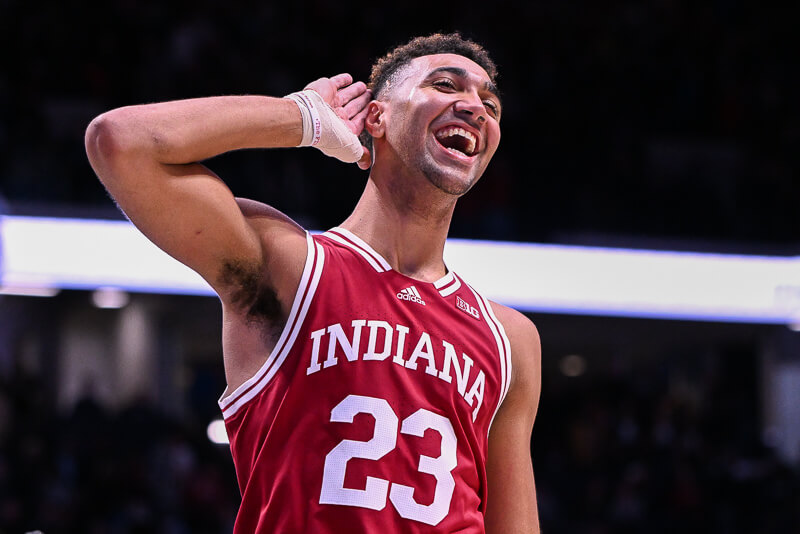 Now that Indiana's non-conference schedule is complete, it's time to examine and rank how all 13 of IU's scholarship players have fared this season.
Here are our power rankings, 13 through 1, of Indiana's scholarship players through the season's first 13 games:
13. Anthony Leal (four games): 0 points per game, 0.5 rebounds, 0.25 assists in 12 total minutes
Leal made national headlines this holiday season when he paid off his sister's student loans with the money he had earned through NIL. The junior also announced a partnership with a real estate company on Dec. 28. The former Indiana Mr. Basketball and Bloomington native has become a fan favorite but is having trouble finding a spot in the rotation. In just four games played, Leal has not attempted a shot. Last year he averaged 10.3 minutes a contest and started twice.
12. Kaleb Banks (10 games): 3.3 points, 0.7 rebounds, 66.7 FG% in 5.9 minutes per game
Banks came into the season as the most under-the-radar freshman. And it was never expected that Georgia product would see significant minutes on the floor this season. However, Banks has been solid in the minutes he's gotten. He's gotten to the line for 20 free throw attempts in just 60 minutes. Banks' ability to stretch the floor and handle the ball is still part of his game he needs to develop, but the future is bright for the 6-foot-7 forward.
11. Logan Duncomb (eight games): 3.3 points, 1.8 rebounds, 75 FG% in 5.8 minutes per game
There's no question that Duncomb has taken a leap from his freshman to sophomore year. And there was talk from his teammates about how much weight he had put on and improved over the offseason. Duncomb still struggles to find consistent minutes due to the talented depth Indiana has in the frontcourt, but when he's played there's been flashes of his talent. Against Elon, the 6-foot-10 center had the best game of his career with 10 points and five rebounds in a career-high 17 minutes.
10. Jordan Geronimo (12 games): 5.2 points, 2.2 rebounds, 53.5 FG% in 13.1 minutes per game
There were a lot of high hopes for Jordan Geronimo this season. Coming in off a great finish to his sophomore year, Geronimo had flashed an ability to stretch the floor, rebound effectively and be a source of constant energy. This season, however, the player fans saw last March hasn't really been there. The junior has struggled shooting from beyond the arc only making two 3s this season. It's been tough for the forward to find minutes while he's shooting poorly and coupled with an inability to handle the basketball, it can clog up Indiana's offense.
9. CJ Gunn (11 games): 2.5 points, 0.8 rebounds, 36.1 FG% in 8.2 minutes per game
Gunn hasn't shot the ball at the clip he's capable of his freshman season, but that doesn't overshadow the impact he's made when he's been on the floor. The Lawrence North product is credited with nine steals and just two turnovers. If anything, Gunn is playing hard and smart basketball and that's all the Hoosiers can ask of him right now. The athletic guard had a career night against Elon as he scored 11 points in 20 minutes. This included a highlight reel dunk, making SportsCenter's top-10 plays.
8. Malik Reneau (13 games): 7.4 points, 3.9 rebounds, 53.8 FG% in 15.2 minutes
Reneau was fantastic to start the season. The freshman scored 10 or more points in four of his first five games in the cream and crimson. Notably, he posted 12 points and six rebounds when the Hoosiers took down a tough Xavier team on the road. But since then, the former top-30 recruit has been having trouble staying on the floor and getting comfortable. Reneau has picked up a team-high 32 fouls this season and it's preventing him from being a consistent post-presence. Indiana will need him to stay on the floor in Big Ten play.
7. Trey Galloway (10 games): 6.2 points, 3.6 rebounds, 1.8 assists, 56.4 FG%, 50 3PT% in 23.6 minutes per game
His teammates and coaches call him "crazy man" for his effort and toughness and that's the kind of player Galloway always will be. This season we've seen Galloway excel at creating transition opportunities and driving to the basket, but surprisingly he's shooting 50 percent from beyond the arc. If that shot can become consistent, Galloway will continue being a sparkplug off the bench.
6. Race Thompson (13 games): 8.4 points, 6.4 rebounds, 47.3 FG%, 27.6 3PT% in 23.8 minutes per game
If you take away Thompson's two biggest outings, which occurred when Trayce Jackson-Davis was sidelined, the sixth-year senior has been inconsistent. Arguably Thompson's most complete game of the season came in Las Vegas against Arizona when he totaled 16 points and nine rebounds while shooting 4-for-7 from beyond the arc. Stretching the floor and making 3s consistently will have to be the key for Thompson and Indiana moving forward. The IU offense flows exponentially better when playing four-out.
5. Miller Kopp (13 games): 9.6 points, 2.2 rebounds, 49.4 FG%, 44.6 3PT% in 26.3 minutes per game
The flamethrower that Miller Kopp has been for Indiana this season is what fans expected him to be last year. There are not many roles the Northwestern transfer can fit into other than being a spot-up shooter. And when he does it well, it's hard to keep him off the floor. Kopp has made 29 3s over the first 13 games. That's already just 10 less than he made in all of last season. On top of his shooting success, Kopp has been a great teammate and a positive presence in the locker room.
4. Tamar Bates (13 games): 9.2 points, 2.2 rebounds, 52.3 FG%, 41.7 3PT% in 22 minutes per game
Bates has propelled himself into the starting lineup after the injury to Xavier Johnson. The sophomore's scoring ability at the guard spot is unique to the rest of Indiana's roster. Most impressively, Bates has been shooting the ball at a high clip from deep and finding his spots in the mid-range efficiently. He's also been showing out leading the break and using his speed in transition. The key for Bates will be scoring consistently on the road and against higher-tier opponents. With Johnson out indefinitely, the Hoosiers will turn to Bates to take on the offensive load.
3. Xavier Johnson (11 games): 9.9 points, 3.3 rebounds, 4.9 assists, 41.5 FG%, 37 3PT% in 25.2 minutes per game
There's no taking away what Xavier Johnson was able to do before his injury. And there's also no question that Indiana will have to find solutions in his absence. The Pitt transfer excelled against Xavier and North Carolina, shooting well and getting to the foul line. Indiana will certainly miss his speed and passing. There's no timetable on when he will be back and in his absence, other Hoosiers are going to need to step forward.
2. Jalen Hood-Schifino (10 games): 10.7 points, 4.5 rebounds, 4.3 assists, 41.1 FG%, 37.9 3PT% in 29 minutes per game
The true freshman point guard is averaging the most minutes out of any player on the roster, but he's making it work. And now as Indiana's only true point guard, Hood-Schifino will have to be consistent in Big Ten play. So far this season, we've seen flashes of his ability to create for himself and others and score effectively. Getting to the rim and being strong toward the basket is where his game needs to improve, but for a true freshman, he's giving Mike Woodson all he can ask for.
1. Trayce Jackson-Davis (10 games): 16.4 points, 8.2 rebounds, 2.8 assists, 2.7 blocks, 63.4 FG% in 28.7 minutes per game
After missing the past two games due to precautionary reasons, Jackson-Davis looks to be getting back in the swing of things as IU starts conference play. His health and productive play must be a crutch Indiana can consistently lean on this season. The All-American continues to be Indiana's difference maker and most obvious point of attack.
Filed to: