The Minute After: Iowa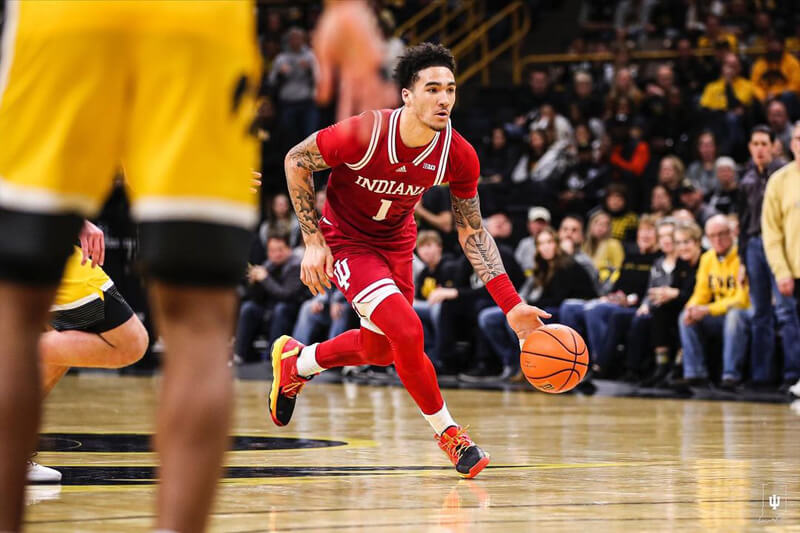 Thoughts on a 91-89 loss to the Hawkeyes:
It appeared the time off had done Indiana good.
The offense hummed to start this one, as Jalen Hood-Schifino dropped some serious dimes and splashed in 3-pointers. Trayce Jackson-Davis moved better after resting his back over the break, scoring through a double-team to start the contest.
Indiana led 22-4, then 27-8. It was about as impressive a start as one can hope for on the road in the Big Ten.
But with 4:27 to go in the first half, Tony Perkins fell on the back of Race Thompson's right leg. Thompson immediately grabbed his knee in pain. He wept as he sat on the floor. When he finally got to his feet, he had to be helped off by his teammates. Another Indiana veteran starter was done for the game on a fluke play … and who knows for how much longer.
After Iowa cut the lead down to five with under a minute to go in the opening half, Indiana ripped off five straight to take a 10-point advantage into the break. But another starter came up hobbled. This time it was Jackson-Davis. After taking a lot of time off and not practicing again until Monday, Indiana's All-American tweaked his back again late in the half. He walked gingerly off the floor at halftime.
On paper, Indiana had a 10-point lead on the road in the Big Ten entering the break. You'll take that 10 out of 10 times. But we've seen the Hoosiers not be able to close these types of road contests in recent years. And beyond Indiana's injury issues, it was also a weird and wild first half with huge scoring runs from both teams, bizarre calls from the officials and a Fran McCaffery technical to boot.
How would the second half go?
Welp, Indiana's defense didn't hold. The Hoosiers allowed Iowa to cook in the second half to the tune of 1.457 points per possession. Iowa hit 4-of-9 (44.4 percent) from deep and 17-of-20 from the line. Indiana didn't have a good answer for Kris Murray and he scored in a variety of ways. Murray pumped in 21 of his 30 points in the second half with Indiana trying several defenders on him. Filip Rebraca popped off for 12 points on 4-of-5 shooting before fouling out late.
After getting down four with 7:33 to go, the Hoosiers strung together some stops, got some buckets and went up by six with 3:42 to go (84-78). Jackson-Davis fought through his back problems and played the entire second half, scoring 16 points after the break in a gutsy performance. Hood-Schifino, in his first-ever road Big Ten game, was terrific (21 points, nine assists and two turnovers). But it wasn't enough. The Hawkeyes ripped off an 8-0 run to take the lead at 86-84 with 2:08 left in the contest.
Despite Indiana not relenting and fighting till the end, it never regained the lead. The Hawkeyes capped off their third-largest comeback in school history. Indiana leaves Iowa City battered and bruised. Mike Woodson cussed incessantly after the game over another head-scratching decision by the officials in the second half.
Without Xavier Johnson and depending on Race Thompson's status, Indiana's defense, which was already showing more cracks than last season, has lost some key pieces. And with its best player clearly not at full strength, the Hoosiers are in a tough spot.
Will this team be able to persevere? Or will it crumble under the weight of the Big Ten season?
(Photo credit: IU Athletics)
Filed to: Iowa Hawkeyes