News and notes from Mike Woodson's radio show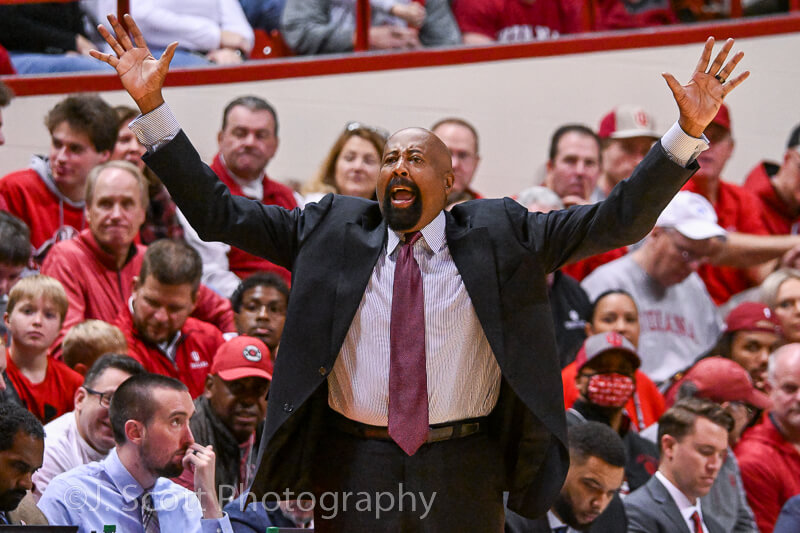 The first "Inside Indiana Basketball with Mike Woodson" of 2023 covered Indiana's last two games in 2022 against Elon and Kennesaw State and previewed the Hoosiers' upcoming game against Iowa on Thursday.
• Mike Woodson said he was "anxiously waiting" for the holiday break to end so the team could get back together and get back to work.
• Woodson said Kennesaw State competed much harder than Indiana did in the first half of the game.
• On Indiana's challenging win over Kennesaw State: "In the second half, we came out and started to play Hoosier basketball, when we got after them defensively and cut their water off from the 3-point line."
• On preventing any more slow starts: "We're going to have to shake the lineup up a little bit, probably, to see if that works."
• Woodson confirmed Tamar Bates will be inserted into the starting lineup and Trey Galloway will come off of the bench.
• On Bates and Galloway's preparation for this scenario: "We trained Tamar and Galloway this summer just for this reason alone, just in case something was to happen with one of the point guards. It's not nothing new."
• Woodson said "only time will tell" as to when Xavier Johnson will be healthy and ready to play, but that Johnson remains in a good mood and is staying positive.
• On filling the hole left by Johnson: "I wish we had someone that would take that role on… sometimes you didn't know what you were going to get, but he played extremely hard… that's going to be kind of hard to replace, but we're going to work through it."
• Woodson said it's his job to get players ready for every game and get them playing at a high level, saying if Indiana can do that, they'll be "competitive enough to win our fair share of games and be in every ball game."
• On Indiana's defense: I think we've had our spurts, our moments when we've been great… when you look at the stats, we're good."
• On Indiana's trouble rebounding: "The rebounding is staggering to me because I just think as big a team as we are, we should be a better rebounding team. And that's something that's got to get better as we start to move through this Big Ten."
• Woodson said the offense has improved from last year to this year, mainly because they've "made the long ball."
• Woodson cited multiple players, including Trey Galloway, Tamar Bates and CJ Gunn, as improved offensively.
• On the team's offense overall: "I feel pretty good about our offense… when you look at the stats, we have a great plus/minus. But when you look at the three teams that we've lost to, we haven't shown up defensively or offensively."
• On the importance of a strong offense in conference play: "The Big Ten will force you to have to make shots."
• Woodson said Iowa's recent struggles don't mean that Indiana can't go in ready to play a full 40 minutes.
• On Iowa's style of play: "They're still playing very fast, they're going to zone press you, they're going to zone trap, they're going to do a lot of things to junk it up."
• Woodson pointed to Kris Murray and Filip Rebraca as two of Iowa's most talented players.
• On Kris Murray's 29-point game against Indiana last season: "He came off the bench and he just destroyed us."
• On keys to playing in the Big Ten: "You can't turn it over, you've got to rebound it, and you've got to get after guys defensively."
• Woodson said Indiana will have to make Iowa go through their half-court defense.
• On improving on rebounding: "It just takes effort and heart to go get a rebound, to put your body on your opponent. You've got to like a little contact, and we've kind of been lacking in that area."
• Don Fischer asked Woodson if Tamar Bates was the most improved player on the team. Woodson said yes, and he's seen it coming since the summer.
• On Malik Reneau's recent struggles: "It's called the freshman blues, I guess. He started out like gangbuster… he has a long way to go, because he's so talented."
• Woodson said Reneau has started to get "bang a little bit more" again in recent practices.
• On Jalen Hood-Schifino: "He takes everything truly serious and he works. He really tries to play at a high level when he's out on the floor, I've just got to get all 17 guys competing like that at the same time."
• Woodson said Trayce Jackson-Davis has been practicing, but both Logan Duncomb and Malik Reneau need to be ready for any "what if" scenarios.
• On CJ Gunn: "He plays hard… he's had some good moments for us and there's a chance that he can play now that X is out…we've just got to gauge it as we go along."
Filed to: Mike Woodson