Carbon copy: Indiana can't finish off Iowa (again)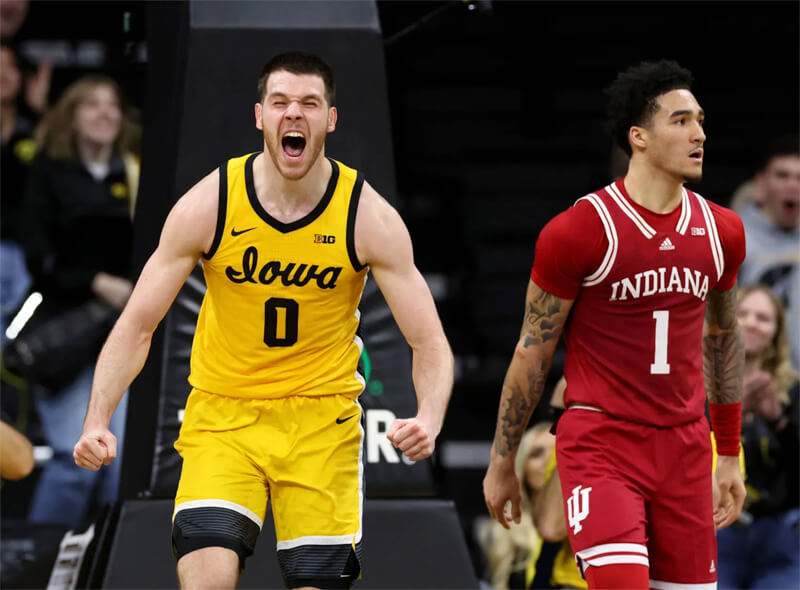 Mike Woodson said it best on Tuesday.
"I harp on last season because the only thing I can really talk about based on my first go around," Woodson said. "You lose two buzzer beaters in Iowa and Rutgers and you lose the big game in Wisconsin when you're up 20. There's about five or six games I could rattle off where we just didn't finish."
Indiana's 91-89 loss at Iowa felt like all of those games were compiled in one and then xeroxed to the point where the original copy doesn't feel so original anymore. The Hoosiers started hot and jumped out to a quick 21-point lead.
Shots were falling, Jalen Hood-Schifino looked like an elite lead guard and the Hoosiers only gave up nine points in the first seven minutes of play. But Iowa's high-powered offense crawled back into the game. By midway through the second half, it felt like deja vu.
The Hoosiers' three losses coming into Thursday were all similar, but what happened at Carver-Hawkeye Arena was reminiscent of last season. The Rutgers, Arizona and Kansas games were where IU didn't have it from the tip, were out-toughed or caught on an off day. Against Iowa and coming off a 13-day break, the Hoosiers simply didn't finish and couldn't give the Hawkeyes the knockout punch.
The chances were there. They were there when Indiana led by 21 in the first half and they were there when Indiana led by six with less than four minutes to play. You can credit Iowa's perseverance, but much of it was a result of Indiana's inability to make key plays when it needed to.
"I still thought we had a shot at it at the end," Woodson said. "You're up six really with three to go on the clock and we can't close it coming out of that timeout. Like an 8-0 run that quick."
The Hoosiers turned the ball over 14 times and gave up 20 points off those turnovers. The Hoosiers also surrendered 13 offensive rebounds to the Hawkeyes. IU shot only 17-of-26 from the free-throw line.
"It didn't help us that we missed free throws," Woodson added. "I mean that's kinda been a thorn in the side man, in close games we have to make free throws. They made theirs and we missed ours."
Offensively, Indiana played some of its best basketball of the season. A limping and hobbling Trayce Jackson-Davis scored 30 points and tacked on nine rebounds. Hood-Schifino posted a career-high 21 points and nine assists. The Hoosiers scored 1.169 points per possession.
Indiana's defense, however, was as bad as it's been all year.
An inability to defend without fouling and poor transition defense proved to be the pitfalls.
How did Indiana give up the big lead? Jackson-Davis pointed out the Hawkeyes' two-two-one defense and how it slowed the Hoosiers' offense down and caused turnovers.
"We need to keep our foot on the gas pedal and keep playing fast," Jackson-Davis said postgame.
Good college basketball teams can win conference games on the road. Since Woodson took over the program, Indiana is 3-10 in Big Ten road games.
Moments like the Thompson injury, the Jordan Geronimo delay of game technical and the late game situation where Fran McCaffery waltzed down towards the Indiana bench and left unscathed without his second technical foul were big. But they weren't the game.
The game was lost in the inability to finish off a team that had just lost three games in a row and was missing one of its top players.
The Hoosiers led for 30 minutes and 59 seconds. Despite this, it never really felt like they were in control. Thursday's loss had elements from last season at Wisconsin, the two Iowa games (Big Ten tournament included), or the Rutgers game in Assembly Hall.
Rinse and repeat. Xerox. Carbon copy. And if Indiana has any chance at living up to its preseason expectations, it can't continue to happen.
(Photo credit: Iowa Athletics)
Filed to: Iowa Hawkeyes, Mike Woodson, Trayce Jackson-Davis