Despite best efforts from Trayce Jackson-Davis, Indiana falls at Iowa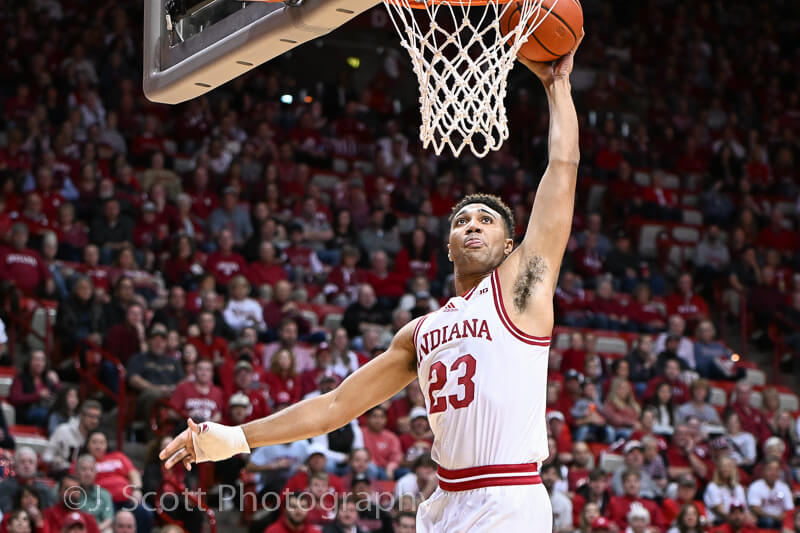 Earlier this week, Trayce Jackson-Davis posted a "fan" letter in which he was told he wasn't a strong leader, played "soft" and the entirety of the Indiana team just simply didn't care enough.
For most of Thursday night, that was not the case.
Jackson-Davis finished the night with 30 points, tying his season-high, to go along with nine rebounds and three assists. And yet, his efforts weren't enough to bring Indiana to victory, as the team suffered a gut-wrenching 91-89 defeat to Iowa at Carver-Hawkeye Arena.
"His game spoke for itself," Mike Woodson said postgame. "The guy tried to do everything to help us win. For a guy who hadn't been playing and hadn't been able to practice, [to] come out and get you 30 and nine, he was pretty damn good for us."
There was some uncertainty surrounding Jackson-Davis's ability to contribute against the Hawkeyes. Earlier in the week in his media availability, Woodson said he would be watching Jackson-Davis' minutes, since he has been having back pain at points during the season.
But in what seems to be the trend for the Hoosiers this season, things didn't go to plan and Jackson-Davis had to do more than he might have expected to. Just over 12 minutes into the first half, Race Thompson collided with a Hawkeye defender and went down hard, suffering a knee injury.
After a few emotional minutes on the floor surrounded by his teammates, Thompson was helped off the court. He returned on crutches with an ice pack around his right knee, and wouldn't play for the rest of the game.
"It's tough, because I thought he got his legs taken from under him," Woodson said. "No call, that's a bad play."
Thompson was a major part of Indiana's game plan in the first half — and part of the reason the Hoosiers were able to jump out to a 21-point lead — as he and Jackson-Davis were both able to work around the Hawkeyes with relative ease.
In 10 minutes on the court, Thompson put up nine points and three rebounds. For further proof of his contributions, when he exited, Indiana was up 30-13. Just minutes after the game restarted, Iowa went on an 11-0 scoring run. Indiana's halftime lead was just 10.
Thompson had also been tasked with guarding Hawkeye star Kris Murray, who ended up finishing the night with 30 points and 10 rebounds after Indiana's defense struggled to contain him without Thompson's presence.
With Thompson out and Malik Reneau continuing to struggle, the onus once again fell on Jackson-Davis to be the main big man. In a game where he wasn't expected to play almost every minute, he did just that, playing for a total of 38 minutes.
And he wasn't at his best.
"He didn't want to come out, and I get it," Woodson said. "He was trying his damndest to help us win it."
At halftime, Jackson-Davis was grimacing and walking with a bit of a limp, holding his back as the team went to the locker room. Jackson-Davis sat out in Indiana's final two non-conference games against Elon and Kennesaw State for precautionary reasons and reportedly hadn't been participating in practices until earlier this week.
"I just basically told him 'you gotta ride me'," Jackson-Davis said. "I felt like my teammates needed me in that moment and they needed me in the game."
While Jackson-Davis' injury didn't appear to impede his playing ability on Thursday, it's no secret that as a team, Indiana is suffering because of injuries. Thompson's exit just further proves that.
Without Xavier Johnson, Indiana is down a playmaker and leader, as up-and-down as his play may be at times. Without Thompson, Indiana doesn't have its second big and a player who can combine with Jackson-Davis to threaten almost anyone. Some of the team's biggest contributors are missing.
"There's nothing you can do about it, it's a part of the game," Woodson said. "All I can do is wish Race and X a speedy recovery and that they get back. But until they get back, other guys have gotta step up and play."
Thompson's status is unknown, but without him on the floor, others have to step up. Jalen Hood-Schifino was the other positive from Thursday's game as he finished with 21 points and a career-high nine assists. But as a whole, there still seems to be something that's simply not clicking for the Hoosiers.
They have a limited amount of time to try to figure out what to fix with a short turnaround before Northwestern comes to Bloomington on Sunday afternoon.
Filed to: Iowa Hawkeyes, Trayce Jackson-Davis