6-Banner Sunday: IU cruises past Morehead State and Bethune-Cookman to open season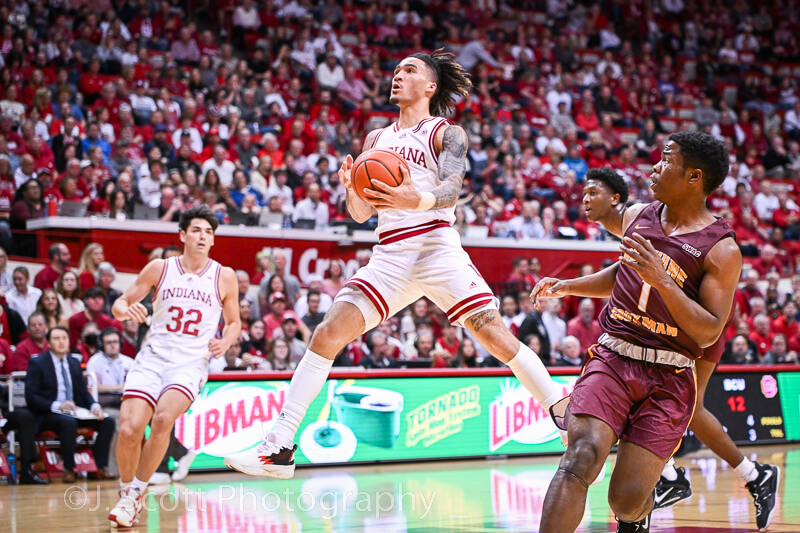 6-Banner Sunday is Inside the Hall's weekly newsletter in partnership with The Assembly Call. More than 9,000 Indiana fans receive the newsletter each week. In addition to appearing each week on the site, you can also opt to receive 6-Banner Sunday by email. A form to subscribe via email is available at the bottom of this week's 6-Banner Sunday.
Welcome to another edition of 6-Banner Sunday, a joint production between The Assembly Call and Inside the Hall where we highlight the five most essential IU basketball stories of the past week, plus take a look at how the other IU sports programs are doing.
The season opened this week for IU basketball. While the competition was not the best, the Hoosiers easily won games against Morehead State and Bethune-Cookman.
Looking into the future, it was national signing day and Indiana officially got its' two 2023 commits into the fold. In preseason news, Andy Bottoms released his first bracketology of the season. Podcast on the Brink and Assembly Call had new shows this week and we will as usual conclude with a look at how other Hoosier sports are doing.
• Indiana handles Morehead State in the season opener
• Hoosiers cruise past Bethune-Cookman with hot shooting
• 2023 commits sign National Letters of Intent
• Andy Bottoms' preseason bracketology
• Podcast on the Brink and AC postgame
• Hoosier Roundup
Banner #1 – Indiana handles Morehead State in the season opener
The most hyped Indiana basketball season in at least a decade tipped off last Monday Night with the Hoosiers pulling out an easy 88-53 win over the Morehead State Eagles. The five-star freshmen showed they will be major contributors this year as Malik Reneau came off the bench to score 15 points and match game-high honors with Trayce Jackson-Davis. Meanwhile, fellow newcomer Jalen Hood-Schifino added seven points and four assists in a starting role. IU's presumed depth also came to fruition as nine players played at least 14 minutes and all 13 athletes on scholarship saw at least some time.
Afterward, Indiana coach Mike Woodson and Eagles coach Preston Spradlin spoke, Inside the Hall had a photo gallery, Ryan Corazza wrote his Minute After and Film Session, William McDermott, and Amanda Foster had stories, and Alex Bozich penned Five Takeaways.
Banner #2 – Hoosiers cruise past Bethune-Cookman with hot shooting
The one potential issue that could hold IU back from reaching its' high ceiling this year is making outside shots. If Thursday was any indication, Indiana has improved in that area as well, knocking down 10 triples in a 101-49 win over the Wildcats. Miller Kopp led the team by making four three-pointers and scoring 12 points. Jackson-Davis led all scorers with 21 points while Jordan Geronimo and Trey Galloway chipped in 11 and 10 points off the bench respectively. The Hoosiers also hit an incredible 21-22 from the line which is an area they have struggled with in the past.
After playing two lackluster opponents, fans will find out how good this IU team is when they face their first major test this Friday at 6 p.m. ET in Cincinnati against Xavier on FS1. The Musketeers are coached by Sean Miller who is the brother of recent Indiana coach Archie Miller.
After the Bethune-Cookman contest both Woodson and Wildcats coach Reggie Theus spoke, ITH had their photo gallery, Corazza wrote his Minute After, and Film Session, Bozich penned Five Takeaways, and Foster wrote a feature on Kopp.
Banner #3 – 2023 commits sign National Letters of Intent
While they have been committed to IU for a long time, it became official that Gabe Cupps and Jakai Newton would join the team when they signed their letters of intent for 2023 on Thursday. Together the duo makes up the No. 29 class in the country by 247Sports. Cupps is ranked as high as No. 88 by various recruiting services (ESPN), while Newton's highest ranking is No. 64 (Rivals).
With several players expected to graduate or move onto the pros, Indiana may look to add a few more guys to the class in the spring via a late signing or the transfer portal.
Banner #4 – Andy Bottoms' preseason bracketology
The Hoosiers expected success this season should make tracking bracketology much more fun for their fans. After five straight years well outside of March Madness and then a sixth of barely squeaking in, IU should project for a high seed for all of the 2022-2023 campaign.
Assembly Call's own Andy Bottoms is a highly rated bracketologist and put out his first projections for Indiana and the rest of college basketball. He has IU as a four-seed in the Louisville region starting in Albany against 13-seed Towson. Bottoms' projection will excite Hoosier supporters everywhere as they would be targeted for a Sweet 16 matchup with Kentucky if everything held to form.
Banner #5 – Podcast on the Brink and AC postgame
Podcast on the Brink had a new episode with guest Matt Cox of the 3-Man Weave to discuss the upcoming IU season. Also, the Assembly Call postgame had shows after each game this week.
Finally, Doing The Work had a new episode this week about women's basketball to discuss the victories over Kentucky Wesleyan in the exhibition game last week and the season opener against Vermont on Tuesday. The team beat UMass Lowell on Friday and signed their recruiting class for 2023. The Hoosiers head into the year with lofty expectations and are highly ranked again. Foster had a column discussing the improved depth and 3-point shooting. IU faces a top-five Tennessee team on the road tomorrow (6 p.m. ET ESPN2) in their first major test.
Banner #6 – Hoosier Roundup
• Men's soccer seemed out of the running for a top-16 seed and bye in the NCAA tournament as of last week. However, an upset over Maryland on Wednesday in the conference tournament puts them in contention for one of those coveted spots. The team plays Rutgers for the Big Ten Championship at noon today on BTN in Piscataway. Regardless of the outcome, IU will head to the NCAA Tournament for the 37th consecutive season. The selection show is tomorrow at 1 pm on NCAA.com
• Football was overwhelmed by Ohio State.
• Volleyball fell to highly ranked Wisconsin and Penn State in hard-fought matches this week.
• Cross Country ran at regionals with three advancing to the national championship.
• Wrestling competed at the Maryville Invitational.
• Men's Tennis competed at the Big Ten Individuals and signed a recruit.
• Women's Tennis announced the signing of their recruiting class.
• IU golfer Drew Salyers was named a candidate for the golfer of the month following a terrific October. The team as a whole signed their upcoming recruiting class.
• Women's golf signed their recruiting class.
Thanks for your continued support for The Assembly Call and Inside the Hall. We'll be back next weekend with a new roundup.
Now go enjoy yourself a 6-banner Sunday.
Aaron (Ari) Shifron
Assembly Call Contributor
Filed to: