Five takeaways from Indiana's win against Morehead State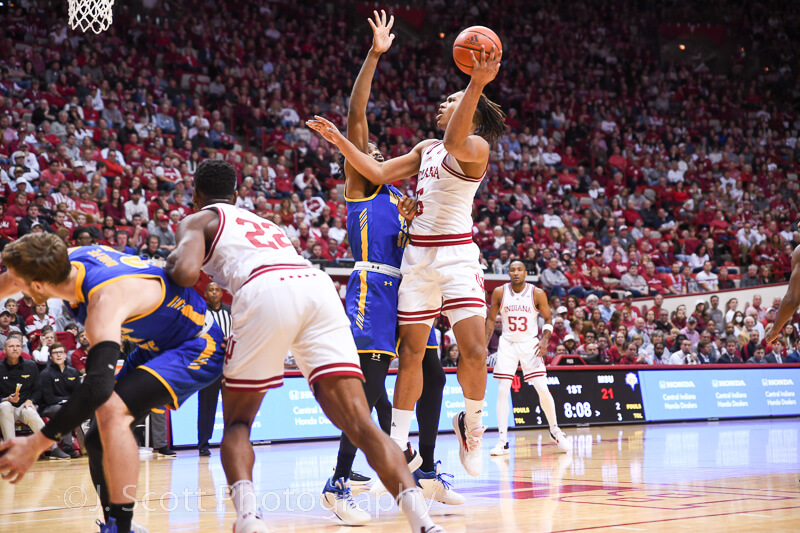 Indiana opened the 2022-23 season with a comfortable 88-53 win against Morehead State on Monday at Assembly Hall.
Here are five takeaways from the win against the Eagles:
Indiana's frontcourt dominates
Indiana has one of the top frontcourts in the Big Ten and had little trouble dominating in the paint Monday night.
The Hoosiers outscored Morehead State 52-18 in the paint and shot a scorching 66.7 percent on 2s. It was a well-rounded effort, too.
Trayce Jackson-Davis, who continues to wear a wrap on his right wrist, had 15 points in 23 minutes. Freshman Malik Reneau, who isn't playing like a newcomer, added 15 points of his own. Jordan Geronimo was the third frontcourt player in double figures with 10 points while Race Thompson added nine points.
Indiana's frontcourt won't be challenged until a week from Friday at Xavier, but the Hoosiers look to have the depth necessary to compete with any opponent on the schedule.
3-point volume remains low in the opener
Last season, Indiana ranked just 324th nationally in point distribution from 3-pointers.
Monday's season-opener saw Indiana attempt only 11 3-pointers, which was brought to Mike Woodson's attention in his postgame press conference.
"Make no mistake about it, our strength — and this is no knock against them — we were a bigger team," Woodson explained postgame. "Our strength is playing inside out. I mean, it's no secret. I'm not trying to hide that."
Indiana is unlikely to morph into a team that hoists a large volume of 3-pointers, but the Hoosiers need to be able to make the clean looks they do get more consistently than a season ago.
On Monday, Indiana connected on four of its 11 looks from distance with three different players making a triple. Miller Kopp made both of his attempts, Race Thompson went 1-of-3 and Tamar Bates went 1-of-3.
Free throw shooting worrying to Woodson
While Woodson said he wasn't bothered by Indiana only taking 11 3-pointers, the porous free throw shooting was a different story for Indiana's second-year head coach.
The Hoosiers shot only 12-of-21 from the line in Monday's win, a mark of 57.1 percent. Last season, Indiana ranked 233rd nationally in free throw percentage.
There's plenty of time for Indiana to improve from the stripe, but Woodson iterated that it's "bothering him" that his team is missing free throws.
The numbers through the two exhibitions and regular season opener suggest Woodson has reason to be concerned. Through its first 120 minutes of basketball this season, Indiana is only 29-of-48 from the free throw line (60.4 percent).
Indiana dominates defensively over final 31 minutes
Morehead State kept pace with Indiana for the first 10:43, but the Hoosiers clamped down defensively over the game's final 31 minutes.
Indiana allowed just 53 points in its lopsided victory and Morehead State scored only .74 points per possession.
The Hoosiers defended without fouling, didn't allow many points in the paint and forced a high volume of turnovers.
Indiana only committed 12 fouls and four of them were on Reneau. Morehead State took only 24 2-point attempts compared to 30 3-point attempts. That showed how uncomfortable the Eagles were trying to get into the paint against Indiana's length and athleticism. And 21 Morehead State turnovers turned into 29 points for Indiana.
Foul trouble limits Xavier Johnson's minutes
It was mostly a night to forget for Xavier Johnson on Monday.
Johnson picked up his second foul at the 9:17 mark of the first half, which forced him to the bench. With Johnson in foul trouble, Jalen Hood-Schifino ran the point guard for the second unit for a good part of the night and logged 27 minutes.
"A lot was that was because X got in foul trouble," Woodson said. "In the St. Francis and Marion game, X was carrying the blunt of the second unit. I kind of want X in with the second unit because he's been around a lot longer than Fino.
"I think he can run our ball club, so the fact that he got in foul trouble early, you know, it gave Fino a chance to play more minutes with the second unit, which he can play with any unit. Both of them can."
Johnson finished with four points, three assists, two turnovers, one rebound and a steal in 20 minutes.
Filed to: Malik Reneau, Morehead State Eagles, Trayce Jackson-Davis, Xavier Johnson