"We feel like we have 10 starters": Indiana's bench shines in win over Morehead State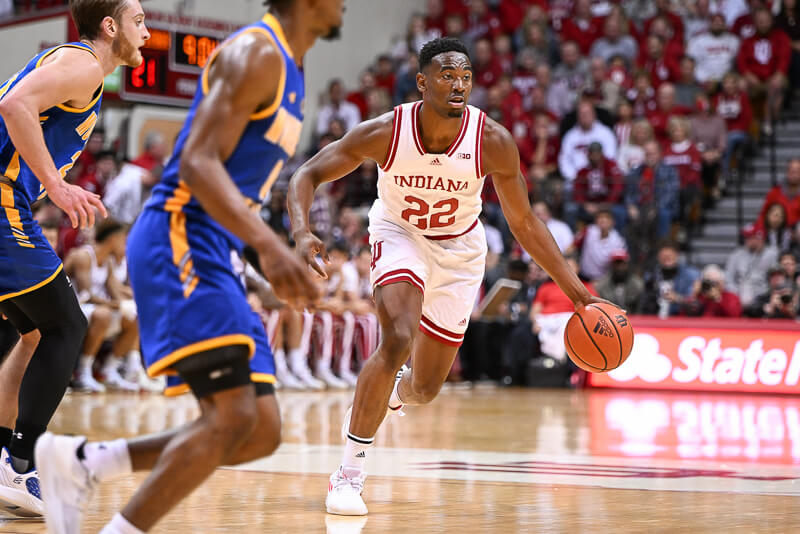 After a quick 14-6 start against Morehead State in the season opener on Monday night, Indiana's starters found themselves in a one-point hole after an 11-2 run from the Eagles.
Rather than sticking with the starters and more experience, Mike Woodson went to his bench to change the momentum.
Tamar Bates had a backdoor cut off a pass from Malik Reneau which led to a dunk. Indiana then forced a turnover and Bates banked in a deep 3-pointer from the left wing as the shot clock expired.
Just like that, the Hoosiers were back in business. Indiana's bench went on a 16-4 run in just over seven minutes of play.
But it wasn't just Bates who shined in IU's dominant 88-53 regular season-opening win over Morehead State. The entire Hoosiers bench showed out with 45 points.
In a game where 14 players saw the court, it wasn't one individual performance that filled the stat sheet. Seven Hoosiers scored more than seven points.
Leading the bench was Reneau who tied the team-high of 15 points in just 17 minutes. Jordan Geronimo and Bates weren't far behind as they tallied 10 and nine points, respectively.
The bench unit led by freshman guard Jalen Hood-Schifino predominantly consisted of Trey Galloway, Bates, Geronimo and Reneau. That lineup has three former top-30 recruits and a pair of upperclassmen in Geronimo and Galloway.
Geronimo and Galloway's experience paired with the surging talent from Reneau and Hood-Schifino is competed by a confident scorer in Bates. It is arguably the most talented bench unit Indiana has had in several seasons.
"As a team, we feel like we have…10 starters, 11 starters, 12 starters," said Race Thompson postgame. "When that second group comes in, there should be no drop off."
The best part of it all for IU? Each player provides something different.
Geronimo can fly toward the ball for rebounds and stretch the floor. Hood-Schifino — who had four assists Monday night — can facilitate at a high level for a freshman. Galloway is a pest on the defensive end and attacks the rim. Bates can score confidently from all three levels and uses his speed well in transition. And Reneau's talented footwork gives the Hoosiers a reliable post option against backup big men. All of this was on display against the Eagles.
The best attribute of this lineup according to Mike Woodson? Size.
"Well we're big," Woodson said postgame. "That's a big lineup… as a coach I'm still learning and you'll see a lot of different lineups based on the talent we have. All I'm telling our guys is 'just be ready to play'."
Size and chemistry were to Indiana's advantage against Morehead State as the Hoosiers outscored the Eagles 52-18 in the paint and had 16 assists.
"In the summer we all play with each other, pickup a lot and I feel like that allows us to know each other's game," Geronimo explained postgame.
Pickup basketball might help with chemistry but the bench's big run in the first half was led by Indiana's "staple," its defense. Indiana forced 21 turnovers and held the Eagles to 37 percent shooting.
It felt as if there was a noticeable difference in energy when the bench unit was in the game. Reneau was yelling after and-ones and staring down Eagles after blocked shots. Bates showed energy on the defensive end, causing a traveling violation and showed emotion afterward. There just seemed to be more fight.
"Well, we are deeper this season than we were last season," Woodson said. "I like everything about our freshmen because they're competitive… we're longer, we're more athletic than we were last season. That helps in the college game, I think."
Athleticism and length might be the biggest difference on paper when comparing last season's roster to this season. A roster that some wondered might be too similar to last season if the Hoosiers are to make a big leap. IU's bench has proved that point wrong so far.
It will take some time and some more competitive games for Woodson to kink out the rotation, but it's not too early to say that IU's depth will be a key factor throughout the winter.
Filed to: