In a game showcasing its strengths and flaws, a crazy environment helps carry Indiana in season opener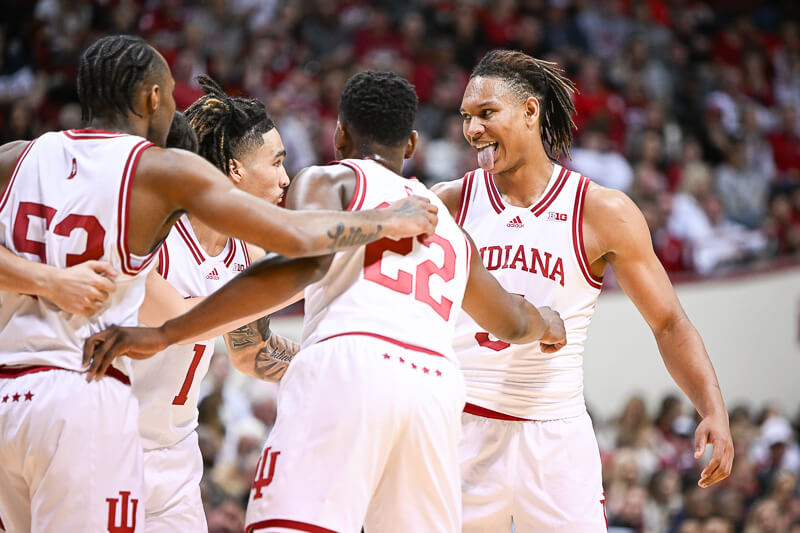 The environment in Simon Skjodt Assembly Hall on Monday night was, without a doubt, unlike any other season opener in recent memory.
Honing in on a specific opposing player to torment with boos every time he touched the ball or incessantly chanting "airball" are measures typically taken by Hoosier fans when teams like Purdue or Wisconsin come to town. These measures aren't typically present against an opponent like Morehead State, and not in the first game of the season.
But in a fashion similar to most of the other hype around Indiana men's basketball, the energy for the first game of the 2022-23 basketball season exceeded expectations. An environment reminiscent of a late-February conference matchup for a team expected to succeed in those big games just added to the spectacle that is Indiana basketball.
As much energy was invested into shaming Morehead State, even more was put into cheering for the Hoosiers in their 88-53 victory. It took until the second half for the full arena to succumb to the desire to use their lungs to the fullest extent, but for good reason.
The first half was rocky for Indiana, who struggled to set up solidly on defense and seemed flustered and out of rhythm at times. After an 8-0 run and some back-and-forth play, Morehead State was able to knot things up at 21 with just under 10 minutes left in the first half.
But thanks to the Hoosiers' second unit coming in off the bench and a series of high-intensity plays, Assembly Hall was set up to rock heading into the second half with a comfortable 41-29 lead.
"Everybody had a little bit of nerves coming into the first game," Race Thompson said. "(The) crowd really showed out and it was a lot of fun."
Slam dunks ensued, featuring performances from Thompson, Trayce Jackson-Davis, Jordan Geronimo and Tamar Bates. What few 3-pointers there were — four, to be specific — were met with some of the loudest cheers of the night.
Indiana fans have longed for some time to see Miller Kopp hit those elusive 3-point shots, the ones he is expected to make at this point in his career, and the ones he needs to make to stay on the floor.
So when a transition from one of the smoothest blocks Jackson-Davis has ever put up led to Kopp's first 3-pointer of the season, Indiana entered a timeout backed by thunderous roars.
Kopp made another just minutes later, prompting cheers matching the decibel reached just minutes before. Overall, Indiana finished 4-of-11 from beyond the arc, revealing continued hesitation to take those 3-point shots, which it will need to be successful this season.
And while Hoosier fans weren't comfortable with cheering for their own players' mistakes, they didn't hold back when it came to Morehead State. As easily riled up as any player on the court, the Hoosier faithful honed in on Eagles guard Jake Wolfe after he shushed the crowd following a successful shot.
Wolfe, who finished with 9 points on 4-of-8 shooting, was met with boos and jeers every time he put a hand on the ball — even when passing to a teammate. Wolfe missed several shots amid the jeers, and fouled out of the game in the final two minutes.
But then again, that's just basketball.
"It's what college basketball's all about," Morehead State's head coach Preston Spradlin said about Monday night's environment. "You want to play in these environments. It's what all of these players — for Indiana and Morehead both — dream about."
Indiana fans did their job as well as the players on the court did. In a game showcasing the best and worst parts of Indiana's team, the fans did exactly what they do for every game, every season.
Groans spread through the crowd during the night with missed free throws, errant passes and some offensive and defensive miscues, and justifiably so. But with strong performances from freshmen and other bench players, the fans had much more to cheer for than they did to be upset at.
And at the end of the day, Indiana is 1-0 and that's reason enough for fans to be pleased.
Filed to: