"He's put in the work": Miller Kopp's offseason training shines in Indiana's win over Bethune-Cookman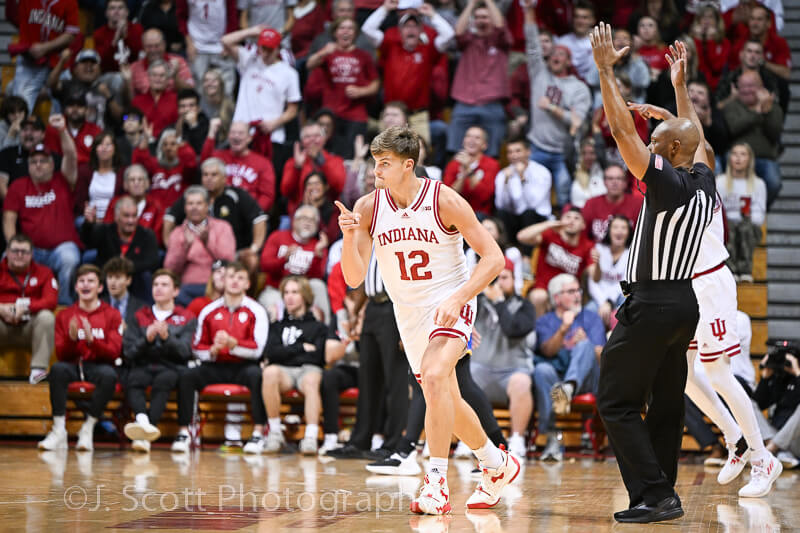 "All Miller Kopp has to do is stand in the corner and shoot the ball."
This was a common refrain from Indiana fans last season. Kopp, in his first season in Bloomington after transferring from Northwestern, ended the 2021-22 season shooting 39-of-108 from beyond the arc. Some viewed Kopp as a disappointment offensively.
There came a point in the season where fans would groan when he took a shot from deep because no one knew what the outcome would be. Questions abounded as to whether or not he should start for Indiana or have his role reduced.
It appeared those comments found their way back to their intended recipient when over the summer, Kopp made it clear via social media that he was diligently putting in work to improve.
Posting about his workouts, routines and everyday life gave fans an inside look into what he was working on and how he went about doing so.
"All Miller Kopp has to do is stand in the corner and shoot the ball."
Entering the 2022-23 season, the mantra is the same. But it's also different. The exasperation, the frustration in the intonation of the words is gone. Now, there is hope for what Kopp could be for this Indiana team.
With the arrival of Jalen Hood-Schifino, the idea was that multiple players being able to get in the paint would take some of the pressure off Kopp, allowing him to set up in the corner and get ready for the pass.
In Indiana's two exhibition games and season opener against Morehead State, Kopp shot four 3-pointers. And while the Hoosier faithful cheered wholeheartedly with each one, Kopp's output was similar to last season.
Thursday night, expectations were certainly met — if not exceeded. Indiana's 101-49 victory over Bethune-Cookman had many highlights, perhaps the biggest being the 3-point shooting.
Kopp finished with 12 points which were second highest on the team behind 21 from Trayce Jackson-Davis. All of Kopp's points came from beyond the arc as he shot 4-of-6 from distance.
"You always want to shoot better, you can always dribble better, you can always just be better," Kopp said. "Going into the offseason (it) was big for me just focusing on getting reps."
Those four 3-pointers were the most made by any player in Thursday's game. The first time Kopp got the ball, he let it fly immediately. That marked improvement from Monday's game against Morehead State when he appeared hesitant.
And while he missed that first shot on Thursday, it would be the only one that failed to fall until Kopp's final attempt of the night.
"It's very nice because he's put in the work," Mike Woodson said about Kopp's success. "He's put a lot of time this summer shooting the basketball. And when we all got together, he was making them in practice. So I'm not shocked that he's making them now in the game."
Kopp looked prepared each time he got the ball, with a cleaner shot and so much confidence he didn't even stick around to watch the shot fall. The key to that success? A mixture of hard work and a good mentality.
"I did a lot of work on my golf swing this summer, and tried to get outside and get tan a lot," Kopp said. "If you look at the best basketball players, they all — Michaell Jordan, Steph Curry — they all are great golfers too, so I think that helped."
Another aspect of the game that was notable? The contributions Kopp's teammates made from beyond the arc. As a team, Indiana made 10 3-pointers on 24 attempts. Trey Galloway made two, and Xavier Johnson, Malik Reneau, Jordan Geronimo and Tamar Bates each connected once.
After shooting only four 3-pointers on 11 attempts against Morehead State, Indiana looked more confident from beyond the arc against Bethune-Cookman.
Kopp won't continue shooting at a 75 percent clip, but through two games, he's more confident than last season. That improved confidence coupled with teammates who appear capable of making of perimeter shots has Indiana set up well going forward.
Filed to: Miller Kopp