Five takeaways from Indiana's win against Bethune-Cookman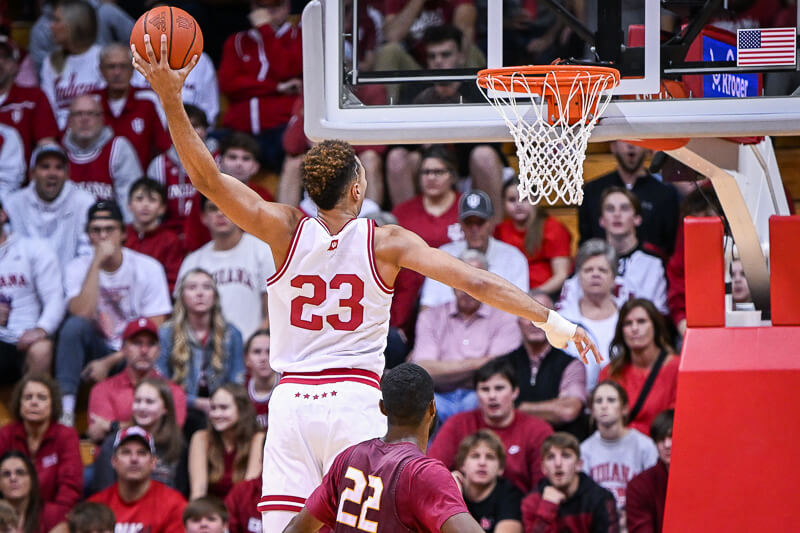 Indiana improved to 2-0 on Thursday with a 101-49 win against Bethune-Cookman at Assembly Hall.
Here are five takeaways from the win against the Wildcats:
Another dominant performance from Trayce Jackson-Davis
The competition level hasn't been stiff, but Indiana's preseason All-American is off to a strong start as a senior.
Jackson-Davis followed up a 15-point, seven-rebound night against Morehead State with an even more productive night against Bethune-Cookman.
The Center Grove product scored a team-high 21 points and grabbed six rebounds (all offensive) and dished out two assists in 21 minutes. Over Indiana's first two games, Jackson-Davis is shooting 71.4 percent from the field and 75 percent from the free throw line. He's yet to commit a turnover.
Most importantly, the ease at which Indiana won its first two games allowed Mike Woodson to limit the minutes of Jackson-Davis. He's logged only 44 minutes over two games and should be ready for heavy minutes when the Hoosiers travel to Xavier next week for a Gavitt Tipoff Games matchup.
3-point shooting helps propel Indiana's offense
Indiana only attempted 11 3-pointers in Monday's season opener against Morehead State. On Thursday against a Bethune-Cookman team that played a lot of zone defense, the Hoosiers had the opportunity to attempt more shots from the perimeter.
Six different players connected on a 3-pointer and Indiana finished the game 10-of-24 from distance. The hot 3-point shooting was a major factor in Indiana posting 1.416 points per possession in a 52-point beatdown.
The most notable individual performance came from Miller Kopp, who went 4-of-6 and is now 6-of-8 on 3s in 40 minutes this season.
Through two games, Indiana is shooting 40 percent on 3s, which ranks 63rd nationally. Expecting Indiana to maintain that percentage from distance is unrealistic, but the early results have been encouraging.
Free throw shooting improved from opener
Woodson admitted postgame following the Morehead State that he was bothered by Indiana missing seven free throws.
Thursday's performance allowed Woodson to sleep a little easier. Indiana shot 21-of-22 from the line.
"We've been shooting a lot of them, I know that," Woodson said postgame. "Nobody wants to go up and miss free throws. I think it's a mental thing, man. I mean, somebody gives you free throws, you've got to take advantage of it.
"I thought tonight, everybody, our focus and concentration level was high, and we stepped up to the line, and we made them."
Free throw shooting is a key area for Indiana to improve this season. The Hoosiers ranked 233rd nationally last season from the line at 70 percent. Through two games, Indiana is connecting at a 76.7 percent clip.
Indiana dominates in transition
Thursday's game wasn't played at an extraordinary pace, but Indiana capitalized on the opportunities it had in transition.
The Hoosiers scored 33 fast-break points compared to only three for Bethune-Cookman. Indiana shot 13-of-20 on layups and 7-of-7 on dunks.
A big reason for those numbers was the play of point guards Xavier Johnson and Jalen Hood-Schifino. The duo combined for 14 assists. Despite shooting just 2-of-8 from the floor, Indiana was +34 with Hood-Schifino on the floor.
"The short period that I've been in college as a coach, I truly believe you've got to have good point guard play and perimeter play to win at a high level," Woodson explained postgame. "Just watching teams and the great teams from last season and it just seems to win every year at a high level, they've got good perimeter players and good guards out front."
The sample size is small, but the upgrade to Hood-Schifino from Parker Stewart and Rob Phinisee is significant already for Indiana.
Indiana posts another strong defensive effort
Despite starting slow in each of its first two games, Indiana has been as advertised defensively through 80 minutes.
The Hoosiers allowed only .739 points per possession against Morehead State and then only .687 against Bethune-Cookman.
Through Thursday's games, Indiana has the nation's fifth-best defense according to KenPom.
"Our defense was solid last year," Woodson said. "And it's been a nice carryover into this early season."
The defense will be tested in a week when the Hoosiers travel to the Cintas Center to take on Xavier. The Musketeers are projected to have a top-35 offense nationally, according to KenPom.
In the season opener, Xavier scored 96 points against Morgan State and will play two more games before hosting Indiana on Nov. 18.
Filed to: Bethune-Cookman Wildcats, Jalen Hood-Schifino, Trayce Jackson-Davis