The Minute After: Morehead State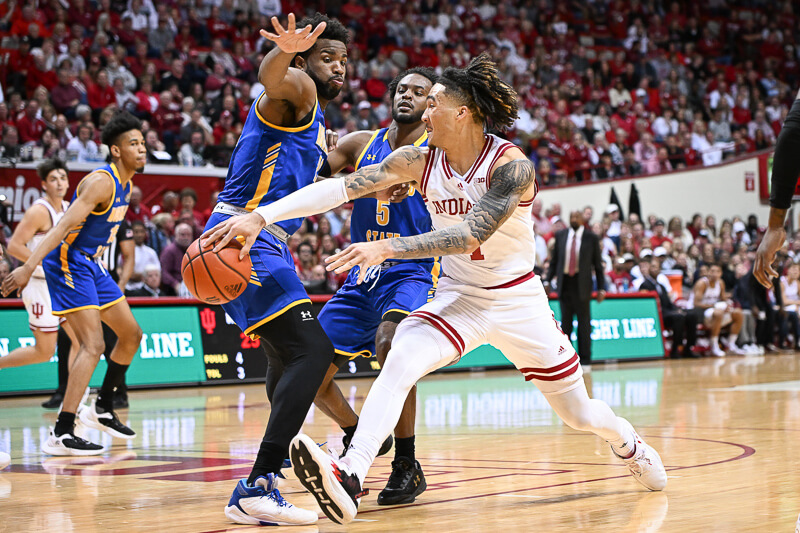 Thoughts on an 88-53 win against the Eagles:
After two blowout wins for the Hoosiers in their exhibition slate, they kept things rolling tonight in their season opener. Morehead State tied it up at 21-all with 9:17 to play in the first half, but after that Indiana closed out the contest on a 67-32 run, en route to a 35-point drubbing of the Eagles.
Mike Woodson gave his bench some healthy run in the first half (as well as late in the game with it put away), and tonight's offensive numbers show a balanced attack. Trayce Jackson-Davis (6-of-11) and Malik Reneau (6-of-8) led the way with 15 points each. Jordan Geronimo was the only other Hoosier in double-digits with 10 points on 5-of-7 shooting. But a whole host of others were knocking on the door. Tamar Bates and Race Thompson each had nine points. Miller Kopp added eight. Jalen Hood-Schifino had seven.
Indiana's defense dominated as it held the Eagles to just .74 points per possession and turned them over on 29 percent of their possessions. The Hoosiers turned those miscues into 29 points with 16 coming via the fast break. The Hoosiers continue to show strength playing more uptempo and in transition this season.
And yet, it was not a flawless regular-season debut. For the second straight contest, the free-throw shooting left plenty to be desired. Indiana started the contest 1-of-7 from the charity stripe. By game's end, the team converted on only 57.1 percent (12-of-21).
"I just don't like the thought that we're missing free throws," Mike Woodson said after the contest. "That's really bothering me as a coach."
Xavier Johnson continues to try and find some footing. Indiana's starting point guard is still playing a little too sped up at times and got into a bit of foul trouble in this one. He scored four points, dished out three assists and had two turnovers in 20 minutes of action.
Indiana shot just 1-of-4 from 3-point range in the first half, its only make coming on a banked-in one from Tamar Bates. Things evened out in the second half, as Indiana found Miller Kopp who banged home two looks from deep. Race Thompson also made one after the break. So the Hoosiers settled at 4-of-11 for the contest, good for a solid 36.4 percent. Woodson attributed the lack of attempts to Indiana's size advantage.
"Make no mistake about it, this is no knock against (Morehead State), we were the bigger team," he said. "Our strength was playing inside out."
Fair. Indiana dominated in the paint tonight, outscoring the Eagles 51-18 in that category. Morehead State also jacked up a ton of 3-pointers (9-of-30) in this one to try and keep pace with Indiana, further emphasizing the lopsided nature of paint points between the two teams.
All and all, this Indiana team is showing it's got more dynamism, versatility, depth and talent in year two of the Woodson era.
Still, when the competition improves, a poor night at the free-throw line could be the difference between a victory and a loss. So far, the Hoosiers haven't proven they've shaken that bugaboo yet.
Filed to: Morehead State Eagles