6-Banner Sunday: IU falls to .500 in Big Ten play with losses to Northwestern and Michigan State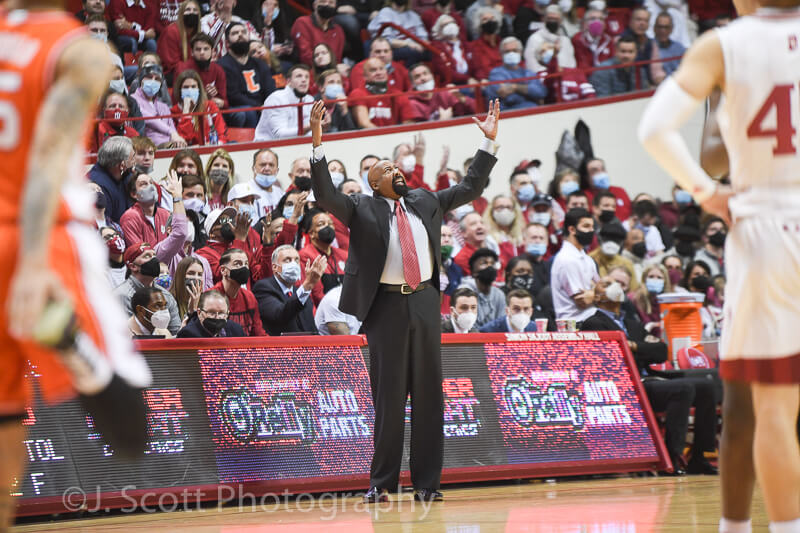 6-Banner Sunday is Inside the Hall's weekly newsletter in partnership with The Assembly Call. More than 9,000 Indiana fans receive the newsletter each week. In addition to appearing each week on the site, you can also opt to receive 6-Banner Sunday by email. A form to subscribe via email is available at the bottom of this week's 6-Banner Sunday.
Welcome to another edition of 6-Banner Sunday, a joint production between The Assembly Call and Inside the Hall where we highlight the five most essential IU basketball stories of the past week, plus take a look at how the other IU sports programs are doing.
It was the worst week of the season to date for the Hoosiers as two losses and off-court troubles have IU fans fearing a similar collapse in February that has occurred the last several years in a row. Off the court, Alex Bozich had his weekly power rankings and Andy Bottoms' bracketology examines where the Hoosiers tournament hopes lie before the turbulent last few days. Also, Inside The Hall and Assembly Call had their normal weekly shows. We will as always conclude with a look at how other IU sports are doing.
In a bit of brief news, former Hoosier Romeo Langford was involved in a trade that sent him from the Celtics to the Spurs.
Also, IU's game against Ohio State was moved from Saturday, February 19 to Monday, February 21 to accommodate the Buckeyes need to reschedule a previously postponed game against Iowa.
• Shorthanded Hoosiers fall at Northwestern
• IU dominated by Michigan State
• Inside The Hall Power Rankings
• Andy Bottoms' Bracketology
• Podcast On The Brink and AC Radio
• Hoosier Roundup
Banner #1 – Shorthanded Hoosiers fall at Northwestern
The turbulent week began for IU before the game against the Wildcats even tipped off. Shortly before the contest, it was announced that five Hoosiers players were suspended (for what IU coach Mike Woodson later referred to as a curfew violation) for the game. This left the Hoosiers with just seven available scholarship players for the contest. Despite a very pro-IU crowd in Evanston and an early lead, a second-half run by Northwestern powered them to a 59-51 victory.
Afterward, Woodson spoke, Ryan Corazza had a Minute After and Film Session, Bozich penned Five Takeaways, and Grace Ybarra had a piece on the suspensions.
Banner #2 – IU dominated by Michigan State
In a script relatively similar to the Illinois game last weekend, IU hung close for about 30 minutes before a more talented Spartans team pulled away late for a 76-61 win despite the return of the suspended players. With the loss, the Hoosiers are now 7-7 in league play and 16-8 overall and suddenly find their NCAA Tournament hopes teetering a bit.
Afterward, Woodson spoke, Corazza had his Minute After, Tyler Tachman wrote Five Takeaways, and Ybarra had a story about the defeat.
Banner #3 – Inside The Hall Power Rankings
At the beginning of last week, Bozich published his Power Rankings of all 14 Big Ten teams.
The Hoosiers placed seventh before their two defeats this week. The leader on the list was Illinois, followed by Purdue. Nebraska continues to be at the very bottom, although they did pick up their first win of the conference season later in the week against a struggling Minnesota team.
Banner #4 – Andy Bottoms' Bracketology
In light of IU's three-game losing streak, many Hoosier fans are now very nervous the team could play themselves out of the NCAA Tournament with another late-season fade. If the season ended today IU would be in, but the Hoosiers still have six conference games left and probably need to win at least half of them to punch their ticket for the first time in six years.
Andy Bottoms' Bracketology which was published before IU's losses this week had them as an eight-seed taking on nine-seed Seton Hall in Greenville S.C. in the Midwest region. A victory would most likely face them off with top-seeded Auburn in the second round.
Other Big Ten teams in the field according to Bottoms are Illinois, Iowa, Michigan State, Ohio State, Wisconsin, and Purdue,
Banner #5 – Podcast On The Brink and AC Radio
Despite the rough week on the court for the Hoosiers, both Inside The Hall and Assembly Call had their normal shows this week.
POTB had the Sporting News' Mike DeCourcy on following the defeat to the Wildcats. Assembly Call meanwhile, had a busy week. AC Radio was published on Thursday, as well as postgame shows after the Northwestern and Michigan State losses.
On the Women's side, another episode of the Grace Berger Show was recorded this week, as was the Doing The Work Postgame Shows following victories over Purdue and Illinois.
Banner #6 – Hoosier Roundup
• No.7 Women's Basketball is back in the Big Ten lead after three dominant victories over Purdue, Illinois, and Michigan State. Additionally, star center Mackenzie Holmes was named to a few postseason watch lists despite being out with a knee injury for the last month (she is expected back soon). Grace Berger and Ali Patberg were also named to a list. Lastly, a couple of schedule changes were made for upcoming games against Iowa due to an earlier COVID postponement against the Hawkeyes.
• Football's opener against Illinois next season was moved to Friday Night under the lights.
• Softball split their opening games this weekend on both Friday and Saturday.
• Wrestling lost to Illinois and Michigan.
• Women's Tennis beat Marquette and Butler, before sweeping Western Michigan and Bellarmine.
• Men's Tennis fell to Princeton and East Tennessee State.
• Track and Field had their finalindoor meets of the season.
• Field Hockey had a few players awarded academically.
Men's Golf had an athlete honored by the Big Ten.
Thanks for your continued support for The Assembly Call and Inside the Hall. We'll be back next weekend with a new roundup.
Now go enjoy yourself a 6-banner Sunday.
Aaron (Ari) Shifron
Assembly Call Contributor
Filed to: