The Minute After: Northwestern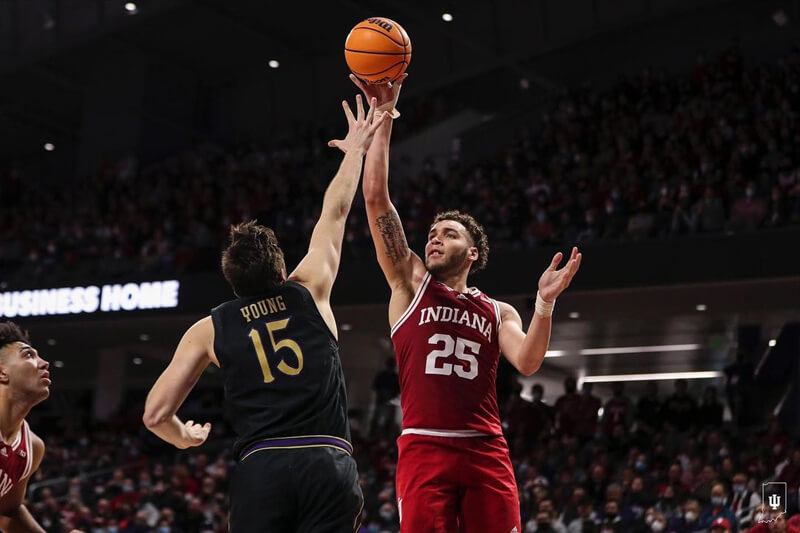 Thoughts on a 59-51 loss to Northwestern:
No Xavier Johnson. No Parker Stewart. No Michael Durr, Tamar Bates or Khristian Lander, either. All suspended by Mike Woodson for tonight's game, and maybe more.
"They broke rules and they were punished for it," he said after the game.
The suspension of five Indiana scholarship players put Indiana in a hole tonight in Evanston. And despite a gutsy effort, it's a loss, Indiana's second in a row for the first time all season.
Indiana defended more than well enough to win this game. The Wildcats scored just 59 points, had an effective field goal percentage of 36 and were held under a point per possession (.93). They shot just 5-of-27 from deep. But perhaps due to Indiana's short-handed roster and the fatigue that came with it, Northwestern was able to snag 35 percent of its misses, its fifth-best mark of the season.
Those 16 offensive rebounds helped Northwestern win the second-chance points battle 14-8. That was significant in a low-scoring game. Perhaps more significant were those second chances also helped Northwestern amass 15 more field goal attempts than Indiana tonight, another crucial factor in a game neither team got it going offensively.
Speaking of offense, Indiana followed up its 21-point second half against Illinois with another 21-point second half in Evanston tonight. The Hoosiers shot just 1-of-8 from deep, which helped the Wildcats to a plus-9 margin from 3-point range in the second half. They hit just 4-of-8 from the line and 8-of-25 from the field. Over the last 17:49 of the contest, Indiana mustered just 16 points.
In a game Indiana really could have used a high-level performance, Trayce Jackson-Davis went 4-of-13 from the field and 5-of-9 from the line. It was one of those mostly back-to-basket games where things moved slow, the Wildcats bringing extra attention after he made a move. He wasn't able to get much going in a significant way most of the game.
"I thought Trey Galloway played his butt off," Woodson said after the contest.
Indeed.
Galloway, stepping into the starting point guard role, provided a valiant effort tonight. Yes, he had five turnovers, but that came in 37 minutes in a heavy ball-handling role he was thrust into due to the suspensions and Rob Phinisee's plantar fasciitis. He was the only efficient offensive backcourt player tonight, scoring 13 points on 6-of-10 shooting. The sophomore hit tough floaters while doing his best to run the show. Galloway also added five rebounds, three assists and a block before fouling out late in the contest.
Beyond Galloway and Race Thompson (14 points, 7-of-13), it was a clunker for the rest of the available Hoosiers. In his return to Evanston, Miller Kopp shot 1-of-7. Anthony Leal was 1-of-5. Jordan Geronimo made 1-of-5. Walk-on Nathan Childress missed his only shot.
After tonight's loss, another opportunity for a Quad 1 win, the margin for error is getting smaller in terms of the NCAA tournament. Indiana's still in. But with a three-game stretch against Michigan State (road), Wisconsin (home) and Ohio State (road) about to hit, Indiana may very well be on the wrong side of .500 in league play by the middle of February.
The Hoosiers can defend. But their offense, now down to 108th on KenPom, is holding them back from what once looked like a comfortable NCAA tournament berth.
(Photo credit: IU Athletics)
Filed to: Northwestern Wildcats