Big Ten Power Rankings: February 7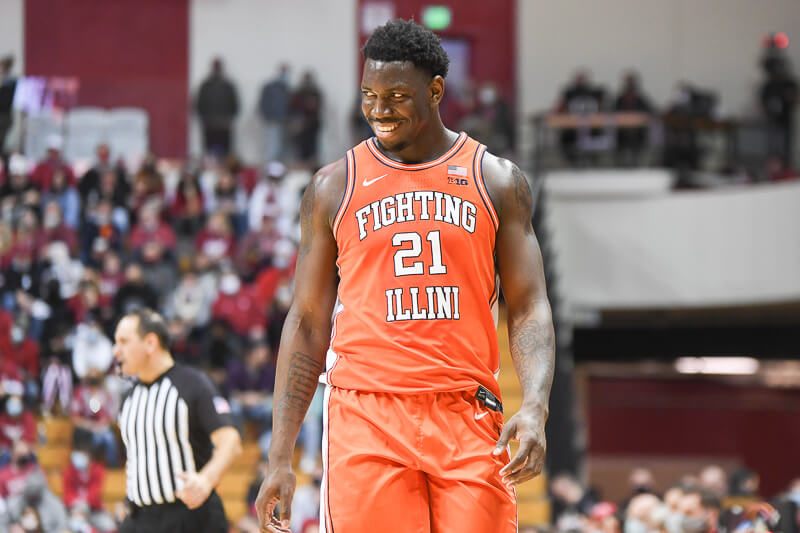 Illinois has a one-game lead in the Big Ten standings and can take control of the conference title race with a win on Tuesday at Purdue.
The middle of the pack remains unsettled as teams continue to jockey for position with the conference tournament now just 30 days away.
Here's a look at how the league stacks up with only four weeks remaining in the regular season:
14. Nebraska (0-12, .929 PPP, 1.136 PPP allowed)
The Fred Hoiberg era reached a new low point when the Huskers lost by 24 at home to Northwestern on Saturday. The Huskers now have three home games remaining – Minnesota, Maryland and Iowa – and look to be in danger of going winless in Big Ten play. Since the Big Ten expanded to a 20-game schedule in the 2018-19 season, no team has won fewer than two games.
13. Minnesota (2-9, 1.025 PPP, 1.149 PPP allowed)
As admirable of a job as Ben Johnson did early this season in guiding Minnesota to a 10-1 start, the Golden Gophers have tanked this calendar year. Minnesota is now 1-8 over its last nine games. Its last four losses have come by an average of 11 points. This team should have enough to pick off a couple of more conference wins, but is destined for a Wednesday game in the Big Ten tournament.
12. Maryland (3-9, 1.015 PPP, 1.081 PPP allowed)
The most interesting storyline with Maryland basketball is the head coaching search. The Terps have dropped their last three games and are now below .500 at 11-12. It'll be interesting to see if Maryland can hire a clear upgrade over Mark Turgeon, who had a solid yet unspectacular run in College Park.
11. Penn State (4-7, .977 PPP, 1.044 PPP allowed)
The Nittany Lions continue to be a pesky out for Big Ten opponents under first-year coach Micah Shrewsberry. Penn State beat Iowa in two overtimes on Monday in State College before falling by just two at Wisconsin on Saturday. Penn State has another chance to play spoiler on Tuesday night when it hosts Michigan, which is desperate for wins, on Tuesday.
10. Northwestern (4-8, 1.034 PPP, 1.062 PPP allowed)
Chris Collins picked up a pair of wins last week as the Wildcats beat Rutgers in overtime on Tuesday and then crushed Nebraska on Saturday in Lincoln. The Rutgers win, however, didn't come without drama. Northwestern led 52-28 with 16:23 to play and needed overtime to dispatch the Scarlet Knights. Northwestern has a chance to extend its winning streak to three when Miller Kopp returns to Evanston on Tuesday night.
9. Iowa (5-6, 1.061 PPP, 1.039 PPP allowed)
The predictive metrics like Iowa, but the overall resume for the Hawkeyes isn't great. Iowa has taken care of business against the bottom half of the league and did beat Indiana at home, but hasn't beaten anyone else of consequence yet in conference play. Surprisingly, Iowa is one of the Big Ten's worst 3-point shooting teams in league play. Through 11 games, the Hawkeyes rank 13th in 3-point shooting percentage (31.6).
8. Rutgers (7-5, 1.012 PPP, 1 PPP allowed)
It was a roller-coaster week for Rutgers, which lost in overtime at Northwestern on Tuesday before throttling Michigan State by 21 on Saturday in Piscataway. At 13-9 overall and 7-5 in Big Ten play, Rutgers is not in contention for an at-large bid for the NCAA tournament because of its dreadful performance in non-conference play. If Rutgers can get to 10 wins in league play, it will be the third straight season the Scarlet Knights finish .500 or better in league play.
7. Indiana (7-5, 1.017 PPP, .979 PPP allowed)
The Hoosiers remain in the top five in the conference in efficiency margin, but Saturday's performance against Illinois was disappointing after a week off to prepare for the Illini. The upcoming stretch for Indiana is difficult and Tuesday's game at Northwestern is key after two home losses in recent weeks. After Indiana travels to Northwestern, its next three games at Michigan State, Wisconsin at home and at Ohio State.
6. Michigan (5-5, 1.114 PPP, 1.077 PPP allowed)
Michigan 4-2 in its last six games and this is the week that might determine its fate in terms of the NCAA tournament. The Wolverines play three games this week with only one day off between each game. Michigan travels to Penn State on Tuesday before hosting Purdue on Thursday and Ohio State on Saturday.
5. Michigan State (8-3, 1.078 PPP, 1.01 PPP allowed)
The Spartans started 5-0 in Big Ten play, but are now just 3-3 over their last six games. Michigan State survived a 65-63 scare last week at Maryland and then got run off the floor by Rutgers in Piscataway. Fortunately for Michigan State, this week brings two home games to get back on track. Michigan State will host Wisconsin, which it already beat in Madison, on Tuesday before Indiana comes to town on Saturday.
4. Ohio State (7-3, 1.115 PPP, 1.043 PPP allowed)
Due to winter weather that impacted its scheduled home game against Iowa, the Buckeyes played just once last week and beat Maryland by 15 in Columbus. Ohio State now has two home games that need to be rescheduled with less than four weeks remaining in the regular season. Given that Ohio State is a viable player in the Big Ten title race, it'll be interesting to see how the league works those games in down the stretch.
3. Wisconsin (9-3, 1.027 PPP, 1.016 PPP allowed)
Wisconsin is ninth in the Big Ten in efficiency margin, but tied for second in the league standings with Purdue. The Badgers need to win on Tuesday at Michigan State to remain in the regular season title race as a loss would put them two full games behind Illinois with only seven games to play.
2. Purdue (9-3, 1.169 PPP, 1.055 PPP allowed)
The Boilermakers are the scariest matchup in the conference due to their elite frontcourt and Jaden Ivey's ability to dominate games off the dribble and in transition. Purdue hasn't lost since the Indiana game on Jan. 20 in Bloomington and can tie Illinois for the conference lead with a win on Tuesday in Champaign.
1. Illinois (10-2, 1.095 PPP, .962 PPP allowed)
The Fighting Illini are alone in first of the Big Ten standings and Kofi Cockburn looks to have played his way into the favorite for Big Ten player of the year honors. Illinois was impressive on Saturday in Bloomington as its defense shut the Hoosiers down in the second half and its 3-point shooting carried the way in an easy 17-point win. Illinois can take control of the Big Ten title race on Tuesday with a win over Purdue in West Lafayette.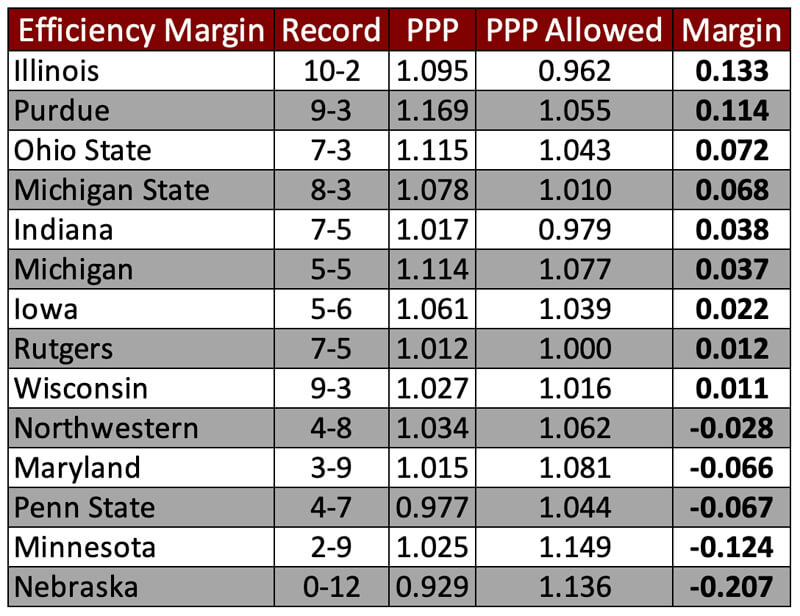 Filed to: Big Ten Power Rankings