'They broke the rules': Suspensions plague a shorthanded Indiana in loss at Northwestern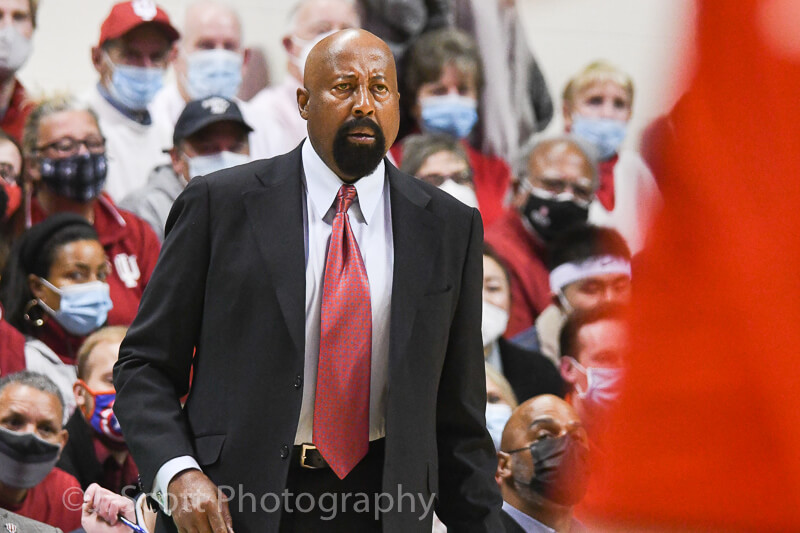 EVANSTON, Ill. – Trey Galloway found out Tuesday morning he'd be starting at point guard for Indiana's game at Northwestern — less than 12 hours before tipoff. At the same time, he also found out the bench would only run two scholarship players deep.
Mike Woodson announced less than 30 minutes before tipoff he suspended five players for disciplinary reasons: Tamar Bates, Michael Durr, Xavier Johnson, Khristian Lander and Parker Stewart.
The suspensions wiped out most of the backcourt and relief minutes for the frontcourt. It forced Indiana's starters to each play more than 34 minutes — tallying just 21 combined minutes of rest among the five.
The fatigue caught up to the Hoosiers in the second half and they crumbled in the closing minutes, falling 59-51 to the Wildcats.
Woodson's reasoning for cutting his rotation in half was simple, though:
"They broke rules and they were punished for it," he said postgame.
Woodson wouldn't elaborate on what led to the decision, but he was firm on the fact he wouldn't let them play Tuesday.
Dropping a road game in front of a sea of Hoosiers fans and hurting their NCAA tournament resume wasn't Woodson's concern. He wanted to do what he felt was the right thing for Indiana University and his team.
"When you talk about building a team, I'm building the culture here," Woodson said. "I'm not here to mess around with guys that don't want to do what's asked of them. And if they don't, then they've got to go."
Northwestern head coach Chris Collins, like many Indiana fans, didn't find out until 12 minutes before tipoff IU's roster would be so depleted.
He saw everyone warming up, but when he was informed not everyone in pregame candy stripes was playing, he adjusted his gameplan.
"We really made a point to try to continue even though we weren't scoring a lot," Collins said. "We wanted to push the tempo because we knew those guys were gonna have to play a lot of minutes and hopefully fatigue did play a little bit of a factor, but I give them a lot of credit."
Northwestern strung together a 13-0 run shortly into the second half to take a lead Indiana could never regain. After winning the first half by four points, the Hoosiers were outscored 33-21 in the second.
"I think we just ran out of gas towards the end of the game," Trayce Jackson-Davis said. "We were playing as hard as we could. A lot of shots started to get short."
Indiana's lack of depth in the frontcourt proved fatal in the rebounding department as Northwestern had 16 offensive boards to Indiana's seven — leading to a 14-8 edge in second-chance points.
"I just think the fatigue set in because I just couldn't go anywhere else with our ball club," Woodson said.
Galloway played a season-high 37 minutes — 12 more than his previous season-high — before fouling out.
Galloway said the circumstances were unexpected and Jackson-Davis added they were disappointing, but they still knew he had a game to play.
How long the suspended players remain bench supporters instead of active players remains to be seen, though.
Woodson said he's not sure if the suspensions will span longer than a game yet and said he will make that decision on his way home Tuesday night.
Filed to: Khristian Lander, Michael Durr, Parker Stewart, Tamar Bates, Xavier Johnson