Tensions run high as Indiana suffers third-straight loss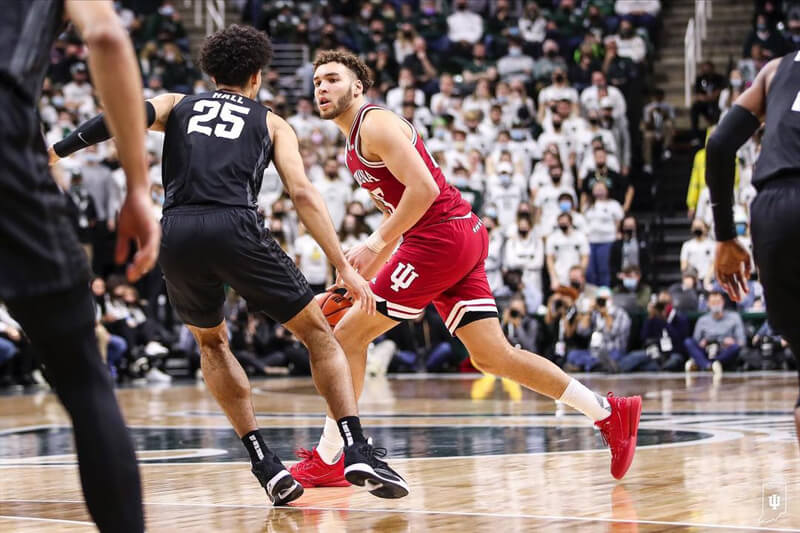 EAST LANSING, Mich. – Indiana hadn't dropped back-to-back games all season before its loss at Northwestern.
Then when the Hoosiers arrived in East Lansing, they were staring the possibility of a three-game losing streak in the face — and No. 17 Michigan State was, too.
"We both wanted to win," Race Thompson said. "When you lose two in a row, you get a little frustrated."
An abundance of foul calls and a hostile environment only added to that frustration. The result was a 76-61 loss at the Breslin Center.
The tone was set from the opening possession. Trayce Jackson-Davis scored over Marcus Bingham Jr. in front of the sea of jumping students in their white Izzone shirts. Then he turned around and talked trash to Bingham.
22 seconds later, Bingham drained a 3-pointer and dished the talk right back at Jackson-Davis.
The chippy play spanned the whole game. Tensions were high and the officiating only added to it, with the referees calling a combined 45 fouls.
Xavier Johnson fouled AJ Hoggard on a shot going into the under-16 minute media timeout. Miller Kopp nudged Hoggard out of the way amid the huddle of players after the play, so Hoggard did the same back. The two got into a spat before Bo Boroski broke it up and issued double technicals.
"When someone hits you, you're gonna hit them back. That's just how it goes. We're not soft. They're not soft," Jackson-Davis said.
While the many whistles — even when blown both ways — fired the Spartan fans up, Indiana's poor shooting was a big reason for its offensive struggles.
After Parker Stewart air-balled a 3-pointer from the corner in the first half, he was subjected to air-ball chants almost every time he touched the ball for the rest of the game.
Shortly after the air-ball, Stewart went to the free throw line for two shots after a Michigan State intentional foul. As he stood alone at the line and stared into a student section holding up fatheads and hypnotic spirals, the chants rained down. Stewart missed both attempts, much to the MSU faithful's pleasure.
But the misses didn't stop there. Stewart tried to silence them shortly after with a made 3-pointer, but that was the only one he'd make all game.
Stewart was one of five IU players who returned from suspensions on Saturday, but came off the bench with Trey Galloway starting in his place. Neither of them played well, combining for just four points and one made field goal.
"They both struggled," Woodson said. "I've got to find a balance somehow as we continue this journey."
Stewart's 1-of-6 performance from the free throw line was a part of a 16-27 performance at the charity stripe by Indiana. The Hoosiers also shot just 5-of-21 from beyond the 3-point line.
Indiana climbed out of a seven-point halftime deficit by starting the second half with an 8-0 run. The run was sparked by Thompson and Johnson.
Thompson recorded a double-double with 13 points and 14 rebounds while also hustling and doing the little things a stat sheet won't show. More importantly, he stayed calm amid the tension.
Meanwhile, Johnson tried to command a struggling offense and finished with seven points and four assists. But he played just 20 minutes after getting into early foul trouble.
Emotions escalated after Johnson picked up his fourth foul. Woodson wasn't happy and he let Boroski and his staff hear it. In return, they issued him his first technical foul of the season.
"Well, I've got to be a little bit more calm," Woodson said with a smile postgame. "This is the first time I've gotten a technical and I said I was going to go the season without getting one, but sometimes things change."
Though he was clearly frustrated with the calls, he wasn't willing to comment on the officials after the game.
"You watched the same game I did, it's what it is," Woodson said.
(Photo credit: IU Athletics)
Filed to: Michigan State Spartans