Five takeaways from Indiana's loss at Michigan State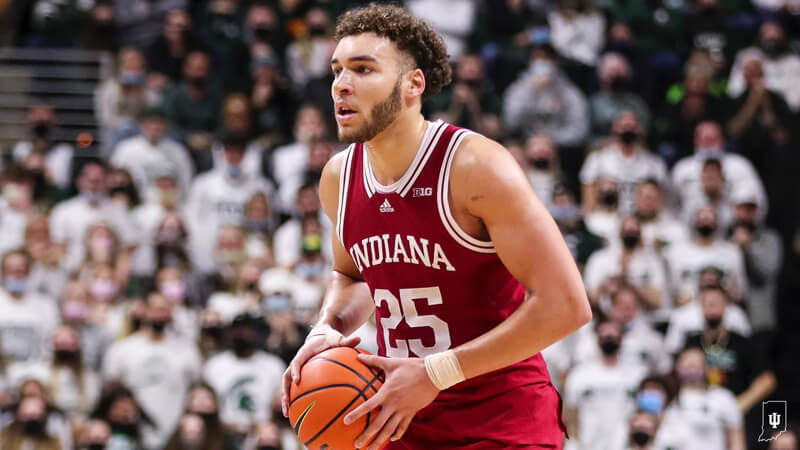 Indiana fell to Michigan State 76-61 on Saturday afternoon at the Breslin Center. The loss dropped the Hoosiers to 16-8 overall and 7-7 in Big Ten play.
Here are five takeaways from the loss to the Spartans:
Discrepancy in free throw makes
Indiana's defensive performance on Saturday was far from its best this season, but it wasn't awful by any means. While Indiana's pick and roll defense left a lot to be desired, the Spartans shot only 43 percent from the field and 35 percent from three.
A major difference, however, was each team's ability to convert from the free-throw line. Michigan State finished the game 25-of-28 from the free-throw line. Indiana made just 16-of-27. Michigan State only took one more free throw than Indiana, but made nine more.
For Indiana, Race Thompson was just 2-of-4 from the line. Trey Galloway was 1-of-3. Parker Stewart was a dismal 1-of-6. Jordan Geronimo was 1-of-1. Trayce Jackson-Davis and Tamar Bates made a majority of Indiana's shots from the stripe. Jackson-Davis was 7-of-9 from the free-throw line. Bates was 4-of-4.
"There's no excuse for free throws," head coach Mike Woodson said. "We just got to be better in that area."
Entering Saturday, Indiana was shooting just 68.3 percent from the free-throw line as a team. Winning on the road in the Big Ten, especially against ranked teams like Michigan State, requires teams to do the little things, which includes making free throws. Indiana didn't show an ability to do that on Saturday and capitalize on all of the fouls called.
Indiana's offense struggles again
There were many times on Saturday when Indiana's offense appeared to be without much rhythm and flow. The Hoosiers finished the day shooting 34 percent from the field. A lack of 3-point shooting was also an issue. Indiana shot just 24 percent from three. Stewart was 1-of-7 from deep, Miller Kopp was 1-of-3 and Trey Galloway was 0-of-3.
For a majority of the season, Indiana's offense has only needed to be average because of how good its defense has been. But recently, Indiana's offense hasn't done enough. Over the last three games, all losses, Indiana's best shooting percent from the field was 37 percent against Northwestern. In that game against the Wildcats, Indiana shot 25 percent from three, which was also the Hoosiers' best percentage from deep over the last three games.
"I just got to get them comfortable, man, and feeling good about themselves to make them," Woodson said. "I mean some of those shots were good shots. Northwestern was the same way. I mean you get wide-open looks and we're just not making them."
Indiana hasn't been able to establish an efficient inside-out game over the last few contests. That has both been a result of Trayce Jackson-Davis' struggles, but also the shortcomings of Stewart and Kopp. When that duo isn't hitting from outside, it forces the lane to be more clogged.
"If you noticed tonight, when we did cut, they (Michigan State) just stayed and let the cutter go," Woodson said. "… They just basically zoned up when we threw the ball in there. And sometimes he (Jackson-Davis), has to make quicker moves and get the ball out and then we get the ball moving around."
Race Thompson and Tamar Bates are bright spots
There were few promising takeaways from Saturday, but the play of Race Thompson and Tamar Bates were among them. Thompson had 13 points and 14 rebounds. Bates had 13 points off the bench on 4-of-8 from the field and 1-of-2 from three.
Bates has endured an up and down freshman season. He arrived at IU as a heralded recruit and marked a win for Woodson after he de-committed from Texas and pledged to attend IU. Early in the season, Bates showed flashes of his ability to be a scorer and looked like he could blossom into a major factor for Indiana. But over the last two months, he has struggled mightily and rarely added a spark.
Saturday's performance was a step in the right direction for many reasons. Bates looked confident and composed on the offensive end. But he also showed he's making strides defensively. In the first half, he picked off a Michigan State pass, which led to a runout, although he was ultimately unable to finish.
Thompson has grown into an invaluable part of Indiana's team. In his fifth year at IU, the forward has shown consistent growth over the course of his career and become a reliable figure. On Saturday, Thompson was much of the reason that Indiana stayed in the game. Besides his scoring and rebounding totals, Thompson recorded three steals, one block and no turnovers.
Difference in bench points
Michigan State got a huge boost from its bench on Saturday. The Spartans had 44 points from its reserves. On the other hand, despite the fact that Indiana got a reasonable boost of 20 points off the bench, the discrepancy was a major factor.
Michigan State's Tyson Walker and Malik Hall were the biggest contributors off the bench for Michigan State. Walker had 15 points on 5-of-10 shooting from the field and 3-of-6 from deep. Hall had 18 points on 4-of-9 shooting from the field and 2-of-4 from three.
In all, Michigan State's bench actually outscored its starters 44-32. Much of the production from Michigan State's starting lineup, though, came from A.J. Hoggard, who finished with 14 points, eight assists and four rebounds. Indiana had a difficult time containing ballhandlers, including Hoggard, allowing him to create for himself and facilitate to others.
"That was a major breakdown as far as our pick and roll coverage," Woodson said. "I mean normally we've been pretty good at guarding the ball and really taking care of our assignments in the pick and roll and they had their way tonight."
For Indiana, its bench production was rather underwhelming besides the play of Bates. Jordan Geronimo, who was in foul trouble, finished the game with three points and three turnovers in nine minutes. Stewart was 1-of-9 from the field. Michael Durr didn't score in two minutes of action.
Trayce Jackson-Davis with another underwhelming performance
At first glance, Trayce Jackson-Davis' stat line doesn't look especially bad, having finished the game with 17 points. But from an efficiency standpoint, Jackson-Davis wasn't good. Michigan State was able to frustrate him in the paint on multiple occasions. Jackson-Davis finished shooting just 5-of-13 from the field.
"I just think I'm going too quick, I'm trying to read the double team too fast," Jackson-Davis said. "And then at the same time, I feel like in the first half, I was kind of going away from it, but in the second half I started getting more comfortable, going into the contact and getting free throws and finishing."
Jackson-Davis also wasn't effective on the boards. He had just one rebound in the first half and finished the game with only five. In a physical game, Indiana needed more from Jackson-Davis.
Jackson-Davis' inability to dominate also reveals a concerning trend as of late. Against Illinois, Jackson-Davis shot just 3-of-9 from the field. Against Northwestern, he was 4-of-13. In many ways, Indiana needs him to be dominant to be successful. Recently, though, that has not been the case.
Entering the season with high expectations surrounding him, Jackson-Davis hasn't displayed the expansion of his offensive game that many hoped for. On the defensive side, he is, however, blocking shots with much more frequency, but his lack of versatility on the offensive end remains an issue. For Indiana to make a run in March, they'll most likely need Jackson-Davis to put up All-American caliber performances.
(Photo credit: IU Athletics)
Filed to: Michigan State Spartans, Race Thompson, Tamar Bates, Trayce Jackson-Davis