The Minute After: Michigan State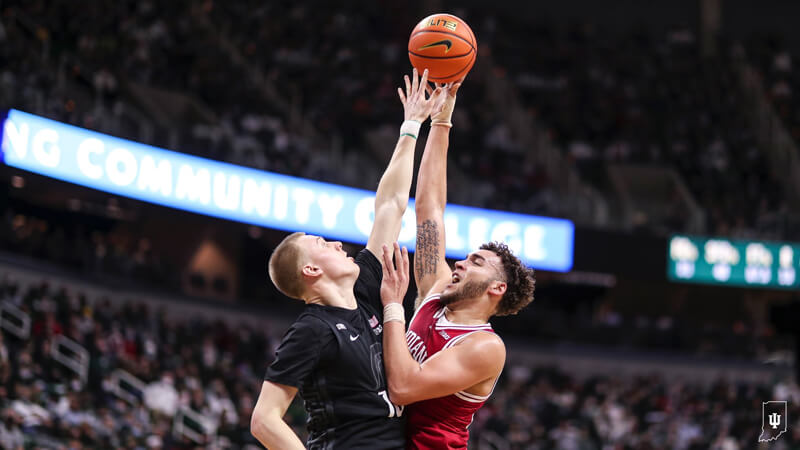 Thoughts on a 76-61 loss to Michigan State:
Indiana tried something different. Out went Parker Stewart from the starting lineup. In came Trey Galloway. Instead of two spot-up shooters (Stewart and Miller Kopp) in the starting lineup, Indiana now had more playmaking and movement with Galloway and Xavier Johnson paired together in the backcourt.
As the Assembly Call crew pointed out on Thursday night, the data and eye test have shown it was time for such a shakeup.
But in the end, the result remains the same. Another loss for the Hoosiers, their third straight. Another poor offensive result, their fourth straight game under a point per possession (.86).
This was a rowdy, chippy game where flagrant and technical fouls were assessed to both teams. Mike Woodson was at one point restrained by Tamar Bates, as Indiana's first-year coach was hot under the collar and looking to give the refs an earful at half court during a stoppage in play in the second half.
The free-throw discrepancy was large in the first half. Michigan State got to the line 18 times and hit an impressive 16 of them. Indiana finished a woeful 4-of-10 from the charity stripe. By game's end, thanks to some late fouling by the Spartans, things pretty much evened out. Michigan State got 28 attempts. The Hoosiers shot 27. But the Spartans made 25 (89.3 percent) of theirs, while Indiana made just 16 (59.3 percent), giving MSU a +9 mark at the line.
Indiana's in-conference free throw shooting sits at 67.7 percent. That's tied for dead last with Purdue.
Indiana shot a respectable 4-of-12 (33.3 percent) from deep in the first half, but it made just 1-of-9 in the second to finish only 5-of-21 (23.8 percent) from deep for the game. The Hoosiers are now shooting a paltry 31.5 percent from 3-point range in conference play, which is second to last. Only Wisconsin, at 30.8 percent, is worse.
After losing his starting spot, Stewart made just 1-of-6 at the line and 1-of-7 from 3-point range. After being inserted into the starting lineup in place of Stewart, Galloway missed all six of his shots. He scored one point in 33 minutes of action. Trayce Jackson-Davis clanged shots and looked out of sorts before rallying late to score 17 points on 5-of-13 shooting.
Race Thompson remains Indiana's steady presence (13 points, career-high 14 rebounds). Considering it was a Big Ten road game, Bates had his best game of the season, scoring 13 points on 4-of-8 shooting and defending at a higher level than usual.
On Michigan State's side, Malik Hall (18 points), Tyson Walker (15 points) and A.J. Hoggard (14 points) all scored in double figures.
The February swoon is firmly upon Indiana basketball. Yet, the chances are certainly still there for Indiana to pick up the necessary Ws to make the NCAA tournament, starting with a game against Wisconsin on Tuesday at home.
But if the Hoosiers aren't able to turn around the offense enough over the final six contests, the Izzone's second half "NIT" chant may prove prescient. Indiana is sliding and time is running out to regain its footing.
(Photo credit: IU Athletics)
Filed to: Michigan State Spartans