2020-2021 Player Profile: Race Thompson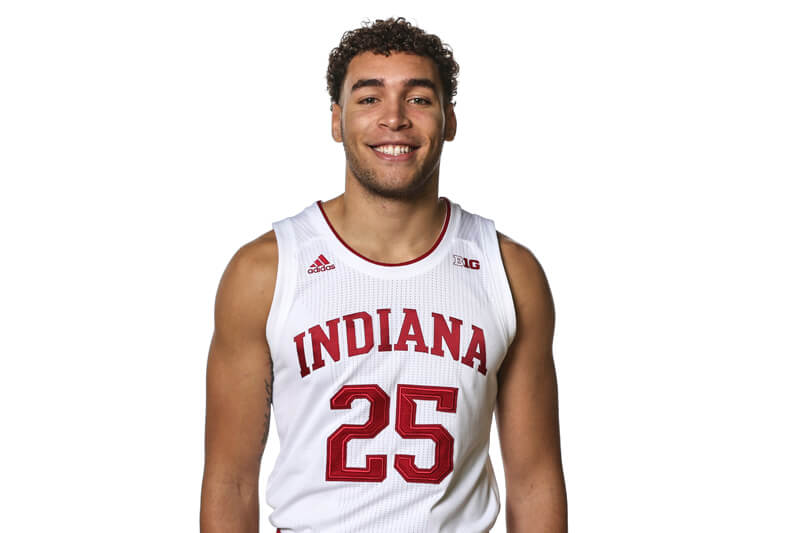 With the start of college basketball season scheduled for later this month, we've transitioned from our look at other Big Ten programs to our player-by-player previews of the 2020-21 Indiana roster. Today, our player profiles continue with a look at redshirt junior Race Thompson.
After spending the last two seasons as a role player for Indiana, Race Thompson will take on increased minutes as a junior this season and become a key figure in the frontcourt rotation.
Thompson arrived in Bloomington in the summer of 2017 after reclassifying from the class of 2018. He was Archie Miller's first recruit to arrive in Bloomington and was joined in the 2017 class by Al Durham Jr., Justin Smith and Clifton Moore, who were all recruited by Tom Crean.
Now, Thompson and Durham are the only two left from the class. Moore transferred to La Salle in 2019 and Smith made the decision to join Arkansas as a graduate transfer over the summer.
In his first year at Indiana, Thompson was forced to watch from the sideline as his fellow freshmen took the court. He dealt with tendinitis in his knee to the point where it even hurt him to jump and took a planned redshirt season.
As a redshirt freshman the following year, Thompson only appeared in nine games in an injury-riddled season. He sat out the beginning of the year due to a groin injury and later suffered a concussion.
A bright spot for Thompson was in a February double-overtime win against Wisconsin where he played a career-high 22 minutes, played solid defense against Ethan Happ and grabbed seven rebounds off of the bench. A few weeks later, he logged 11 minutes and pulled down three rebounds in a home win over Rutgers. He finished the year averaging 0.7 points and 2.1 rebounds in seven minutes per game.
Around the middle of last season, Thompson found a niche as a reserve for the Hoosiers, although he struggled to stay healthy yet again. In a home game against Michigan State, Thompson left with tightness in his back after taking a hard fall. He missed three games as a result.
For a majority of the year, Thompson competed with senior De'Ron Davis and junior Joey Brunk for playing time. It was around mid-February when Thompson saw his minutes increase. In the last 10 games of the season, Thompson averaged 4.8 points and 4.7 rebounds in more than 18 minutes per game. He put up near double-double numbers in games against Minnesota and Wisconsin and became a spark off of the bench as Brunk's production tapered off.
"Race is a blue-collar guy," Miller said after the game at Minnesota. "He plays hard and he's our most physical guy in terms of being able to put his body in front of people."
Throughout the offseason, there was a buzz surrounding the improvement of Thompson.
During quarantine, Thompson met up with a group of friends and did conditioning circuits with resistance band lunges, push ups and weighted hill sprints among other exercises. He worked on his ball-handling skills with a trainer on Zoom and frequented the weight room after they reopened. All the while, his jump shot was improving and his vertical was measured at 40 inches.
Once he returned back to campus for summer workouts, the coaching staff was immediately struck by Thompson's progress. He won the team's "offseason champion" award at the end of the summer session. He was also later announced as a team captain.
"I feel like he has a purpose about him," Director of Athletic Performance Clif Marshall told Inside the Hall. "It's almost like he flipped a switch, and that's why he was so impressive during this offseason."
This season, with the departure of Davis and Smith, IU needs Thompson to step up in the paint. Although Miller has discussed using a smaller lineup, it's imperative that Thompson stays healthy throughout the year. If he's sidelined with an injury again, it would leave Brunk and Trayce Jackson-Davis as the only established big men left on the roster, forcing Miller to possibly deploy freshman Jordan Geronimo or sophomore Jerome Hunter at the four in a less than ideal situation.
Indiana doesn't necessarily need Thompson to produce huge scoring numbers, although his improved shooting and dribbling could lead to improvement there. What the Hoosiers need is for Thompson to be a reliable rebounding option, especially if Miller has a smaller lineup on the floor.
Another key aspect for Thompson is his shooting percentage from the free throw stripe. Last season, Thompson only converted on 65 percent of his attempts from the line. His physical play combined with his 6-foot 8-inch, 228-pound frame could allow him to draw an array of fouls.
Thompson can play alongside both Jackson-Davis and Brunk in the frontcourt and it's likely that the trio will be frequently mixed and matched over the course of a game. of At Indiana's media day, Jackson-Davis said that he and Thompson are almost interchangeable.
In the past, Thompson already has shown his intangibles like hustle and grit, some of which led to his injuries. This season is about adding a more well-rounded game to his already energetic style of play.
Bottom Line: Thompson has shown flashes of promise throughout his career, but needs to consistently produce this season for Indiana to have sustained success in the paint. There are high expectations for Jackson-Davis, but he'll need a reliable frontcourt counterpart to keep the defense honest. That could come in the form of Thompson or Brunk, who also dealt with inconsistencies last season. Indiana doesn't need Thompson to be a star, but they certainly do need him to show noticeable improvement and remain healthy.
Quotable: "I feel like Race has stepped up tremendously this year and become more of an outspoken leader, whether that be on the court or off the court. Race has really stepped into a role of leadership with the younger guys and taken them under his wing – teaching them how to do certain things and showing them how we operate as a team." – Durham on Thompson over the summer.
Previously: Jordan Geronimo, Khristian Lander, Anthony Leal, Trey Galloway, Armaan Franklin, Trayce Jackson-Davis, Jerome Hunter, Rob Phinisee
Filed to: 2020-2021 season preview, Race Thompson