New-look offense, new backcourt teammate greet Rob Phinisee in year three at Indiana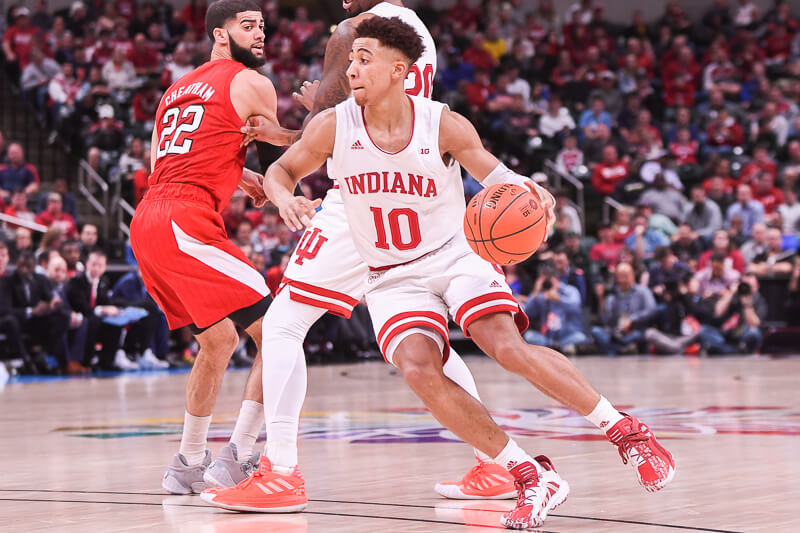 Most of the questions directed to Rob Phinisee aren't about him.
The soft-spoken junior guard more regularly fields inquiries into his teammates, or the state of the IU team in general.
Having spent his first two seasons in Bloomington playing with the likes of Trayce Jackson-Davis, Devonte Green and Romeo Langford, it's not a shock that Phinisee was so often tasked with describing the way his teammates, and those three in particular, looked on the court.
Phinisee's third season in Bloomington is set to offer more of the same. Green and Langford may be gone, but Jackson-Davis remains, and the lion's share of the attention figures to go toward the elite big man as well as Khristian Lander, the five-star recruit who brings quickness and a scoring punch to the Indiana backcourt.
The reasons why Phinisee must field questions about the likes of Jackson-Davis and Lander are the same reasons he's asked the questions in the first place.
Phinisee operates not as the centerpiece of the IU team, but as a vital cog to its success.
While not always in the limelight, the Hoosiers still go as Phinisee does, meaning his on-court relationship with those in a starring role is significant.
And this offseason, that primarily means incorporating Lander into the IU rotation.
"I think we'll complement each other pretty well," Phinisee said of playing with Lander. "He's very quick, he likes to take ball screens. I feel like in the new offense we have, we'll be able to play together and create for each other."
In a Zoom meeting with reporters in late July, Phinisee was tight-lipped when pressed on what a 'new offense' exactly means, only saying there will be "a lot more ball screens" in the new system.
Even that's enough to understand the value a successful collaboration between Phinisee and Lander would have.
For two seasons now Phinisee has played the role of IU's primary ball handler.
It's a responsibility that stayed with him through numerous injuries, including a lingering concussion during his freshman season and ankle and lower abdominal issues as a sophomore.
It stayed with Phinisee even as Al Durham, Armaan Franklin and Green each took turns running the point for the Hoosiers last season.
Phinisee rewarded this faith placed in him by Archie Miller with a sophomore campaign that saw him increase his scoring, assists and shooting percentage.
While specifics still aren't known, the very look of the IU offense will certainly be different.
Justin Smith's offseason transfer spurred Miller's decision to use more three-guard sets this season, which means a facilitator (Phinisee) will be spending most of his time with a scorer (Lander) and a perimeter shooter (Durham, who is IU's most reliable returning 3-point threat).
"I think once Khristian joined the floor, it was inevitable we were going to have to play Rob and Khristian and Al together," Miller said. "I don't necessarily know whether that combo works the best or the most, but it's going to give our perimeter guys way more opportunities to get out there and play more of a three-headed monster, three-guard lineup."
So with that understood, Phinisee took on the role of mentor this offseason.
The first group of IU players to return in mid-June to Bloomington for offseason workouts included Durham, Phinisee and IU's four freshmen (Trey Galloway, Jordan Geronimo, Lander and Anthony Leal).
As such, Phinisee shared with Lander some words of advice on how to best transition from Indiana high school hoops to Big Ten basketball.
"I would say 'Take your time. Don't try and rush into anything,'" Phinisee recalled. "That's the biggest thing coming from high school to college — the speed of the game. So take your time, have patience and keep a level head."
As much guidance as the composed, clutching-shooting Phinisee can offer, his actions are more effective than words.
For all the harm the COVID-19 pandemic has done to the college sports ecosystem, not the least of which was taking away an NCAA tournament appearance from the Hoosiers, Phinisee is taking solace in his time away from the court to rest and heal the litany of injuries he's accumulated.
"I feel so much better," Phinisee remarked. "Honestly, this wasn't how we wanted to end the (2019-20) season, but it really helped having my body just have the time off. I feel like this is the best I've felt in a while."
Phinisee's health remains paramount to whatever becomes of the 2020-21 season for Indiana, if not just for what he brings to the table, but also the way he can shape what Lander will offer in his debut season.
"Just having another primary ball handler is allowing me to be more off the ball," Phinisee said. "That will allow me to create more and do more things on offense."
Filed to: Archie Miller, Khristian Lander, Robert Phinisee