Freshman Focus: Trey Galloway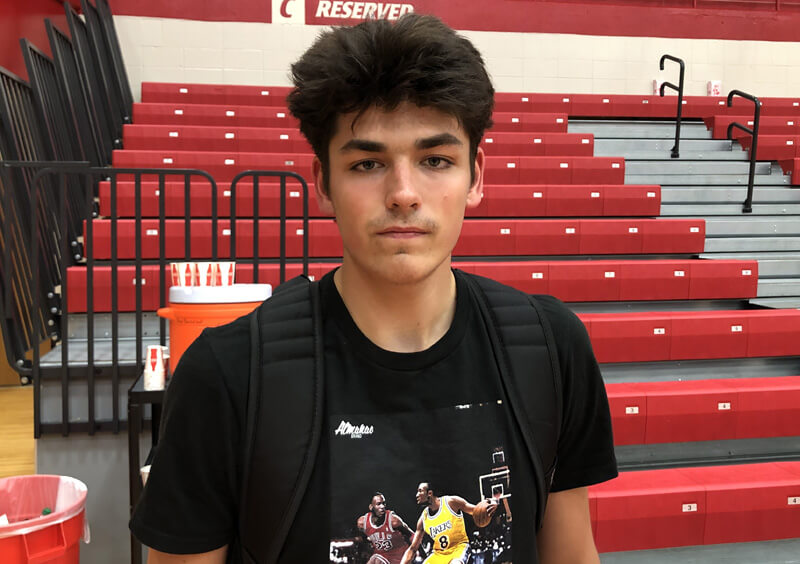 "Freshman Focus" is an Inside the Hall series on each of Indiana's incoming freshmen. Today, the series concludes with Trey Galloway. Previously: Anthony Leal, Jordan Geronimo, Khristian Lander
Indiana's recruitment of Trey Galloway was a multi-purposed endeavor.
Sure, the Hoosiers saw value in Galloway the player: A gritty, physical guard who is versatile at both ends of the court and a proven winner at the high school level.
But there was also value in the significance of Galloway, an in-state recruit from Culver Academies in the northern part of the state, staying at home for college basketball by coming to Bloomington.
Beyond that, securing Galloway's commitment was also viewed by many as an additional inroad for Indiana to Anthony Leal, Galloway's good friend, teammate in AAU basketball with Indiana Elite and another backcourt recruit for the Hoosiers in the 2020 class.
Needless to say, everything worked out in Indiana's favor.
After more than two years of being recruited by IU, Galloway became the first member of the 2020 class to commit to the Hoosiers, doing so last July.
Two weeks later, Leal followed suit. Eventually some six months down the road, another AAU teammate of theirs from Indiana Elite, Khristian Lander, would reclassify and also commit to IU as a 2020 recruit.
It was a chain of events started in part by Galloway, whose on-court potential for the Hoosiers shouldn't be lost amidst everything else.
"I'd say versatility on both ends, defense and offense," Galloway told Inside the Hall last July when describing his strengths. "I feel like I can guard multiple positions, and for offense, I feel like I can do a bunch of different things, whether that be running the point, being a scorer or being a facilitator."
During his in-season weekly radio show last November, Archie Miller focused more on the intangibles when discussing Galloway.
"The ultimate competitor," Miller said. "He's that guy you want to be in an alley with if something goes down.
"He's ready to go at all times. I think he brings a big, physical guard to the table that's ready to play and compete in the Big Ten early in his career."
Galloway's size (6-foot-5, 200 lbs.) undoubtedly served him well at Culver, where his father Mark is the head coach. As a sophomore he helped the Eagles win the Class 3A state championship, before averaging 16.2 points, 6.5 rebounds and 3.6 assists during a junior season which culminated in another state championship game appearance.
Playing in Class 4A this season, Culver won 15 straight games en route to a sectional title before the COVID-19 pandemic brought the IHSAA state tournament to a halt, and with it Galloway's high school career.
Senior-year averages of 20.9 points, 5.5 rebounds, 5.2 assists and 2.3 steals per game were enough to make him a finalist for Indiana Mr. Basketball, an honor that ultimately went to Leal (Galloway owns the all-time scoring record at Culver with 1,537 career points and is also Culver's all-time assists leader).
Those numbers were more impressive with the context of a right wrist injury that sidelined Galloway for part of a second-straight season. The injury meant he sat out a December game between Culver and Bloomington South as part of the FORUM Tipoff Classic, depriving IU fans of the chance to see Galloway and Leal go head-to-head.
A possible matchup between Leal and Galloway, or Lander and Galloway, in the 4A state title game is now out of the question as well, leaving nothing left to ponder except for the way the three newcomers to the IU backcourt will fit in during their freshman seasons.
While Lander has his explosive scoring ability to fall back on and Leal can point to his distance shooting prowess, the reasons are less obvious for Galloway to be worked into the rotation right away.
Galloway told Inside the Hall last summer of his plans to focus on weight room strength and developing a consistent, knock-down shot during his senior season.
While the stats back up his continued progression, it's fair to think the domino-effect of Galloway's commitment may cost him a chance at meaningful minutes, at least in the short term.
Indiana is suddenly a team filled with backcourt players who have a diverse range of specialties. The versatility of Galloway's game may be useful as a bench contributor, and in particular on nights when multiple guards get into foul trouble, but for now it's difficult to see any individual part of his game overtaking that of another IU guard's (Rob Phinisee's defense and passing, Al Durham's experience, Khristian Lander's scoring, Anthony Leal's distance shooting, etc.).
Galloway projects to be a four-year player for IU, so it's worth noting he will have a chance at some point to make an impact, even if it is slightly delayed because of the events he helped set in motion.
Filed to: Freshman Focus, Trey Galloway