Archie Miller excited about IU's 2020 recruiting class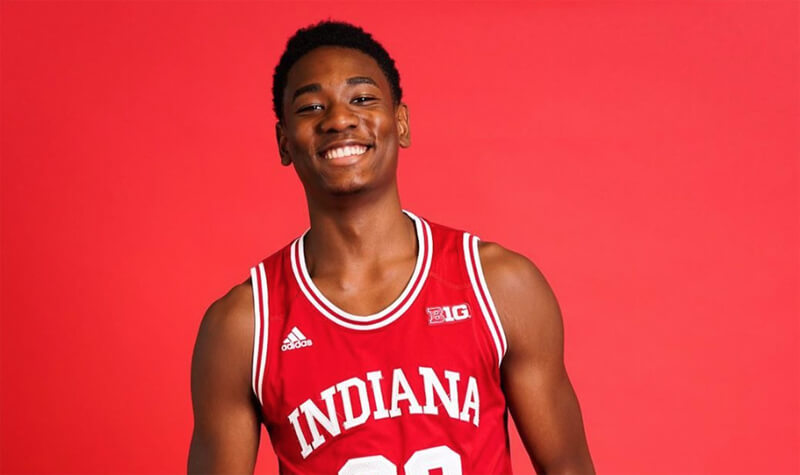 After Anthony Leal, Trey Galloway and Jordan Geronimo all signed their national letters of intent last week, head coach Archie Miller spoke about the trio publicly for the first time on his radio show, "Inside IU Basketball with Archie Miller," Monday night.
These three make up the third recruiting class for Miller since coming to Indiana, and Miller seems excited about what they can bring to the table. Let's take a look at what the third-year head coach had to say about his current 2020 recruiting class.
Trey Galloway
Galloway will be coming to Indiana from Culver Academies, and Miller referred to him as "the ultimate competitor."
A three-star guard standing at 6-foot-4, Galloway is a player who will make a lot of the hustle plays. He's spending this offseason working on developing more of an outside shot and is known for tenacious defense around the perimeter.
"He's that guy you want to be in an alley with if something goes down," Miller said.
Last season, Galloway and his team lost by three to Silver Creek in the IHSAA state championship game. After Hoosier Hysteria, Galloway told Inside the Hall he's locked in on avenging that loss.
It's that type of drive that Miller seemed impressed by.
"He's ready to go at all times," Miller said. "I think he brings a big, physical guard to the table that's ready to play and compete in the Big Ten early in his career. He's a winner, you know, he's going to compete again for another state championship hopefully this year at Culver."
Anthony Leal
When Miller mentioned Leal, there was a bit of an applause from the fans in attendance at the Holiday Inn Bloomington.
Leal is a local product from Bloomington High School South, but Miller made sure to emphasize he isn't just reaping the benefits of being a townie.
"Make no mistake that just because he goes to Bloomington South, and he's very familiar with our surroundings, that he's not just as important as everybody else," Miller said. "He's a terrific player."
Leal is four-star recruit and brings sharp 3-point shooting to the forefront. It's no secret Indiana has struggled from the perimeter since Miller took over, and with a very big lineup this season and likely years to come, Leal's shooting could be a much-needed advantage when he gets to Bloomington.
The 6-foot-4 guard also spoke with Inside the Hall after Hoosier Hysteria, and said he has been making 500 3-pointers every day since September to try to improve his shot in preparation for his final prep campaign in which he hopes to also win a state championship.
"Great motor, awesome worker, fantastic student," Miller said. "Can shoot the three. He's a big guard, and with the way we're playing in transition and what we're doing off the ball, he kind of really fits in system-wise. He's a competitor, he really competes."
Jordan Geronimo
Miller described Geronimo as a "newcomer to the table a little bit off a beaten path."
Geronimo was a late bloomer, and he really rose up in the high school ranks after a breakout junior season at St. Paul's School in New Hampshire and a successful summer with Mass Rivals on the adidas Gauntlet circuit.
A three-star recruit, Geronimo received offers from the likes of Virginia and Georgia before choosing Indiana after taking his official visit back in September.
"He's about 6-foot-6 with about a 7-plus wingspan, probably the longest wingspan on the team at 6-foot-6," Miller said. "Fantastic athlete, great body and he's going to be physical."
When Geronimo spoke with Inside the Hall after his commitment, he was very humble but confident in his ability, mesmerized by the tradition of Indiana basketball and understood how his role on the team will have to progress over time.
Next summer when Geronimo gets to Bloomington, he'll be a young 17-year-old freshman.
"He can really defend the three and the four position and comes in with a 3-point shot ready," Miller said. "But he's a guy that's so young that, man, with an upside like him in a development at a place like Indiana in a couple of years, you know, hopefully you have something special there."
Not done yet
After discussing the strengths of his three recruits, Miller pointed out they are "not done yet" in terms of recruiting.
This could be a reference to Dawson Garcia, a five-star forward who will make his decision on Nov. 20 at 4:30 p.m. ET between Indiana, Marquette, Memphis and Minnesota live on CBS Sports HQ.
In a very guard/wing-heavy class, adding a skilled 6-foot-11 big man like Garcia would be a big addition for the Hoosiers, especially with De'Ron Davis graduating after this season.
But, even if Garcia doesn't choose Indiana, Miller will still have one scholarship spot left to fill for 2020.
"We're always on a quest to add some pieces to what we're doing long term," Miller said. "But those three guys in particular, we're very excited about. They're great for the community, they're going to do great in school and they're going to add to obviously our tradition of bringing in guys here who want to compete for Big Ten championships."
Filed to: Anthony Leal, Jordan Geronimo, Trey Galloway