Trey Galloway says Indiana can be 'pretty good' this year, anxious to start final prep season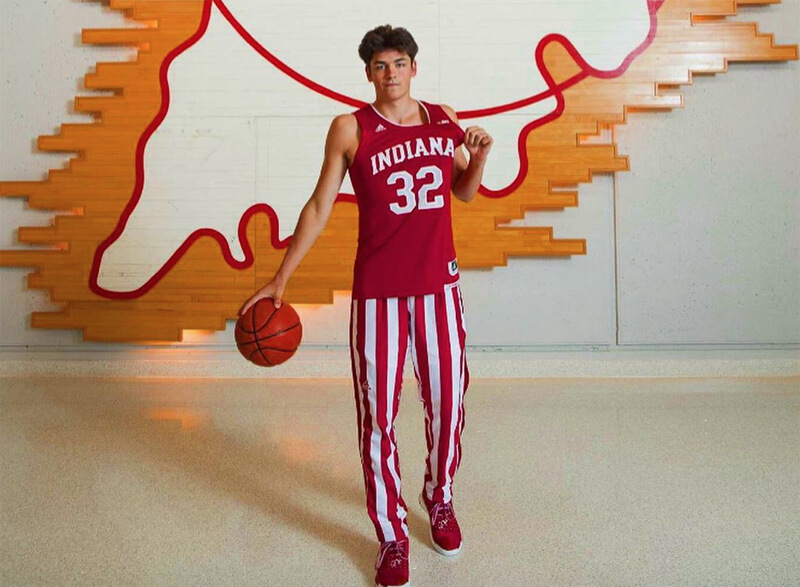 When Trayce Jackson-Davis walked out to the "Rocky" theme music at Hoosier Hysteria, he potentially stole the possibility of a future Hoosier to do the same.
Culver Academies guard Trey Galloway was in attendance at Hoosier Hysteria and "Rocky" is his favorite movie. At next year's Hoosier Hysteria, Galloway will be tasked to come up with his own theme music to walk out to in front of the Assembly Hall crowd. Since Jackson-Davis just did "Rocky," Galloway doesn't want to copy him.
"There's a whole other year for some good music to come out," Galloway said. "I'll definitely have something in mind by that time."
Jackson-Davis also did something Galloway could have in store for Hoosier fans next year. Galloway said he told the coaches he thinks he'll be in the dunk contest, and he's been able to pull off a between-the-legs dunk before, which was the dunk Jackson-Davis did to secure the victory.
"Maybe I can pull that off next year," Galloway said.
The first class of 2020 commit for IU was in attendance with Bloomington High School South's 2020 commit Anthony Leal and 2021 targets Khristian Lander (Evansville Reitz), Caleb Furst (Blackhawk Christian) and Trey Kaufman (Silver Creek).
Galloway has been close friends with Leal and Lander for awhile since they all play for Indiana Elite, but he said it was cool to hangout with all four of the guys in the Indiana locker room before the event.
"We really didn't talk about recruiting or anything," Galloway said. "Just talked about personal things and about how all their high schools were doing. It was good experience to be around other really good players."
The weekend was Galloway's official visit, as it was for Leal and Lander, too. They got to go to Archie Miller's house, hangout with the Indiana roster and all did a photo shoot together.
The 8-minute scrimmage at Hoosier Hysteria offered Galloway, as well as all Indiana fans, a glimpse into what the team could bring to the court for this upcoming season. Galloway said even though there was no Devonte Green, Rob Phinisee or De'Ron Davis participating in the scrimmage, he liked what he saw.
"I think they have a shot to be pretty good," Galloway said. "They have some guys back that have experience in the Big Ten, and the new guys coming in are pretty good. I mean, Jerome (Hunter) not being able to play last year and coming into this year, I think he's got a shot to be pretty good. Trayce and Armaan (Franklin) coming — I mean, they have depth. They got a lot of guys that can play, so I think they can be pretty good in the Big Ten."
While Indiana tries to be a force in the Big Ten this season, Galloway has his sights set on avenging last year's three-point state championship loss to Silver Creek.
After he committed to Indiana on July 26, Galloway told Inside the Hall the areas he wants to improve the most is in the weight room and crafting more of a knock-down shot. A few months later, Galloway feels like he's made good progress toward those goals.
He said he's been working on them all fall and said he's feeling very confident in his game as his final high school season approaches.
"I've been anxious all summer. Ever since we lost the state championship, I've been anxious to get back at it," Galloway said. "So, I'm going to enjoy it and have fun while it lasts. I'm going to have as much fun as I can but also take care of business. This year, just trying to get back to the top and hopefully regain what we lost last year."
Filed to: Hoosier Hysteria, Trey Galloway