Hoosier Hysteria scrimmage offers Jerome Hunter a chance to return to court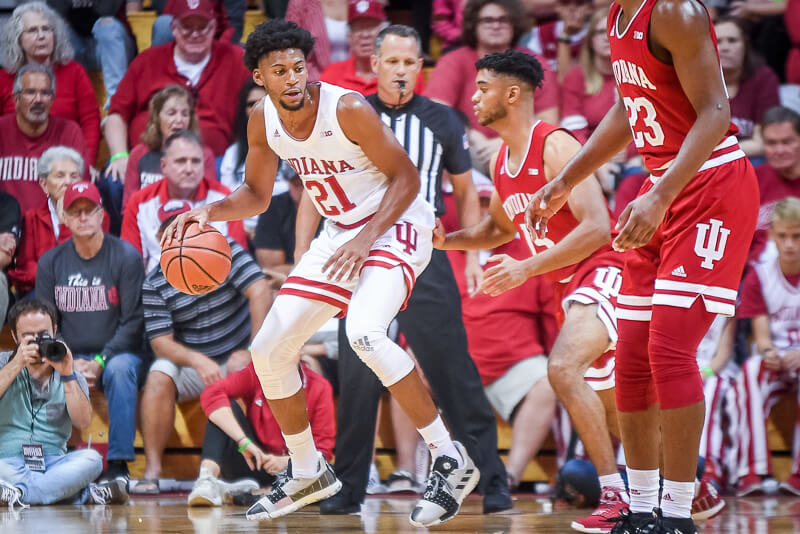 Saturday afternoon's Hoosier Hysteria came to a close in custom fashion, with a brief public scrimmage by the Indiana men's basketball team.
The eight-minute session came following a 3-point shooting, skills and dunk contest involving both the men's and women's teams.
Several key pieces for the 2019-20 season were kept out of Saturday's activities as a precaution following Indiana's opening week of practice. Seniors Devonte Green and De'Ron Davis, along with sophomore Rob Phinisee, were the three players who didn't participate.
A program spokesperson said it was a precautionary measure to keep Davis, Green and Phinisee out, and no serious injuries have emerged following the opening week of practice.
Of the 12 Indiana players who took part in the scrimmage (including newly-named senior walk-on guard Adrian Chapman), the Cream and Crimson teams were divided as follows.
Cream: Joey Brunk, Nathan Childress, Al Durham, Armaan Franklin, Jacquez Henderson and Jerome Hunter.
Crimson: Damezi Anderson, Cooper Bybee, Adrian Chapman, Trayce Jackson-Davis, Justin Smith and Race Thompson.
The Cream team emerged 15-9 winners, with Durham leading all scorers with five points, including a 3-pointer.
Durham also contributed three rebounds and a steal toward the Cream team cause, although it was the inclusion of Hunter which marked the most notable moment from the scrimmage.
Hunter also participated in the 3-point shooting and skills competitions Saturday, and seemed to move freely and without bother on the court. He scored four points by making two of his three shots during the scrimmage, and also added a rebound and an assist.
It marked just the second time Indiana fans have seen Hunter in action, with the other occasion being last year's Hoosier Hysteria.
"It felt good, I couldn't wait," Hunter said of returning to the Assembly Hall court. "I love the fans here. I just love how they act when you get a bucket, when you score. I just love the atmosphere."
While only so much can be gleaned from a half-hearted scrimmage, it was an active performance from the two most prominent Indiana big men who took part.
Jackson-Davis scored four points and recorded a pair of rebounds and a block, while Brunk also had four points and a block, along with three rebounds.
Transition opportunities were at a minimum, as most of the scrimmage featured half-court offensive sets run by the Hoosiers.
Those moments partially displayed coach Archie Miller's vision for an Indiana team boasting significant interior size.
Brunk, Jackson-Davis and redshirt sophomore Race Thompson all recorded a block during the scrimmage, and driving opportunities for Hoosier guards were infrequent.
The exhibition also gave the crowd inside Simon Skjodt Assembly Hall a chance to watch the lesser-known members of this season's squad. All four of Indiana's walk-on players (Bybee, Chapman, Childress and Henderson) took part in the scrimmage.
It's the last public, on-court look the Hoosiers will provide until the end of the month.
Indiana is set to play a "secret scrimmage" against Marquette on Oct. 20 at Bankers Life Fieldhouse in Indianapolis before playing an exhibition game against Gannon University on Oct. 29 in Bloomington.
Filed to: Hoosier Hysteria, Jerome Hunter