6-Banner Sunday: Hoosier Hysteria gives Indiana fans first look at 2019-20 squad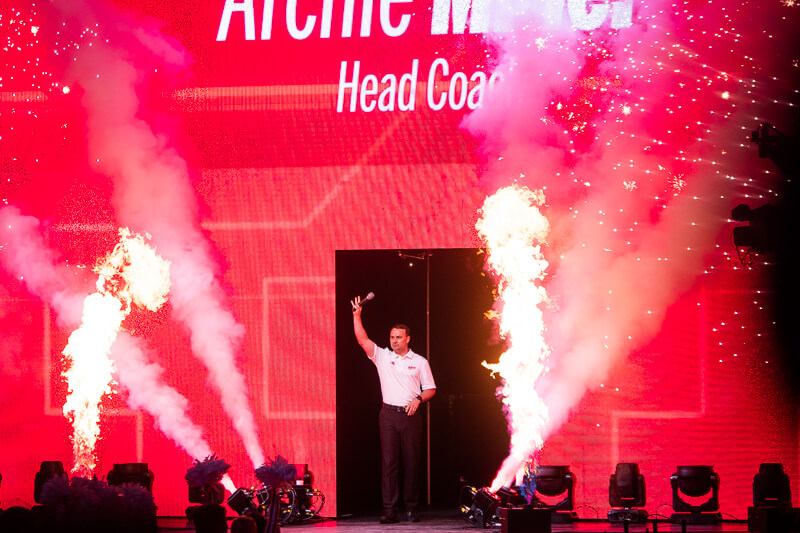 6-Banner Sunday is Inside the Hall's weekly newsletter in partnership with The Assembly Call. More than 6,500 Indiana fans receive the newsletter each week. In addition to appearing each week on the site, you can also opt to receive 6-Banner Sunday by email. A form to subscribe via email is available at the bottom of this week's 6-Banner Sunday.
Welcome to another edition of 6-Banner Sunday, a joint production between The Assembly Call and Inside the Hall where we highlight the five most essential IU basketball stories of the past week, plus take a look at how the other IU sports programs are doing.
Indiana basketball took the stage, literally, on Saturday during the 2019 edition of Hoosier Hysteria.
All players walked out to their self-chosen tunes onto a candy-striped stage just below the five National Championship banners in Assembly Hall. Fire and pyrotechnics lit up the dimmed lights in the arena. Shortly after the introductions, the Hoosiers took the court, along with the women's team, to offer a slight glimpse into the makeup of the 2019-20 squad.
Saturday's festivities, along with Big Ten media day, highlight the news from this week.
In this week's edition:
• Jerome Hunter participates in three events, pulls off smooth fadeaway
• Calbert Cheaney is 100% behind Archie Miller
• Trayce Jackson-Davis honors Cheaney with reverse slam
• Al Durham, Joey Brunk take home other skill contests
• Devonte Green, Durham represent team at Big Ten media day
• Hoosier Sports Roundup
Banner #1
Jerome Hunter participates in three events, pulls off smooth fadeaway
Jerome Hunter has taken the court twice during his time at Indiana — once at last year's Hoosier Hysteria, and now at this year's Hoosier Hysteria.
After missing all of last season, Hunter was cleared for all basketball-related activities, which was announced during the team's media day on Sept. 24. On Saturday, Indiana fans got to see Hunter on the floor on multiple occasions.
He teamed up with women's basketball's Brenna Wise in the 3-point contest and showed off his smooth stroke from the outside. Even though Hunter and Wise were eliminated in the first round, the redshirt freshman was able to knock in some shots from deep.
Hunter also competed in the skills competition, replacing Rob Phinisee, where he ran up and down the court, dribbled through barriers, passed it through, a hole and made a layup.
The most impressive moment for Hunter came during the team's scrimmage. Hunter posted up Indiana's new walk-on Adrian Chapman, backed him down with his left shoulder, then spun right and kissed a fadeaway jump shot off the glass and in.
Hunter met with the media after the event, and said, "I'm happy to be back out there."
Banner #2
Calbert Cheaney is 100% behind Archie Miller
When Archie Miller addressed the crowd at Hoosier Hysteria, he said he thinks this year's team can be "really special." But before he finished speaking, he said he wanted to show appreciation for what "excellence" is all about when it comes to Indiana basketball.
Miller brought out Calbert Cheaney, who received a standing ovation for being inducted into the National Collegiate Basketball Hall of Fame. Cheaney had some fun with the crowd, demanding his own walk-up music. He had the DJ play "All I Do Is Win" so he could dance around on stage.
Cheaney took the microphone and said he's "100% behind Archie and what he's doing with this basketball program."
The future hall of famer spoke to the media after the event and continued to rave about the job Miller has done when it comes to recruiting and improving the team's defense. Cheaney said he's excited for this season and hopes this season will be a payoff for Miller and the program.
Future Hoosier Anthony Leal snapped this picture with Cheaney after the event.
Banner #3
Trayce Jackson-Davis honors Cheaney with reverse slam
When Trayce Jackson-Davis was named winner of the dunk contest after pulling off a between-the-legs slam while running under the rim, it appeared the event was over. But Jackson-Davis wanted one last dunk to impress one of the judges — Cheaney.
For this final dunk, Jackson-Davis switched jerseys from his number four to Cheaney's 40. Then, the freshman slammed down a reverse cradle dunk to put the crowd, and Cheaney, on their feet.
"That's a tremendous gesture," Cheaney said. "I appreciate him and everything. Not sure I would be able to do that type of dunk, but I really do appreciate it."
The tribute earned Trayce the Banner Moment on the Hoosier Hysteria post-event edition of The Assembly Call. (The guys also discuss Hunter's performance, several ways to improve Hoosier Hysteria, and much more.)
Jackson-Davis beat out Justin Smith, Al Durham and Armaan Franklin in the contest.
Check out this photo gallery to see some incredible pictures from the dunk contest and the rest of the event.
Banner #4
Al Durham, Joey Brunk take home other skill contests
Other festivities at Hoosier Hysteria included a 3-point contest and skills competition.
Al Durham teamed with Jaelynn Penn in the 3-point contest and defeated the tandems of Hunter and Wise, Damezi Anderson and Ali Patberg, and Armaan Franklin and Aleksa Gulbe. Durham and Penn put up 21 points in both rounds to secure the victory.
In the skills competition, Brunk defeated Hunter in the opening round, then teamed with Patberg in the finals to do a relay-style competition against Cooper Bybee and Grace Berger. Brunk had to handle the layup and 3-point shot, and thanks to a big lead by Patberg, he was able to seal the win.
De'Ron Davis, Devonte Green, and Rob Phinisee didn't partake in any of the events Saturday. Per an IU spokesperson, they were held out for precautionary reasons after the first week of practice; no one has a serious injury.
Banner #5
Devonte Green, Durham represent team at Big Ten media day
Earlier in the week, the program announced Devonte Green and Al Durham would be the captains of the team this season. Green and Durham then joined Miller at the Hilton Rosemont Wednesday for Big Ten media day.
The two talked about being ready to lead the team this season, and Miller also talked about what he expects from his captains in terms of leadership.
"Just being more vocal, making sure everyone is in their spots, making sure everybody's doing the right thing," Durham said Wednesday. "I know I'm going to be an upperclassman, I can't do the things I was doing freshman and sophomore year."
In this week's edition of Assembly Call Radio, host Jerod Morris was joined by Andy Bottoms and Ryan Phillips to discuss how Durham and Green fit in as the team's captains and leaders this season.
On this week's edition of Podcast on the Brink, Alex Bozich hosted Inside the Hall founding member Eamonn Brennan for an in-depth preview of Maryland and the rest of the Big Ten.
Banner #6
Hoosier Sports Roundup
This content was contributed by Aaron Shifron (twitter @ashifron).
Football was on an off week but most other fall sports were in action. Assembly Call will continue to have coverage of Men's Soccer and IU's other Olympic sports this fall in the Assembly Call Community for those with a subscription under the 'Men's Soccer' and "Other Sports" topic.
• Football had Michael Penix named Big Ten Freshman of The Week for the second time this year in the loss to Michigan State. The team has a bye this week.
• Men's Soccer moved to 2-0 in the Big Ten with a 3-1 win over Northwestern.
• Women's Soccer got their first Big Ten point of the season with a 0-0 draw against Michigan in Ann Arbor followed by their first win over Illinois. Also, their game against Michigan State that was postponed by bad weather was rescheduled for Oct 30 and the squad earned the United Soccer Coaches Team Academic Award.
• Volleyball fell to Wisconsin and Illinois.
• Field Hockey lost Big Ten games to Ohio State and Penn State. Also IU president Michael McRobbie was in attendance for the match against the Buckeyes as part of IU's bicentennial.
• Cross Country finished sixth and 12th at the Joe Paine Invitational.
• Women's Tennis finished up the Hoosier Class.
• Softball had 13 on the Easton/NFCA Scholar-Athlete list.
• Swimming and Diving announced their coach Ray Looze and several other former swimmers including Lily King were nominated for Golden Goggle awards.
Thanks for your continued support for The Assembly Call. We'll be back next weekend with a new roundup.
Now go enjoy yourself a 6-banner Sunday.
Filed to: