Hoosier Hysteria notebook: Jackson-Davis honors Cheaney, Miller says team can be special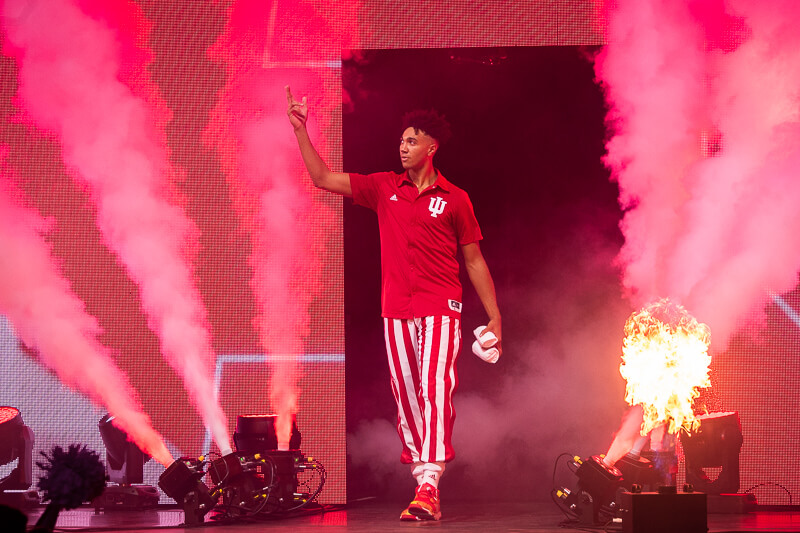 Indiana's 2019 edition of Hoosier Hysteria was filled with fancy stages, dazzling pyrotechnics and competitions where the men's and women's teams put their skills on display.
Here are the highlights from Saturday's festivities.
Archie Miller and Teri Moren excited for upcoming season
After each individual player walked out on the candy-striped stage to their own theme music, tossing out t-shirts to the crowd and dancing at midcourt, Miller and Moren followed their respective teams to address the crowd.
Moren, at her sixth Hoosier Hysteria, said the Indiana fans in attendance, who filled almost the whole bottom level in Simon Skjodt Assembly Hall, never fail to amaze her in their support.
She also said when she got here, she wanted to create something special and referred to the two NCAA tournament appearances and the 2018 WNIT championship during her tenure.
"I'm really proud of all the things we've been able to accomplish to this point," Moren said. "But I've got to be honest, we still have more to do. We still have more to do, and we players to do it with."
When Miller came out, he said "it's good to be back in the best college basketball arena in America."
He also called the fans the best in college basketball as well.
The third-year head coach closed out his sentiments by saying the team has worked extremely hard to get to this point of the year and how he has a great, determined group of players. Miller said the new guys have fit in seamlessly and the older players are doing a good job of communicating and leading.
"This team can be special this year," Miller said. "They really can. They can be very, very special."
Honoring excellence, Calbert Cheaney 100% behind Miller
Before events started, Miller brought out Calbert Cheaney to honor him for being inducted into the National Collegiate Basketball Hall of Fame.
Miller said, "Today, I thought it was a great opportunity for us to honor what excellence is really about when it comes to Indiana basketball."
A tribute video played, and Cheaney came out, joked around he had no theme music, then had the DJ play "All I Do Is Win" so he could walk back out and dance a little bit.
Cheaney thanked everyone for honoring him and said he is "100% behind Archie and what he's doing with this basketball program."
After the event concluded, Cheaney met with the media and expanded on what he meant with that statement. Cheaney said Miller has done a great job recruiting and improving the team's defense.
"I think he's done a great job to this point, and hopefully this season will be an indicator of that," he said.
Al Durham and Jaelynn Penn light it up from the outside
The 3-point competition opened up the action Saturday evening with four teams consisting of one player from the men's team and one from the women's.
There were four racks set up across the perimeter, and one team would go at the same time, starting on opposite ends and crossing paths to shoot five balls from each rack.
Al Durham and Jaelynn Penn scored the highest total of 21 three's in the first round, beating out Damezi Anderson and Ali Patberg (19), Jerome Hunter and Brenna Wise (18), and Armaan Franklin and Aleksa Gulbe (15).
Durham and Penn faced Anderson and Patberg in the finals. The duo put up 21 points again en route to winning the competition 21-18.
Joey Brunk and Ali Patberg show off their skills
This was the first year Hoosier Hysteria that featured a skills challenge. Players would dribble through barriers set up near the sideline down the court, pass the ball through a hole, go make a layup and then finally a 3-pointer.
Competing in the competition was Hunter, Joey Brunk, Race Thompson, Cooper Bybee, Patberg, Chanel Wilson, Grace Berger and Jorie Allen.
Brunk defeated Hunter, Bybee beat Thompson, Patberg over Wilson and Berger topped Allen. Brunk teamed with Patberg in the finals to take on Bybee and Berger in what was made a relay race.
The women would dribble through the barriers and pass through the hole. Then, the men would go make a layup and a 3-pointer to close it out.
Brunk and Patberg were victorious.
Trayce Jackson-Davis wins dunk contest, pays homage to Cheaney
Competing in the dunk contest was Durham, Franklin, Trayce Jackson-Davis and Justin Smith. Cheaney and women's basketball's Danielle Patterson and Bendu Yeaney were the judges.
Each player had one minute to pull off a dunk, and top two scores would face in the finals.
Durham couldn't successfully complete his first dunk, settling for a simple two-handed slam and three's across the board. Franklin, Smith and Jackson-Davis all received eight's and all advanced to the finals.
Jackson-Davis threw down a between-the-legs slam while running under the rim to win the contest. After he won, he pleaded for one more dunk and changed jerseys from No. 4 to 40 in honor of Cheaney.
Donning the 40, Jackson-Davis pulled off a reverse cradle dunk.
"That's a tremendous gesture," Cheaney said. "I appreciate him and everything. Not sure I would be able to do that type of dunk, but I really do appreciate it."
For details on the team's eight-minute scrimmage, check out Inside the Hall's highlights and our scrimmage wrap-up.
The men's team will be back in Assembly Hall Oct. 29 in an exhibition game against Gannon while the women's team will play an exhibition Nov. 3 against McKendree.
Filed to: Hoosier Hysteria