Anthony Leal motivated by Hoosier Hysteria ahead of senior campaign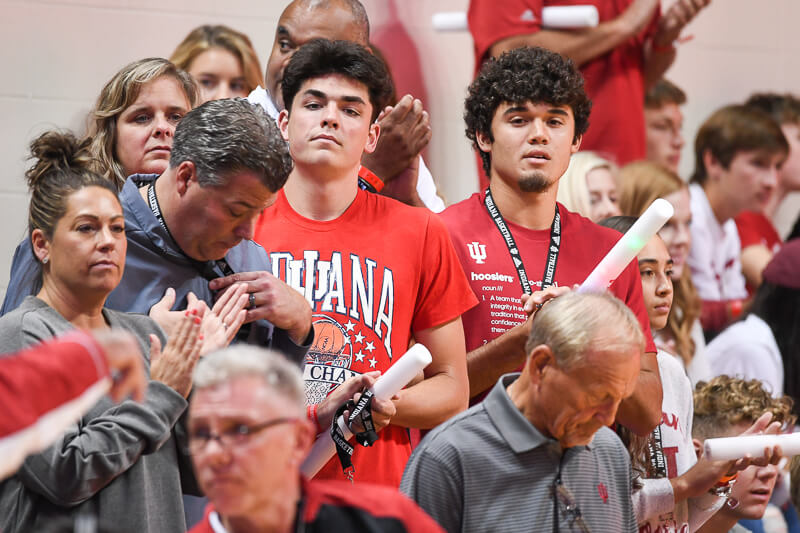 Anthony Leal has been to about 13 Hoosier Hysteria's in his life. Some of his favorite memories growing up come from attending these events, which when we was younger, it was called Midnight Madness.
On Oct. 5, Leal was at another Hoosier Hysteria, but this one felt slightly different.
It wasn't because of the new candy-striped stage below the five National Championship banners, which he said reminded him of an NBA All-Star game. It wasn't about the fire and pyrotechnics either.
It was because this time, Leal knows in a year's time he will be walking out on that stage and getting introduced to the crowd inside Assembly Hall.
"I kind of got some butterflies seeing the guys get their names announced and stuff and just thinking that was actually going to be me next year," Leal said. "So, I think it was really cool to actually picture myself being there and actually know it's going to become a reality next year."
Leal was in the stands with fellow 2020 commit Trey Galloway from Culver Academies, as well as 2021 targets Khristian Lander (Evansville Reitz), Caleb Furst (Blackhawk Christian) and Trey Kaufman (Silver Creek).
"I'd say it was really special for all of us just being kids from Indiana," Leal said. "I think it was fun for all of us, and I think we all enjoyed it."
Leal also had the opportunity to hang out with the Indiana roster all weekend, watching them practice Friday night and hanging out with them the rest of the weekend.
One of the biggest moments of Hoosier Hysteria was something Leal knew was coming. When Trayce Jackson-Davis asked for one more dunk and threw on a No. 40 jersey to pay homage to Calbert Cheaney, Leal was excited to see how Cheaney would react.
After Jackson-Davis threw down the reverse cradle slam, Leal said it was his favorite dunk even though he knew it was going to happen ahead of time.
Leal got to meet Cheaney for the first time ever at the conclusion of the event, taking a picture with him and having a short conversation.
"I was kind of star-struck," Leal said. "I wasn't old enough to get to watch him, but just hearing the stories and seeing some footage of him playing and knowing his accomplishments, I was kind of star-struck to meet him in person and talk to him a little bit."
What Hoosier Hysteria did for Leal more than anything was get himself more excited for his senior season at Bloomington High School South. His final campaign as a Panther won't start until the first few weeks of November and practices won't roll around until the last few weeks of October.
In the meantime, Leal has made it his mission to make 500 3-pointers every single day. It's a routine he just started around three weeks ago. At first, his arms would be sore from the ambitious task, but now he's used to it and time doesn't play a factor when he's in the gym.
"I don't do it for time," Leal said. "I do it for total shots. I see how many shots I can make 500 in and try to do better every day."
Leal said he's going to try and make it to as many home games as he can to watch the Hoosiers try to exceed expectations in Archie Miller's third year. But Leal's main focus will be sticking to his role at Bloomington South and working to get better every day.
"I'm super excited to hopefully win some games with my team and try to make it to a state championship game," Leal said.
Filed to: Anthony Leal, Hoosier Hysteria