Caleb Furst to continue skill development while assessing college options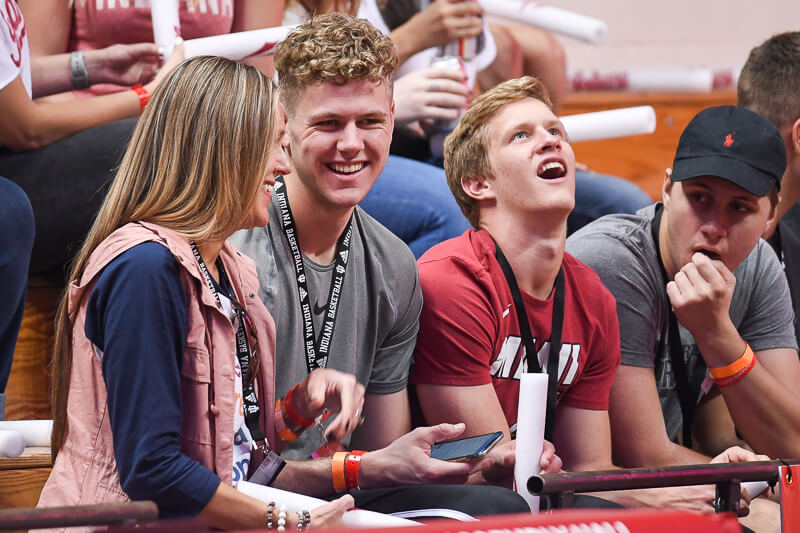 Caleb Furst may be better than most high school students on the basketball court, but the same logic applies to his fast-food decisions as does to any teenager.
He sometimes changes his meal destination with a trip to Culver's, but he will always remain loyal to Chipotle for a popular reason.
"Probably because it fills you up, and it tastes good and… I mean I don't know how healthy it is, but I know it's not horrible for you," Furst said.
His go-to Chipotle order of brown rice, steak, queso, double cheese and guacamole has fueled offseason workouts for the Class of 2021 power forward from Blackhawk Christian School in Fort Wayne, Indiana.
With 14 scholarship offers from the likes of Louisville, Michigan State and Virginia, along with Indiana, Furst has taken it upon himself to improve aspects of his game as he enters his final two high school seasons.
"I really want to make an emphasis on improving my defense. Kind of working on becoming I guess I'd say a lockdown defender," Furst said. "Be able to guard more of the positions, especially 3-5. And then just be more of a threat from anywhere on the floor.
"Just being able to score from anywhere whether it's in the post, around the elbows or on the perimeter."
Furst has used a mix of individual workouts and open gym sessions to hone these skills, and is also a part of the 2019 USA Basketball Men's Junior National Team minicamp this month.
But Hoosier Hysteria weekend was a chance for him to pause and assess what the Indiana program could offer him as a landing spot.
Furst was joined by four other Indiana recruits — 2020 commits Trey Galloway (Culver Academies) and Anthony Leal (Bloomington South) along with fellow 2021 targets Khristian Lander (Evansville Reitz) and Trey Kaufman (Silver Creek) — in the stands for the Oct. 5 event.
Aside from spending time with Indiana's coaches and players before and after Hoosier Hysteria, Furst and his family took the weekend to spend time with his brother Nathan, a freshman at Indiana.
Furst is aware the college experience varies significantly between that of a regular student and a student-athlete, and said Nathan's time at Indiana won't influence his college choice too much.
Instead what will determine where the four-star rated (according to 247Sports) recruit goes is how Furst envisions himself assimilating into a college basketball program.
He wants a program with coaches and players he can build long-term relationships with past his college years, along with an environment conducive to growing both on and off the court.
It was one of those factors which left an impression on Furst after Hoosier Hysteria.
"Seeing how well equipped they (Indiana) are from top to bottom as far as coaching staff goes," Furst said.
Indiana assistant coach Tom Ostrom has been the main recruiting contact for Furst at Indiana, and specified to the power forward why the Hoosiers are interested in bringing him to Bloomington.
"He just talked about how they really like the way I run the floor and the motor I play with," Furst said.
Despite living in Fort Wayne, roughly 200 miles from Bloomington, Furst said being an in-state recruit doesn't have much sway in terms of his college choice.
"At the end of the day it's about what fits me best and so that's really what I'm looking at more than anything," he said. "Where I can really see myself fitting in and thriving in that situation."
An official visit to Indiana is something currently trying to be set up between Furst and the Hoosiers.
In the meantime he'll continue to work on the finer points of his basketball abilities within the flow of games, still powered by rice, meat and cheese.
Filed to: Caleb Furst