FORUM Tipoff Classic Notebook: Lander, Furst, Kaufman and Leal in action as Archie Miller watches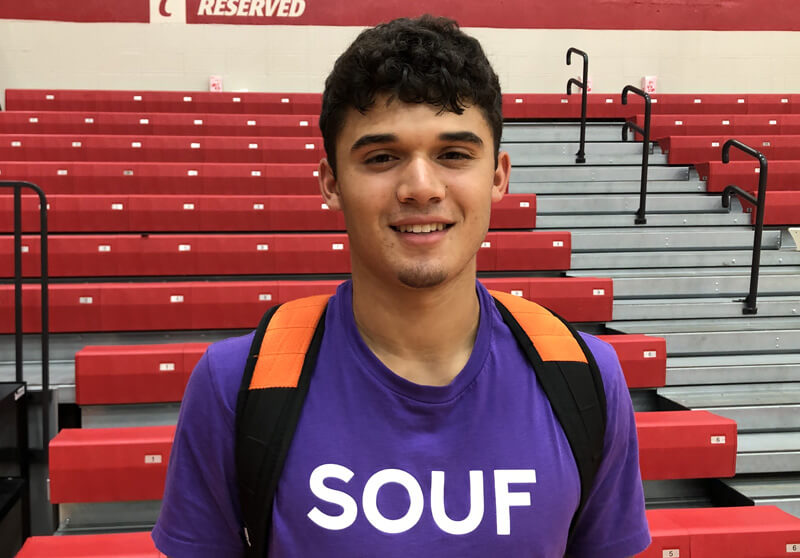 Saturday marked the seventh edition of the FORUM Tipoff Classic at Southport High School on the southside of Indianapolis.
The event, featuring six games throughout the day inside the Southport Fieldhouse, usually boasts a field bursting with individual and collective talent from the state of Indiana, and this year's edition was no different.
Of particular interest to Indiana fans was the final three games of the day, each of which featured players Indiana is either actively recruiting or have already committed to the program.
Indiana coach Archie Miller, assistant coach Tom Ostrom and former player Calbert Cheaney were at Southport for some of Saturday's games, as was Inside The Hall.
Here's a breakdown of all three matchups:
Carmel vs. Evansville Reitz (Carmel wins 63-37)
Class of 2021 Evansville Reitz point guard Khristian Lander was the star attraction for the fourth game of the day, with the 247Sports five-star recruit receiving plenty of interest from Indiana, along with Louisville, Michigan and Memphis.
The top point guard prospect in the nation struggled a bit from the field against Carmel, the reigning 4A state champion.
Lander shot 7-of-15 from the field, and 2-of-7 on 3-pointers, finishing with 18 points in 30 minutes of action.
He also pulled down three rebounds and dished out two assists in the loss.
Among the impressive offensive moments from Lander were a pair of and-one finishes he had after driving into the lane and craftily tossing the ball off the glass and in, two plays which were capped with made free throws.
The makeup of Carmel's team, with plenty of size at all positions, made ball denial much easier when Lander tried to cut to the basket. Evansville Reitz's struggles to generate offense also forced Lander's hand a bit.
The lefty forced up a few shots in the second half after really finding his scoring groove in the second quarter, and this helped contribute to the three turnovers he committed.
Throughout the game Lander's solid dribbling skills were evident, and he remained engaged on defense even as the Greyhounds pulled away on the scoreboard thanks to distance shooting and their size advantage.
Lander had 12 of Evansville Reitz's 23 first-half points and six of his team's 14 second-half points.
Scoring became more difficult for him in the second half as Carmel employed a full-court defense against Lander.
Silver Creek v. Blackhawk Christian (Silver Creek wins 78-74)
The most entertaining game of the day was the fifth one on the slate, as a pair of prized Indiana big men went at it in a high-scoring affair.
Class of 2021 power forwards Caleb Furst of Fort Wayne Blackhawk Christian and Trey Kaufman of Silver Creek (both rated as 4-star recruits by 247Sports) met on the court for the first time ever, in a matchup that many viewed as a way to help decide who is the best power forward preps player in the state.
Inside, Furst dominated against the Dragons.
The vast majority of his 23 points came either in the post, directly at the rim or from the foul line, where he made 5-of-7 free throws.
Furst used spin moves and brute force to displace Kaufman and other Silver Creek bigs, making all five of his first-quarter shots. Among these were a strong two-handed dunk, and on defense the opening quarter also featured a block by Furst on Kaufman.
Furst looked the part as well, assertive himself with a strong frame to pull down seven rebounds while finishing with 9-of-12 shooting in 30 minutes of play.
He also showed some nice hands in the post, passing out of tight coverage to Blackhawk Christian's guards on the perimeter, who made most of their threes early on.
An 11-point Blackhawk Christian lead after the first quarter was gone with nearly three minutes left in the second quarter, and the Dragons closed the gap while Kaufman was on the bench.
He was pedestrian early on, only attempted a handful of shots and didn't really registering an impact inside against Furst.
Kaufman's preferred style is to hang back on the perimeter for the mid-range and 3-point shots that he can make, a major differentiating factor between him and Furst.
But once the game became close again, and especially in the closing minutes, the range of Kaufman helped Silver Creek close out the win.
Among Kaufman's 17 points was an open 3-pointer from the top of the key with 3:15 left that put Silver Creek up seven, its largest lead of the night at that point.
Defensively, Kaufman's quickness allowed him to flow between opposing players a bit easier than Furst. Sudden bursts of speed also aided Kaufman on offense, and on a number of times he was able to blow past Furst or another Blackhawk Christian defender on his way to the basket.
Kaufman's final stat line also included four rebounds, three assists, a 6-of-12 showing on field goals and a 4-of-6 display from the foul line, where he closed the game out for the Dragons, in 26 minutes on the court.
Another significant contributing factor to the Silver Creek win was Class of 2021 small forward Kooper Jacobi, who lit up the court with 26 first-half points thanks to off-the-bounce drives to the basket and distance shooting.
Bloomington South v. Culver Academies (South wins 44-38)
Class of 2020 IU commit Anthony Leal did most of his damage early for the Panthers against Culver, who was without another IU commit, Trey Galloway, due to a right wrist injury.
Galloway's injury isn't expected to be serious, something that will likely only keep him out a few weeks, and Galloway was at Saturday night's game on the Culver bench, calling out instructions and motioning signals to his teammates right alongside his father Mark, who coaches Culver.
On the court, Leal scored nine of Bloomington South's 15 first-quarter points, and he asserted himself right at the start of the game, taking a shot on each of South's first four possessions.
He didn't score again until late in the fourth though, and he largely disappeared from the stat sheet in a game that was choppy and without flow from either team.
In that first quarter Leal showed good skill to get to the rim, slicing through the Culver defense to create shots from himself.
His hustle was also evident, something Archie Miller praised earlier this year after Leal signed his National Letter of Intent to come to Indiana.
Leal finished with 11 points and three assists on 4-of-10 shooting from the field, although he missed both of his 3-point attempts in his 28 minutes of action.
Against a smaller Culver team, Leal showed versatility on defense as well, being able to box out and hold his own under the basket when the situation called for it.
Filed to: Anthony Leal, Caleb Furst, Khristian Lander, Trey Galloway, Trey Kaufman