Offseason storylines: Al Durham may have to adapt yet again as a senior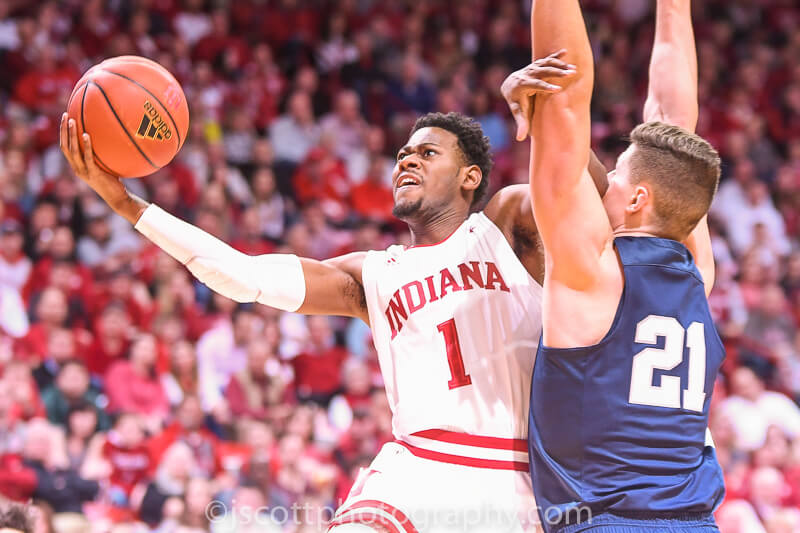 Welcome to offseason storylines, a look into some of the biggest storylines surrounding the 2020-2021 Indiana Hoosiers. Today's topic: Al Durham may have to adapt yet again as a senior
Previously: IU's breakout candidates for 2020-2021, Where will Trayce Jackson-Davis fit among the Big Ten's best in year two?
Archie Miller often refers to Al Durham as "self made."
It's a descriptor that conveys Durham's determination to reach this point in his college career.
Durham was recruited by Tom Crean to Bloomington and committed to Indiana in October 2015, becoming the first member of IU's 2017 recruiting class.
A recommitment to Indiana and Archie Miller then followed in spring 2017.
As Durham approaches his final year, he's set to be the first four-year player to come through the IU program under Miller (Race Thompson is also in his fourth year, but only his third of eligibility after redshirting the 2017-18 season).
To this point Durham's career has been defined by adaptation, and more of it seems certain in his senior season.
*****
Speaking to Inside the Hall in October 2015 after his son committed to IU, Al Durham Sr. laid out the rationale for his son's early commitment.
"It's Indiana basketball. They're going to get McDonald's All-Americans, they're going to get high profile players, they can get guards," he said. "So he kind of wanted to put a stamp on it, own it and take on a challenge."
Aside from a brief period when Crean was fired, Miller was hired and Durham asked to be released from his National Letter of Intent, the Georgia native has remained dedicated to the Hoosiers.
During the Archie Miller era at IU, Durham has played the most minutes (2,406) of any Hoosier and is second in games played (97) and starts made (71) to Justin Smith, whose offseason departure leaves Durham as the lone thread tying together Miller's IU teams.
Something key to Miller retaining Durham as a member of IU's 2017 recruiting class was a visit Miller made to the Durham family home in Georgia after Durham was released from his NLI. During that meeting Miller showed clips of how guards played on his Dayton teams and explained to Durham the value he saw in him as a ball handler, off-the-ball player and defender.
All three of those roles have described Durham as a Hoosier.
As a freshman he earned minutes early in the season thanks to his defense, a theme that continued as Synergy Sports rated him as Indiana's best individual defender (0.66 points per possession allowed) that season, although meshing with the likes of Green, Josh Newkirk and Robert Johnson on the offensive end proved a more arduous task.
Durham's sophomore season established him as a starter, a role cemented with enthusiastic defending and the ability to stretch opponents with distance shooting, albeit intermittently. Durham used his versatility to become an indispensable part of the backcourt, although his offensive limitations still showed as part of a team that struggled with its offensive identity.
And as a junior Durham had his best statistical season, becoming a reliable combo guard who was the team's best spot-up shooter. A trial run as IU's primary ball handler wasn't an overwhelming success, but playing alongside Armaan Franklin and Rob Phinisee negated any ills from that experiment and helped Durham finish the season with a career-best 4:3 assist-to-turnover ratio.
This progression fit in lockstep with what Miller said last December about his ideal version of guard play at Indiana.
"As a group, their floor game on offense, making guys better, assist-to-turnover (ratio), then their floor game on defense in terms of not only one-on-one, but a commitment as a group to defend the other team's backcourt in a better fashion," Miller said.
*****
Expectation is Durham will close his college career by serving as a team captain for the second straight season, but even as Durham's intangibles have grown and his play-making ability has improved, he may yet again have to reinvent himself based on the players around him.
IU has now shifted to being a backcourt-heavy team, with three freshman guards and a newcomer on the wing all now in Bloomington. One of those players in particular, 5-star recruit Khristian Lander, has the most potential to shake up an in-flux IU rotation.
Among the potential new lineups Miller could deploy this season is a three-guard set, which would presumably bump Durham to the 3 spot given his lanky frame with Lander and Phinisee in the backcourt.
The additions of Trey Galloway and Anthony Leal to the program, along with whatever progression comes from Franklin in his second season, may also force Durham to further tweak his game in accordance with what IU needs from him.
This is to say there's a chance things finally stay the same for Durham at Indiana, or things will all change once again. Whatever does happen, IU's first four-year player under Miller is more fully aware than ever of his flexible value to the team.
Those around him are as well.
"We're comfortable with him, how we trust him, how his teammates trust him," Miller said last November of Durham. "Some guys are self-made. He takes great pride in his own development."
Filed to: Aljami Durham