Offseason storylines: Where will Trayce Jackson-Davis fit among the Big Ten's best in year two?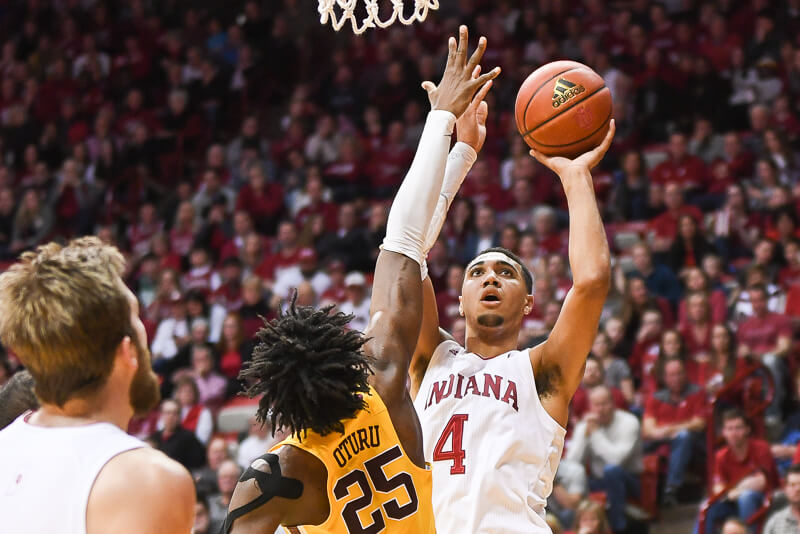 Welcome to offseason storylines, a look into some of the biggest storylines surrounding the 2020-2021 Indiana Hoosiers. Today's topic: Where will Trayce Jackson-Davis fit among the Big Ten's best in year two?
Previously: Offseason storylines: IU's breakout candidates for 2020-2021
It was revealed yesterday that on Aug. 2, reigning Big Ten Player of the Year Luka Garza will announce his decision to either go to the NBA Draft or return for his final season at Iowa.
Garza is one of many premier big men in the conference that might/might not be around for next season, whenever that may be.
So that begs the question, with all the departures and changeups around the league, where does it leave returning Indiana sophomore Trayce Jackson-Davis?
After a stellar freshman campaign in which Jackson-Davis averaged 13.5 points and 8.4 rebounds while shooting 56 percent from the field, fans were ecstatic when he took to Twitter to let everyone know he was going back for a second season in the cream and crimson.
Jackson-Davis used the hashtag "unfinished business" in his tweet, referring to Indiana's hopes of making the NCAA tournament, which would have happened this year for the first time since 2016 if it weren't for COVID-19.
High expectations are being set for the 2020-21 Hoosiers, and that's mainly because their best player is returning. In addition to being Indiana's best player, Jackson-Davis might rise to be one of the best players in the Big Ten this season.
Even in a crowded conference frontcourt last season, Jackson-Davis made his presence felt. Jackson-Davis was eighth among all Big Ten players last year in made field goals with 159. He was 11th in total points scored at 433, he was tied for sixth with Cassius Winston in free throws made at 115, he was seventh in offensive rebounding (96) as well as in defensive rebounding (174), and he was fifth in blocks at 59.
Of those stats listed above, Kofi Cockburn, Illinois' big man who edged out Jackson-Davis for Big Ten Freshman of the Year, only led IU's rising sophomore in one of those categories, and it was offensive rebounds with 107.
Most other players who were above Jackson-Davis in those categories were all either seniors or have declared for the NBA draft. Players such as Winston, Anthony Cowan, Ayo Dosunmu, Lamar Stevens, Xavier Tillman, Kaleb Wesson, Daniel Oturu, Jalen Smith and of course, Garza.
Of the Big Ten's top post players, Smith, Oturu and Wesson are all staying in the NBA draft. But Garza, Tillman and Cockburn are all still undecided.
Even if the three latter players return, Jackson-Davis will still be one of the top big men in the conference after having a full season under his belt. Especially with the end-of-season departures and new arrivals, IU's roster looks like it will provide more space and weapons around Jackson-Davis, which will only make him better.
The biggest difference that separated Jackson-Davis from his counterparts last season was the ability to step outside the paint and knock down jump shots. As much as Garza, Smith, Oturu, Wesson and others could body opponents on the block, they could also face-up and pop outside to knock down the long ball.
That's where Jackson-Davis' game needs to grow the most, especially if he wants to make a big leap on NBA draft boards, where he currently ranks 29th on Sports Illustrated's top 30 2021 prospects.
A mid-range game is definitely not out of the question for Jackson-Davis as he knocked down a few last season and took a lot of them in warm-ups.
No matter what additions Jackson-Davis, who will now be wearing No. 23 like he did in high school, puts on his game, there's no denying he can be one of the top players in the Big Ten and possibly the country.
One of the main reasons Khristian Lander wanted to reclassify is because he wanted to play alongside Jackson-Davis. Lander told Inside the Hall in February that he thinks they can dominate the Big Ten together. A large part of that will be Jackson-Davis becoming an even more dominant force on the court than he was a year ago.
Filed to: Trayce Jackson-Davis