In year two, Trayce Jackson-Davis can become one of the nation's best bigs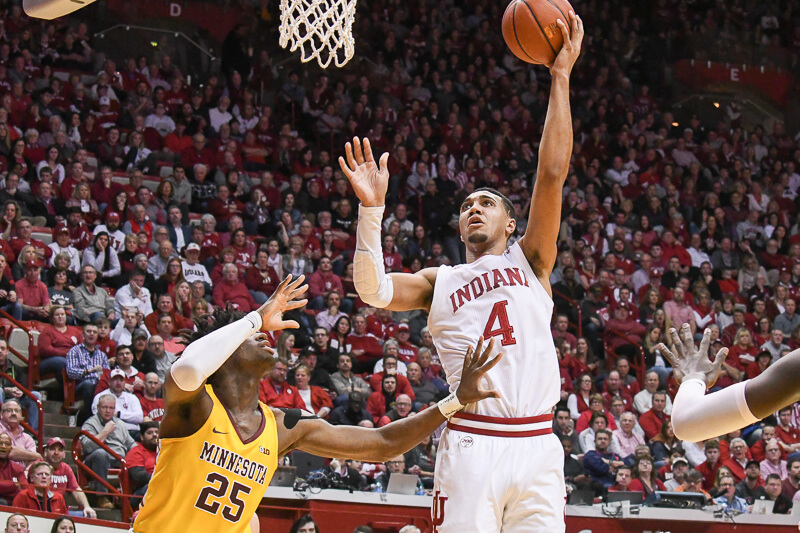 The Big Ten's stature as the nation's best conference last season can be traced, in large part, to the plethora of talented frontcourt players that existed in the league.
Nearly every team in the Big Ten had a competent scorer and rebounder in its frontcourt and several programs had All-America caliber production at either the power forward or center position.
From Iowa's Luka Garza, who emerged as a legitimate national player of the year candidate, to Minnesota's Daniel Oturu and Maryland's Jalen Smith, who are likely to be selected in the NBA draft this October, nearly every Big Ten foe presented a unique challenge.
But even as the Big Ten is once again being viewed as the best conference in the nation entering the 2020-21 season, its froncourt depth has taken a substantial hit this offseason.
Oturu and Smith, along with Michigan State's Xavier Tillman and Ohio State's Kaleb Wesson, all left early for the NBA. All four players had first team all-Big Ten potential had they opted to return to school. Along with those early departures, Penn State's Mike Watkins and Lamar Stevens graduated along with Michigan's Jon Teske. And Purdue's Matt Haarms transferred.
What's left – outside of Garza – presents an opportunity for Indiana sophomore Trayce Jackson-Davis to move up the hierarchy.
After a stellar freshman season in which he started all 32 of IU's games and averaged 13.5 and 8.4 rebounds per game, there remains plenty of room for growth for Jackson-Davis.
"Trayce has to continue to evolve from a freshman to that natural progression as a sophomore where not everything's new to him anymore," Archie Miller said last month. "Now he's leading the way more along the lines than learning on the run. Very few players in America are as impressive or as productive as him and I think he just has to up the production."
Miller is correct when he notes how productive Jackson-Davis was as a freshman.
The Center Grove product made close to 57 percent of his 2s in an offense that allowed for little spacing due to a dearth of perimeter shooting. Defenses knew that Indiana, with its poor 3-point shooting, was going to Jackson-Davis and still couldn't stop him at times. He got to the line in Big Ten play at the third highest rate and drew close to five fouls per 40 minutes in Big Ten play.
But how, exactly, can Jackson-Davis up his production?
Indiana must make it more of a priority to feature him offensively and get him looks and touches. Among Big Ten players last season, Jackson-Davis had just the 29th highest usage rate in the league.
At a usage rate of 21.9 percent, he ranked well below Devonte Green (27 percent) and also below many of the league's top bigs including Garza (31.2), Trevion Williams (31), Stevens (31.3), Oturu (28.4), Nate Reuvers (27.1), Wesson (26.3), Kofi Cockburn (25.1), Smith (22.6), Teske (22.5), Watkins (22.3) and Haarms (22).
Miller, for his part, is envisioning Jackson-Davis expanding his game this offseason, which could open up different ways for him to be utilized within the offense.
"Scoring, there's got to be some different ways he can attack," IU's fourth year coach explained. "I think having more space to play and more guys around him, it will make him better on ball screens and help him be more of an offensive weapon on the run. Pick-n-roll game. He's obviously going to have to branch out a little bit where he's going to have to face the basket and drive people, which he's good at. He's going to shoot the ball a little bit."
The other piece of the puzzle for Jackson-Davis, however, is getting him to embrace the challenge of being the man for the Hoosiers.
Outside of Garza and maybe Cockburn, there's no big man in the Big Ten as capable of dominating in the paint as Jackson-Davis.
At times as a freshman, Jackson-Davis played with that confidence. In a late season matchup against Oturu at Williams Arena, he went for 27 points and 16 rebounds in a pivotal 68-56 win. He took 15 shots, his second highest total of his freshman season, and dominated a presumptive first round pick.
If that type of performance from Jackson-Davis can become the normal for him as a sophomore, the ceiling for Indiana in Miller's fourth season will be raised significantly.
"Unquestionably, he is the guy everyone is going to look at and we're going to put a lot of pressure on him but we put a lot of pressure on him last year, too," Miller said. "He had a lot of pressure on him as a freshman. I thought he delivered pretty good. He's just got to take it up that one more gear and the expectation at least for him to help us contend for the Big Ten. Inevitably, he should be a guy that's being considered for one of the best players in all of college basketball."
Filed to: Trayce Jackson-Davis