6-Banner Sunday: Workouts resume while Hoosiers offer 4-star prospect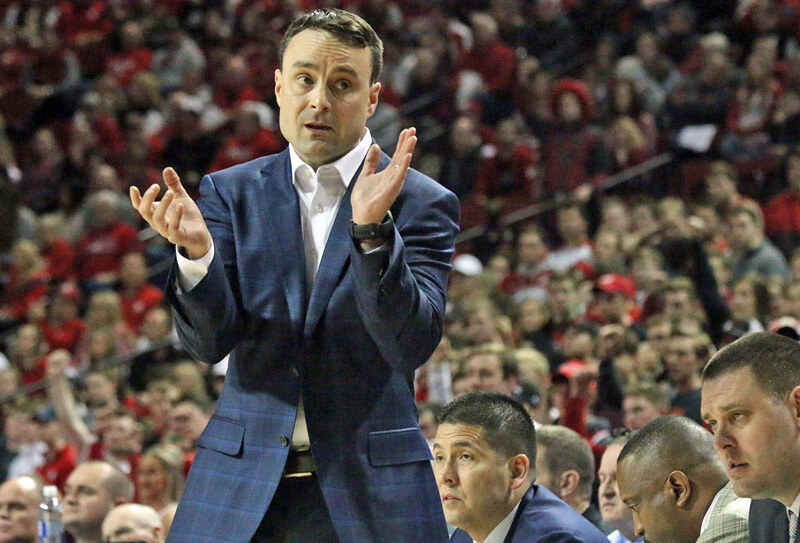 6-Banner Sunday is Inside the Hall's weekly newsletter in partnership with The Assembly Call. More than 7,000 Indiana fans receive the newsletter each week. In addition to appearing each week on the site, you can also opt to receive 6-Banner Sunday by email. A form to subscribe via email is available at the bottom of this week's 6-Banner Sunday.
Welcome to another edition of 6-Banner Sunday, a joint production between The Assembly Call and Inside the Hall where we highlight the five most essential IU basketball stories of the past week, plus take a look at how the other IU sports programs are doing.
Basketball is back in Bloomington.
As college sports continue to determine the safest ways to return in this country, teams are slowly beginning to regroup on college campuses and start the process of preparing for upcoming seasons.
While the lion's share of the attention has been focused on the fast-approaching college football season, developments are also occurring with regard to college basketball.
At Indiana, a significant moment came this week when players were allowed to resume voluntary workouts, while an NCAA ruling further outlined what the next months will look like in terms of allowable team activities.
That, along with previews of two of Indiana's incoming freshmen, some recruiting news and a deep-dive into Romeo Langford's basketball journey, highlighted the past week in IU basketball news.
• Men's basketball workouts resume as NCAA rules on upcoming activities
• 'Freshman Focus' series previews Jordan Geronimo and Anthony Leal
• Indiana offers Class of 2022 forward D'Ante Davis, misses on 2021 recruit Trey Patterson
• Judging Fred Glass' tenure as Athletic Director with Mike Miller
• Reflecting on Romeo Langford's time at IU
• Hoosier Sports Roundup
Banner #1
Men's basketball workouts resume as NCAA rules on upcoming activities
Along with several other Big Ten schools, Indiana brought some men's basketball players back to campus this week.
IU players were allowed to resume voluntary workouts Thursday, following the same screening and testing process for COVID-19 that also applied to IU's football players when they arrived back in town.
Once players are deemed safe, they are able to participate in voluntary activities in limited groups within IU's basketball facilities. Some of the precautionary measures in place include no more than seven people allowed inside the Cook Hall weight and training rooms at one time, no more than 10 people on the basketball court at one time and a lack of locker room access.
Another important distinction is that only team strength coaches and training staff are allowed to work with players in a hands-on role, something signified when IU strength coach Clif Marshall tweeted a video of him opening up the weight room again.
Elsewhere, the NCAA approved a plan this week for required summer activities for men's basketball programs to begin on July 20, while also deciding to defer a decision about a temporary recruiting calendar for 2020.
Banner #2
'Freshman Focus' series previews Jordan Geronimo and Anthony Leal
Last week we saw the arrival of Jordan Geronimo in Bloomington, where he joined local recruit Anthony Leal ahead of each player's freshman season at Indiana.
But what will those seasons look like for each player, and in what ways can IU fans expect Geronimo and Leal to contribute right away?
As part of Inside The Hall's 'Freshman Focus' series, I tried to tackle those exact questions.
In my freshman preview for Jordan Geronimo, I touched on the potential he has to play important minutes off the bench behind Jerome Hunter, who may earn a starting spot following Justin Smith's offseason transfer.
With Leal, I looked at his 3-point shooting as a potential X factor to help the Bloomington South legend stand out in a crowded backcourt for the Hoosiers.
Banner #3
Indiana offers Class of 2022 forward D'Ante Davis, misses on 2021 recruit Trey Patterson
While recruiting has taken on a new look in college basketball due to the COVID-19 pandemic, significant decisions are being made and scholarship offers are being extended all the same.
Indiana experienced both in the past week.
Class of 2021 forward Trey Patterson, a longtime IU target from New Jersey who I profiled for Inside The Hall back in April, committed to Villanova this week, selecting the Wildcats over Indiana and Florida, the other two schools on his final shortlist.
Shortly afterward, Archie Miller and the Hoosiers extended a scholarship offer to D'Ante Davis, a Class of 2022 forward who played his first two seasons of high school basketball at Lawrence Central in Indianapolis.
Recruiting updates were also part of this week's edition of Assembly Call Radio with Andy, Ryan and Coach, although the main focus was the offseason player preview for Race Thompson.
Banner #4
Judging Fred Glass' tenure as Athletic Director with Mike Miller
This summer marks a change in power at the top of IU Athletics, as Scott Dolson will replace Fred Glass as the university's Athletic Director.
While that has been known for some time now, it seems appropriate to begin to reflect on Glass' legacy as IU's Athletic Director, one that included stabilizing the finances of the department and seeing success in plenty of sports ranging from men's soccer and swimming and diving, to baseball and women's basketball.
But the elephant in the room regarding Glass' time as AD will always be men's basketball, specifically the heights reached by the program under Tom Crean, the coaching transition to Archie Miller and the relative lack of success that has followed.
To help unpack all of this, Mike Miller, a former sportswriter for the Bloomington Herald-Times and currently with SB Nation's IU community, Crimson Quarry, joined Alex Bozich of Inside The Hall on this week's edition of Podcast on the Brink to discuss what Glass did as AD, how IU's recent basketball struggles should factor into that discussion and what to make of Miller's time as head coach so far.
Banner #5
Reflecting on Romeo Langford's time at IU
A full season has passed since Romeo Langford starred as a freshman for Indiana, but the story lines persist about Langford's lone season in Bloomington.
The narrative was quickly shaped, especially as IU went on a 1-12 stretch during Big Ten play, that Langford was an overrated freshman and one that contributed to IU's poor on-court performances, even as he put up quality stats while playing with a torn thumb ligament.
With Langford now a contributor in the NBA for the Boston Celtics, who selected him 14th overall in last summer's NBA Draft, Inside The Hall's Dylan Wallace decided it was time to revisit the narrative.
Wallace went inside Langford's choice to come to Indiana, how his freshman season played out and what Langford has accomplished so far in the NBA, speaking with Langford, his teammates and coaches on the Celtics and Langford's father, Tim, to get a full understanding of the story.
It's one of the most complete Inside The Hall feature stories in some time, and can be read here.
Banner #6
Hoosier Sports Roundup
Baseball lost one of their top players while Softball brought in an impactful player to lead this week's headlines.
• Baseball star Elijah Dunham signed with the Yankees as a free agent after going undrafted, forgoing his final season of eligibility as a Hoosier.
• Softball added a grad transfer for this upcoming season who had terrific numbers at Dartmouth.
• Former Hoosier great Antwaan Randel El was put on the ballot for the College Football Hall of Fame.
• Rowing had two athletes nominated as All-American's.
• The new IU Cross Country course will be named for a legend.
• Men's Golf saw four athletes named All-American Scholars.
Thanks for your continued support for The Assembly Call. We'll be back next weekend with a new roundup.
Now go enjoy yourself a 6-banner Sunday.
Filed to: