Indiana names Scott Dolson as next director of intercollegiate athletics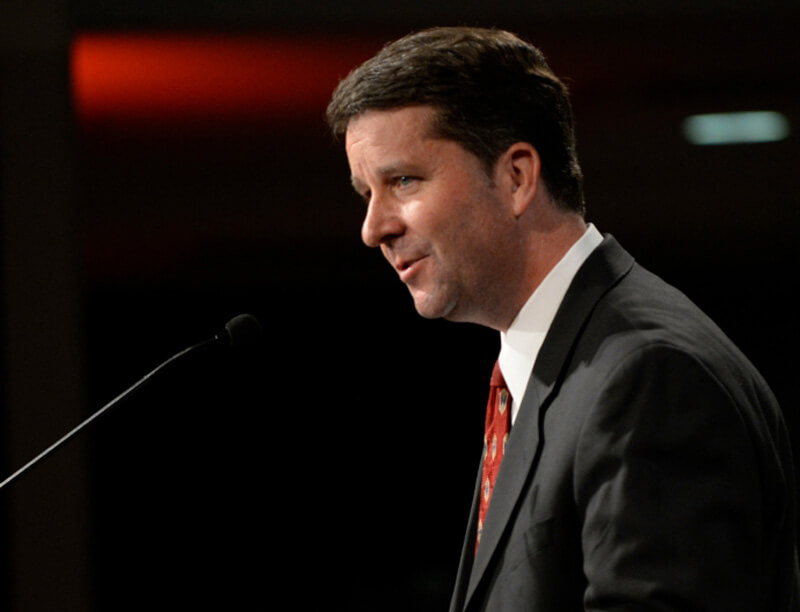 Indiana has landed on a replacement for Fred Glass, who will retire this spring as Athletic Director.
Scott Dolson, a longtime administrator in the department, will be the next director of intercollegiate athletics in Bloomington.
Here is the full release issued moments ago by IU:
BLOOMINGTON, Ind. — Indiana University President Michael A. McRobbie has appointed Scott Dolson, longtime IU athletics administrator, IU alumnus and Indiana native, to become IU's next director of intercollegiate athletics, subject to formal approval by the IU Board of Trustees at its April meeting.

Dolson — who has served as IU's deputy director and chief operating officer of intercollegiate athletics since 2009, after spending seven years as the director of the IU Varsity Club — currently oversees all internal and external operations within the department. These operations include administrative and external alliances, academic services and the IU Excellence Academy, compliance services, athletic performance and engagement, business operations, finance, strategic communications, and fan experience. He also directly supervises IU men's basketball, providing guidance and direction on all administrative matters for the program.

"Given his background and experience in helping to oversee the recent growth and development of nearly every major area of IU's large athletics operation, Scott is extremely well-positioned to lead our intercollegiate athletics program and further its longstanding and storied traditions of excellence as well as build on Fred Glass' outstanding achievements of the last 10 years," McRobbie said. "For more than two decades at IU, he has demonstrated an unwavering commitment to ensuring that our student athletes achieve success both on and off the field, compete within the rules and represent IU with passion, integrity and distinction.

"Scott also fully understands that our athletics program must continue to be integrated into the university in all ways. He knows that our student athletes are, first and foremost, students, who are here to develop their athletics prowess while also earning a world-class education that will have an enormous impact on the rest of their lives."

Dolson will replace Fred Glass, who announced his retirement in December. Dolson is expected to officially assume his new position in late summer.

Dolson was recommended to McRobbie by a 14-member committee of faculty, administrators, alumni and athletics department representatives chaired by IU Vice President for Government Relations and Economic Engagement Bill Stephan.

"The committee reviewed a number of highly qualified candidates from around the country who were attracted to IU's athletics traditions and values, culture of success and consistently well-run programs," Stephan said. "In the end, we found in Scott Dolson an individual who possessed the right combination of experience, integrity, drive and passion for IU sports to lead our athletics program toward a bright and banner-achieving future."

McRobbie and Stephan both emphasized that Dolson will ensure continuity within a department that, under Glass' leadership since late 2008, has set records for both athletic and academic success, including graduating students at unprecedented rates; made historic investments in facilities; delivered unprecedented fundraising dollars; and established nationally recognized programs and policies focused on holistic student development and welfare.

"I am honored and humbled by the opportunity to lead the Indiana University Department of Intercollegiate Athletics, a place I have served for more than two decades and have long had a tremendous love and passion for," Dolson said. "I want to thank President McRobbie, search committee chair Bill Stephan and the entire search committee for the trust they have shown in me to lead the department into a very promising future.

"I'd also like to thank Fred Glass for the leadership and vision he has shown during his truly pivotal tenure as Indiana University's athletic director. In addition to the on-the-field successes, transformational facility projects and ground-breaking policies and initiatives that he has overseen and everyone is well aware of, he has integrated our department into the university and has also worked tirelessly on behalf of our students in support of their athletic, academic and holistic development throughout their time as Indiana University students. He's also been a tremendous mentor, and I'm excited to continue and build on the successes we have enjoyed during Fred's tenure."

In his current role, Dolson has helped oversee strategic planning of all facility projects and renovations, ensuring the successful completion of the university's Bicentennial Facilities Master Plan for IU Athletics, which includes over $150 million in facility construction and renovations. In recent years, these projects have included the North End Zone Student-Athlete Development Center, the Henke Hall of Champions, the D. Ames Shuel Academic Center, Bart Kaufman Field, the Andy Mohr Softball Field, the Cook Hall basketball practice facility, the renovated Simon Skjodt Assembly Hall, the enclosure of the South End Zone of Memorial Stadium, which is home to the Excellence Academy, and Wilkinson Hall, IU's new home for its volleyball and wrestling teams. These projects also include the new IU championship golf course, Pfau Course, and the soon-to-be-completed renovations to Armstrong Stadium, home to IU's men's soccer team, winners of eight NCAA championships.

Under Dolson's stewardship, the athletics department renegotiated a new, 10-year multimedia rights agreement with Learfield Sports, and it has dramatically increased student and general attendance at both football and men's basketball games. Recent years have seen IU football achieve record attendance and increase public season ticket sales. In men's basketball, IU continues to sell more student season tickets than any other program in the country and regularly ranks among the nation's leaders in attendance.

In addition to his role as deputy director of intercollegiate athletics, Dolson has maintained his leadership as the fourth director of the Varsity Club. As director, he manages the athletic department's overall fundraising program for scholarships, annual giving, endowments and athletic facilities.

The Michigan City, Indiana, native graduated from IU with a bachelor's degree in management from the Paul H. O'Neill School of Public and Environmental Affairs. While doing his undergraduate work, Dolson was a student manager for the IU men's basketball team for four seasons, serving as the program's head manager in 1988. Following graduation in 1988, he worked for Tim Knight Enterprises before joining the joining the Varsity Club staff in December 1989.
Filed to: Scott Dolson