Class of 2022 forward D'Ante Davis talks IU scholarship offer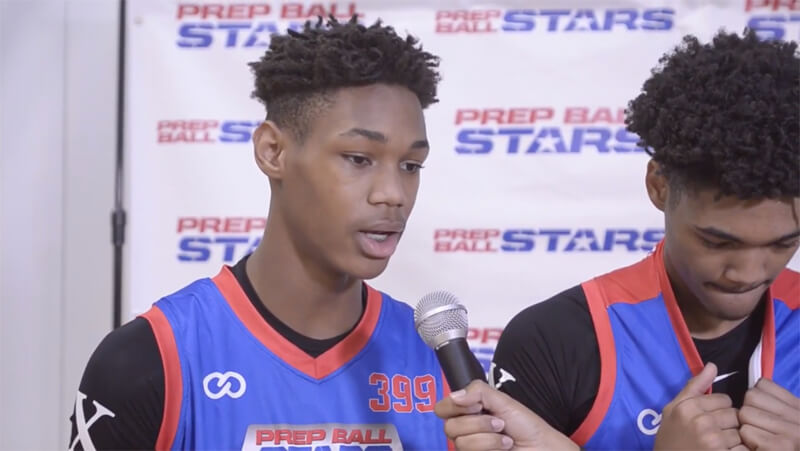 One of the top players in Indiana regardless of class landed a scholarship offer from IU earlier this week.
D'Ante Davis, who played his freshman and sophomore seasons at Lawrence Central, received the offer from Archie Miller on Wednesday.
The No. 73 player nationally in the 2022 class according to the 247Composite, Davis spoke to Inside the Hall about his conversation with Miller that took place earlier this week.
"We did a virtual visit," Davis explained. "It was my parents, Archie and coach (Mike) Roberts. He showed me a lot about the school, about the program, how they run plays and their playing style. He told me what he liked about me and about my game and that he was serious about offering me."
This week has been busy for Davis as college coaches were able to contact rising juniors directly beginning on June 15.
In addition to the conversation with IU, Davis told Inside the Hall he's also heard from Ohio State, Louisville, Xavier, Butler,Nebraska, Illinois, Iowa, Cincinnati, Providence, UCLA, and Air Force this week.
"It's been busy, it's been fun, though," he explained. "Just enjoying the process. Coaches being able to reach out to me has been a blessing. They talk about their schools and what they like in me. Most of the coaches that I've had conversations with, it's been in-depth."
Davis will transfer to Warren Central for the 2020-21 season as his father, D'Andre Davis Sr., was recently hired as the school's head coach after previously serving as an assistant at Lawrence Central.
His older brother, De'Andre, was originally committed to Nebraska, but opted to reopen the recruiting process last fall. The Indiana All-Star subsequently committed to Louisville and will be a freshman for the Cardinals this season.
Although Louisville has made a strong impression with Davis thus far, he said he remains open in his recruitment.
"I would never sugarcoat it, Louisville is coming at me really hard," he said. "They've been impressive. But other schools have been coming at me hard, too. The way I'm going about my recruitment is looking at every school on an even playing field as far as them recruiting me. I want to build my own legacy and have my own destiny. Because what is for Dre might not be for me and what's for him, might be for me. I'm looking for the best school and the best fit for me."
Davis, who believes his best attribute as a player is his competitiveness, said he continues to work hard on his game despite the challenges presented by the COVID-19 pandemic.
The 6-foot-6 wing has a weight room in his house and a basketball court in his back yard, which he says he's utilizing frequently.
"When the gyms weren't open and I couldn't get in, I could still go outside and get some shots up and actually workout," Davis said. "I could still workout as far as weights at home. Nothing really changed for me. I'm still getting better and on my regular routine."
Most of the work Davis is doing on his game in recent weeks has centered on ball handling. He explained that while he feels comfortable with the ball, he is focused on developing second and third moves to go to so that he always has a rebuttal for the defense.
It's also clear from speaking to Davis that watching his older brother, D'Andre, earn scholarship offers and accolades has continued to motivate him to improve his game.
"Before I got my first offer (from Nebraska), it was just a lot of people doubting me saying I couldn't do this or I couldn't do that," he said. "I just always stayed in the gym and worked so hard. And seeing my brother work hard and getting what he deserved, it made me push myself as well. I pushed myself and when I got my first offer, it was like 'man, I can really do this.' And it just went on from there."
Filed to: D'Ante Davis