6-Banner Sunday: Verdell Jones and Tom Pritchard reflect on bringing IU back to prominence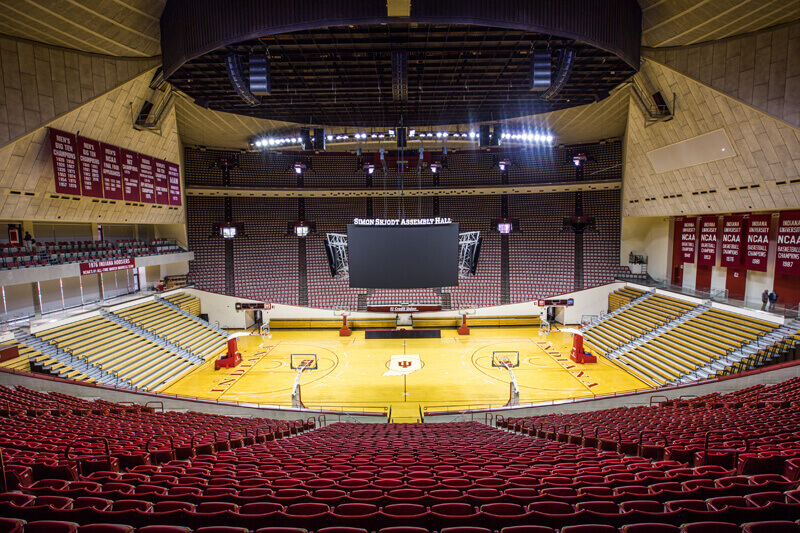 6-Banner Sunday is Inside the Hall's weekly newsletter in partnership with The Assembly Call. More than 7,000 Indiana fans receive the newsletter each week. In addition to appearing each week on the site, you can also opt to receive 6-Banner Sunday by email. A form to subscribe via email is available at the bottom of this week's 6-Banner Sunday.
Welcome to another edition of 6-Banner Sunday, a joint production between The Assembly Call and Inside the Hall where we highlight the five most essential IU basketball stories of the past week, plus take a look at how the other IU sports programs are doing.
It was a light week in terms of news regarding Indiana basketball, but there was plenty of basketball news to discuss, especially surrounding the Big Ten.
Transfers continue to stir the pot for Indiana's biggest in-state rival, causing Purdue's coach Matt Painter to add more flames to the fire.
Also, former Indiana standouts in the last decade continue to step forward and share their experiences with the program, which gives the reader a great look at how the Hoosiers returned to national prominence, a mission Archie Miller and company are on right now.
Finally, we have another activity that warrants the help of all the IU basketball fans out there.
• Former players speak on the struggle and success of Indiana careers
• Will Sheehey getting "band back together" for 2K tournament, IU athletes praise Lo Price
• Assembly Call Radio takes stock of the Big Ten
• Introducing Assembly Call/Inside the Hall 2010's IU players draft
• Hoosiers in NBA series continues, best of Inside the Hall series begins
• Hoosier Sports Roundup
Banner #1
Former players speak on the struggle and success of Indiana careers
Over the last month and a half, Inside the Hall has produced numerous Q&A's with former players, discussing their time at Indiana, what they're up to now, and what they think of the job Archie Miller is doing.
This week saw two more of those former Hoosier Q&A's, and both players just so happened to overlap and endure a lot of the same things when they were with the Hoosiers.
On Monday, Dylan Wallace spoke with Verdell Jones, and on Wednesday, Cam Drummond spoke with Tom Pritchard. Both players competed at Indiana from 2008-2012, where the state of the program was very poor at the beginning with multiple walk-ons and even a baseball player and manager filled roster spots.
Jones and Pritchard, who were freshmen in Tom Crean's first season, talked at great length about the trials and tribulations during their first three years and then the ultimate payoff in their senior season, where they went 27-9, defeated No. 1 Kentucky in the regular season and advanced to the Sweet Sixteen of the NCAA Tournament.
Of course, they also talked about some iconic individual moments for them, such as Pritchard's dunk against Minnesota and Jones' pass to set up Watford's three-point buzzer-beater to beat Kentucky.
Banner #2
Will Sheehey getting "band back together" for 2K tournament, IU athletes praise Lo Price
Jon Blau of the Bloomington Herald-Times had a pair of IU basketball stories this week that encapsulated the past and present, and what the Hoosier family means.
On Monday, he put out a story on former Indiana player Will Sheehey, who is putting together an NBA 2K Tournament called "The Bounty," where fans can enter at a $5 fee and play against former IU players, such as Sheehey, Jordan Hulls, James Blackmon Jr. and Derek Elston, as well as other former Big Ten players, to try and win money. If you beat a pro, you win $250, but you only keep $125 while other half goes to a charity for COVID-19 relief efforts.
Sheehey, who has been out of the Bloomington spotlight since he graduated, now feels the desire to reconnect with some fans and teammates.
"I think it took a pandemic for me to realize how much I missed them," Sheehey said.
Then on Saturday, Blau put out a story on Lo Price, IU's director of academic services, about how she helped IU's athletes over the years stay at the top of their game on the academic side of things.
Price helped Devonte Green, De'Ron Davis and IU women's basketball's Brenna Wise graduate this year, and they were three of the 74 IU student-athletes who earned their diploma this year.
"Lo is the greatest thing to ever happen to us," Al Durham said. "She goes above and beyond. It's all genuine. It's all love."
Banner #3
Assembly Call Radio takes stock of the Big Ten
This week's edition of Assembly Call Radio didn't include a whole lot of Indiana talk, but it featured a lot of discussion regarding the landscape of the Big Ten for next season.
Andy Bottoms was the host this week, along with panelists Brian Tonsoni and Ryan Phillips. They were joined by Jerod Morris later in the show, and topics included the NCAA pushing back its dead period with recruiting with the NBA postponed its draft, as well as Trayce Jackson-Davis changing his number to 23, which was Damezi Anderson's number. Jackson-Davis wore number four last year, and Khristian Lander has often pleaded to Jackson-Davis to give him number four.
But a majority of the show was about Matt Painter's comments this week on the Dan Dakich show, where he criticized players such as Matt Haarms and Nojel Eastern for transferring from Purdue. Haarms will be playing for BYU next season, and Eastern will stay in the Big Ten and play with Michigan.
Finally, the trio looked at who's coming and going from the Big Ten for next season, and they previewed who the top contenders would be.
Banner #4
Introducing Assembly Call/Inside the Hall 2010's IU players draft
For those who remember the Greatest IU Basketball Player of All Time Tournament, which was a joint production between Inside the Hall and Assembly Call that involved participation from all of you, the IU basketball fan, we have come up with a similar activity for the coming weeks.
On this week's edition of Podcast on the Brink, Alex Bozich, Jerod Morris, Dylan Wallace and Cam Drummond participated in a snake draft consisting of all IU players from the past decade, each forming an 8-player team.
The results of the draft can be found here, and you can listen to our reasoning behind all of our picks here.
Using the eight-player teams drafted, a round-robin tournament will commence with all teams playing each other once. At the end of all three rounds, we'll take a look at the tournament table and see whose team is victorious, and if any tie-breaking measures like an extra match-up are necessary.
The winners of each match-up are decided by you, and you can vote on Inside the Hall's Twitter page. Voting for the first round of match-ups took place throughout Friday and Saturday, and the next games to vote on will come out on Monday.
Banner #5
Hoosiers in the NBA series continues, best of Inside the Hall series begins
Inside the Hall's nine-part series of Hoosiers in the NBA continued this week with a look at five former Hoosiers who are making a name for themselves in the league.
This week featured Juwan Morgan, Noah Vonleh, Yogi Ferrell, Thomas Bryant and OG Anunoby. Romeo Langford is the final player to look at, and his will be out this week.
Also, in celebration of the 13th anniversary of Inside the Hall's launch next month, we will periodically be republishing some of our favorite stories from over the years.
This week's story was Troy Williams, written by Justin Albers in 2013. The article covers Williams' journey to stardom at Indiana, and it is well worth the read.
Be on the lookout for many more of ITH classics in the coming weeks.
Banner #6
Hoosier Sports Roundup
Although a few minor sports had previously resumed, this weekend marks the most live competition yet, since COVID-19 hit (in the form of German Soccer, NASCAR, Celebrity Golf, UFC and Horse Racing). However, none of these events involved IU, so its offseason news once again for the below topics.
• Volleyball took center stage this week with the announcement of both their recruiting class for next year and attendance ranking in the top 15. These achievements were discussed on a press conference over zoom by head coach Steve Aird and Assembly Call was present virtually to provide free audio of it. Furthermore, a story about this topic is available in the Assembly Call Community for those who subscribe.
• Football had several bits of news drop this week beginning with a three part interview with the late IU legend George Taliaferro. Part one, two and three can be found here. Also, Associate Head Coach Mike Hart and running back Stevie Scott had media availability and the team held a virtual media banquet
• Women's Basketball star Grace Berger did an interview this week.
• Baseball saw Drew Ashley earn an academic award.
47 Hoosiers earned Winter Academic All-Big Ten Honors.
• Wrestling announced end of season awards and had an athlete earn a special individual honor.
• Water Polo had six Hoosiers earning Academic All-Conference honors.
• Women's Golf presented yearly awards.
• Rowing had a nearly perfect average GPA for the entire team.
• Q and A's this week took place Baseball's David Platt and Track and Field's Shaton Vaughn
Thanks for your continued support for The Assembly Call. We'll be back next weekend with a new roundup.
Now go enjoy yourself a 6-banner Sunday.
Filed to: