Q & A: Former Indiana guard Verdell Jones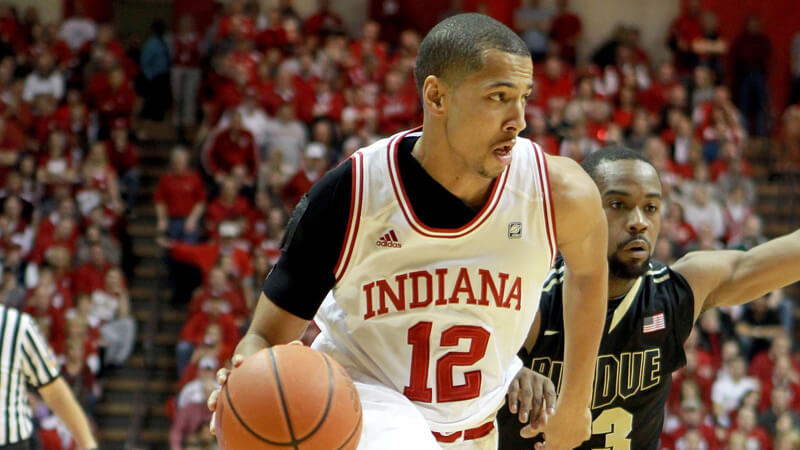 Former Indiana guard Verdell Jones played at Indiana from 2008-2012 and was a freshman during Tom Crean's first year as head coach with the program.
Jones, who now works back in his hometown of Champaign, Illinois, spoke at length with Inside the Hall recently about his career at Indiana, what it was like to play basketball overseas and what he's up to now.
Here is our full Q & A with Jones:
Inside the hall: How have you been doing and what are you up to now?
Verdell Jones: Yeah, things have been good actually. I wouldn't say good because the stuff we're going through right now isn't great, but I just recently became part-owner of a general contracting and general service company here in Champaign. Things have actually been quite busy with us with projects coming up, so just been busy with that, man.
I actually started a youth foundation here in town about a year ago. My dad started it when I was younger, and he believed that basketball could be used as a tool to kind of brings kids in and attract them, and once you get them in, you can kind of Mr. Miyagi them into being better citizens and better members of the community. So we started that last year, had a great first year and was heading into the spring and summer for year two and it was going well, we had a lot of momentum, and then this corona thing hit and it kind of halted all that. So, we're currently trying to figure out a way to have an impact even though sports are taking a hiatus right now.
ITH: How has coronavirus affected your day-to-day life?
Jones: Our job is actually considered essential work, so we're still out and about, man. I got my mask and gloves on and a big thing of hand sanitizer, and I go to work.
ITH: To transition to your career at Indiana, your freshman year was Tom Crean's first year as head coach, so how was it being a freshman when the program was essentially rebuilding at the time?
Jones: Looking back on it, you can have whatever opinion you want. But while I was in it, we were freshmen, you know, we didn't really have any upperclassmen that told us this is the way to do it and this is the way not to do it. Most of us were kind of learning as we went. But you know I feel that freshman year, even though we only won a few games, I felt for my personal development it was huge. It forced me to grow more rapidly, so my personal development was huge. I came from a program where we were winning and that was the biggest difficulty is losing. I hated losing. It's not fun to lose. The fans, they don't want you to lose, so there was a lot of stuff as freshmen that we had to build at that, and we just weren't fully ready or prepared for.
ITH: How rewarding was it to struggle in the early years but then have a senior season like you did, beating Kentucky, winning 27 games and going to the tournament?
Jones: It was very rewarding, especially the way my senior season unfolded. Obviously, there was a lot of doubt and situations that arose in the first three years that make you want to question is this truly what I'm supposed to be doing? But we stayed man and it was beautiful to see where we were my freshman year to back in the national spotlight my senior year. Like I said, it was a work in progress the whole time, but it definitely helped create some character.
ITH: You mentioned not having senior leadership when you were a freshman, but when you were a senior, how did you sort of embrace that veteran leadership and give the younger guys something you didn't have?
Jones: We were in a situation of just being the Big Ten or playing a Kentucky where you become a veteran and get more of an understanding about how the game will play out or how refs will act or how this stadium is or how that stadium is. So, for us to be able to give a little bit more of an understanding or blueprint to the younger guys, I definitely feel like it helped us come together a lot better, especially in my senior year.
ITH: In terms of atmospheres and environments, was Assembly Hall and maybe specifically that Kentucky game the best you've played in?
Jones: Oh yeah, it was, and it's not even close. We played at a lot of great arenas and really that senior year, we got to see how great, you know, the Michigan State arena and the Purdue rivalry and things like that because we were back to a national prominence and people really wanted to beat us. So wherever we went, it was kind of a raucous crowd, but nothing can beat Assembly Hall. When we walked out on that floor for warm ups and saw those fans out there, you know, seeing the fans line up in front of the gym, it was a memory I should never forget.
ITH: Unfortunately, you tore your ACL right before the tournament that year, so how tough was it to deal with at the time that you couldn't compete in the Big Dance?
Jones: Man that was a hard pill to swallow. That was something I dealt with until I retired from playing. It didn't seem fair, you know, at the time. But I understand God has reasons for everything, but to come in that first year and stay all four years when there were a lot of opportunities to leave and a lot of guys left, but I stayed committed. There were so many things that it just didn't seem like it was fair for me to finally get the opportunity to go past that first game of the Big Ten postseason, you know what I mean? For it to kind of fall short the way it did, it definitely hurt, man.
ITH: Was it tough to watch that Indiana-Kentucky rematch in the Sweet Sixteen from the sidelines?
Jones: It was, but I was so proud of our guys, though. That was Vic's (Victor Oladipo) coming out party. That's what solidified his NBA potential. Like I said, everything happens for a reason, so I don't regret it at all, but I do wish I could've laced it up out there with those guys again. I did feel that my senior year was a special season. Final Four or more is what we were working for, so that's the only thing I think about sometimes now and then. But like I said, God has a plan for everything.
ITH: I know you had a career overseas after you graduated from IU, so what was that experience like and what are some memorable moments from playing basketball overseas?
Jones: Overseas truly allowed me to rebuild my game again. You know, college and pro are two different types of game, so I really rehabbed my leg and got it stronger again. Going to Japan was really the best thing for me. A lot of people say "Oh, it isn't one of the top leagues" but it allowed me to reinvent my game and reinvent who I was as a player again. So that experience was phenomenal, man. I love Japan, I miss Japan and I tell people all the time that was one of my favorite places to live. You know, there's no crime rate, everyone is so friendly and I loved it.
To be able to travel and to see the Eiffel Tower, to have sushi in Tokyo, to have gyros in Athens, Greece, those are just things that people dream of from where I come from. For me, as a young man to be able to do that and experience as much as I have before 30, I mean it's truly been a blessing, man. It's something I don't take for granted.
ITH: You said it gave you the opportunity to sort of reinvent your game, so did that mean becoming more aggressive on offense, or how did you reinvent yourself?
Jones: Yeah definitely. You know, my stroke came back, my midrange was back to where it was, my handles, my confidence. I think college is a different kind of game. It's a different style and so you have to adjust and do what's best for the morale of the team. When you're overseas, it's a shorter shot clock and it's more one-on-one situations, so it really just allowed me to really go back in my bag and reinvent.
ITH: Do you miss playing basketball today?
Jones: I have mixed feelings about it for sure. A lot of people close to me understand my decision. I've been playing basketball since I was five years old. It was a job for me since six years old. A lot of my life was in the gym. It wasn't out playing games or out with friends, it was in the gym, in the gym, in the gym for four to five hours a day. By the time I graduated college and got to the pro level, I was burnt out of wanting to go to the gym twice a day for two and a half hours each. I was tired with having to deal with the political BS that goes on in the game. Political stuff happens everywhere you go, don't get me wrong, but I'd rather deal with it and not have to run suicides, either. I'd rather reserve my knees and my back a little bit while I'm dealing with it.
I mean I definitely miss it. I miss my teammates, I miss the camaraderie, I miss going out there and competing and making the fans enjoy what they're watching. So, I miss all of those things, but there's a lot of behind the scene things that I don't miss.
ITH: How refreshing was it for you to be able to work with younger kids this past year through sport that maybe have some sort of innocence and don't carry that backstage political stuff with them?
Jones: It's a blessing beyond belief. I tell people all the time I've made many mistakes during my career and personal life, but a judge of character is if that person evolves from their mistakes. I had the opportunity to learn from my mistakes, and I want to pass that knowledge on to these young guys. I come from Champaign, Illinois, that's not a hotbed for basketball. So, to come back and show these young kids here like hey man, I grew up to where you've living next door to now, and I got to go and travel and see all these things. I learned how to use basketball as a tool and for some of those kids to grasp that and use it as a motivation for themselves man, that's the best reward you could ask for.
ITH: You mentioned the basketball scene in Champaign not being too huge, but how cool was it this year to see guys like Ayo Dosunmu and Kofi Cockburn sort of bring some attention and prominence to the program and area?
Jones: I mean, it's nice to see. I'm a Hoosier, though. I'm a Hoosier for life, so I really don't — I mean, I'm happy Illinois is back and doing well. It's good for the town to actually bring some excitement back here, but I'm a Hoosier, man, so I'm more worried about the Hoosiers making it back to the Final Four.
ITH: Have you been able to keep up with IU lately?
Jones: I've been to a couple neutral site games, but I haven't actually gone back to B-Town for a game. I've been to Bloomington for a wedding. I've been back to Bloomington for my birthday a few years ago and we hung out and Nicks and 'Roys and stuff like that. But I haven't really been back to a game, man. When I was playing, it was just hard to get back. You're in a whole different country. But I kept track man, especially when my boy Derek Elston was coaching there. I kept tabs on them. When they come to Illinois, I would catch the game, but now that I'm a little more situated in Champaign again, I definitely plan on coming to some games whenever this corona stuff is over.
ITH: Were you able to watch any games of them this season on TV?
Jones: I was, I was. I was rooting them on. I felt that they made a lot of growth this year, too. Trayce Jackson (Davis), guys like that, they had a good crew of guys, and they were building something. Unfortunately at Indiana, we want instant results, right? But to create a program and rebuild it, we have to go through some of our bumps and bruises like we did when I was there. I think the direction they are going is great. I think what Archie is doing, you know he's trying to tie in the new age and the old tradition together, and that's what we need. It was beautiful, beautiful to see coach Knight back. I mean, I think that really hopefully healed a lot of wounds, and hopefully we can really build on the foundation he set.
ITH: You mentioned the expectations of instant results at Indiana. Nowadays, we see a lot of guys get criticized on social media for their performance or their decision on how many years they stay. What's it like to be a player at Indiana when the team isn't winning as much as fans want and deal with negativity being cast your way?
Jones: It's tough, man. You got to be mentally tough. That's what comes with the territory. We sign with those blue blood programs like that, they're expecting instant results, they're expecting a championship, and that's what you signed up for going in. That's why those banners are hung up there. That's why the tradition and the fans make Indiana as special as it is. You just have to come in ready and be prepared and understand that fans are emotional people. When you're doing great, they love you. When you're doing bad, they'll let you know, too. So you have to go in and know who you are and be mentally strong.
People who know me and my upbringing, you know, my dad was a drill sergeant, so some of the stuff that people did and said didn't affect me. I dealt with it all my childhood, so you just have to be strong and mentally there. Stay focused. Stay on track with what your goal is.
ITH: When I've talked to players from the teams you've played on, like Jordan Hulls or Derek Elston, they always talk about how tight-knit the group was and how hard you guys pushed each other each day. What was it like to be a part of a group like that, and a group that still remains close today?
Jones: I definitely think it was a brotherhood. We relied on each other. If you saw one of us, you'd probably see at least four or five others. I think that really ended up helping us my senior year. When I came in as a sophomore and Christian (Watford) and those guys were freshmen, they had to come in and play. Once we all got in together, we really meshed and it was an unbreakable bond. I still talk to Vic and Derek and Christian, and I know Christian just had a little beautiful baby girl, you know, that's a brotherhood that will last forever, man. Hoosier family is definitely something that just doesn't end.
Filed to: Verdell Jones