Q & A: Former Indiana forward Tom Pritchard on being part of IU's rebirth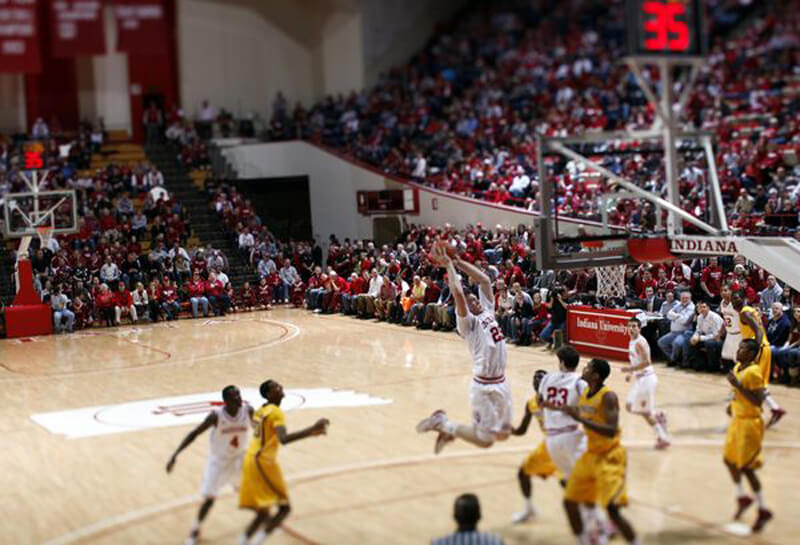 Former Indiana forward Tom Pritchard played at Indiana from 2008-2012, and along with Verdell Jones, helped the Hoosiers navigate a path back to national prominence from college basketball's wasteland.
Now back in his home state of Ohio, Pritchard spoke at-length with Inside the Hall about the trials and tribulations of his IU career, being part of the rebuilding process at Indiana and, of course, his legendary 2011 dunk against Minnesota.
Here is our full Q & A with Pritchard:
Inside the Hall: For those who may not know, what have you been up to since last playing for IU in 2012?
Pritchard: After I graduated I ended up getting my master's (degree) in sports administration, so I was at IU for a fifth year and was able to see that team (2012-13) play a couple games when Yogi was a freshman there. That was fun to kind of be a student for a little bit without the practice and big commitments.
I actually started off doing about three-and-a-half years in sales with the Indiana Pacers, Pacers Sports and Entertainment. As much as I was able to see the Pacers' games and be around basketball, I was starting to miss basketball a lot and I ended up doing a couple years coaching high school at Bishop Chatard and Guerin Catholic, as well as doing some one-on-one personal training on the side.
Then, actually I had about two years ago a great opportunity to jump back into sales, a little bit of a different direction. I'm now currently back in Cleveland, in September it will be two years, working at a family company that's a metal stamping company. If anyone is familiar with the movie "Tommy Boy" with Chris Farley, that's pretty much been my life for the past two years.
ITH: Was there not the opportunity to continue your career overseas after IU, or were you just kind of done with the playing side of things after spending four seasons at Indiana?
Pritchard: I had a couple people reaching out about the opportunity to play overseas, but once I was done, at the end I was pretty worn out with basketball. It kind of surprised me a little bit that I wanted to get back into coaching and back on the court as well.
I did enjoy my time coaching and really appreciate those couple of years and some of those coaches like Pete Smith who helped me get back in the swing of things, but it was kind of, once this opportunity came up to come back home closer to family, be able to work with family and be able to work with something I'm passionate about in a family company back here, I definitely took advantage of that opportunity.
ITH: How has your life been affected by quarantine, the COVID-19 pandemic, just how has all of that affected your daily routine?
Pritchard: My daily routine is pretty similar. I'm in sales here and besides going out and traveling to customers, we've been able to have web conferences and be able to do those different types of communication with customers to see where projects are, working on quotes.
Our main customers are the OEMs (original equipment manufacturers), Ford, GM, the big guys that should be starting up here on May 18th.
I wouldn't say that my life specifically and the job I'm in has been affected too much. My wife actually, we watched the Indianapolis press conference today, my wife does still own her gym in Broad Ripple, Fortitude Fitness. I found out today that it was going to be extended until at least June 1st to be closed down. So I would say I've kind of been affected more on that end than as opposed to my current job.
ITH: Taking a look back through your IU career, you came to the program at a time of transition when Tom Crean was taking over. What factored into your decision to still come to IU even though it looked like some lean years were ahead?
Pritchard: I was recruited and committed under Coach Sampson. There were four of us, and it ended up just being Matt Roth and I to kind of continue and stay with our commitment. Obviously the Indiana basketball tradition, the school and the academics there were a big original push.
I kind of froze my commitment and made it out to Bloomington and met Coach Crean. When I 'recommitted' I guess you want to say, I never really de-committed but I kind of just wanted to meet Coach Crean before I made any specific decisions. After meeting him I was reassured that Indiana was the place for me.
When I met Coach Crean, (he) kind of reassured that there was… Jordan Crawford, Armon Bassett, those guys were still around at that time. It kind of seemed like, slowly but surely, everybody was kind of dropping off. I saw it as an opportunity to get more minutes and obviously that's what happened the first couple of years. We got beat up on a lot, but it helped me grow as a person, as a player as well.
Hopefully by the time it was my senior year I was able to help mentor and lead some of those newer guys.
ITH: When you're going through those first couple of years and you're losing a lot, and individually you're playing a lot, how do you endure that while trying to find the brighter days ahead?
Pritchard: It was extremely tough. There were definitely those days, I think the mental health of being an athlete has really come a long way. Obviously being up here in Cleveland I follow Kevin Love's story a lot and he's pretty open about mental health and you know honestly the only thing I was able to do (at Indiana) was lean on my teammates.
It's certainly not fun constantly losing and then going into practice and making mistakes and having coaches yell at you and things like that. You kind of feel like you're on an island sometimes.
Even though we weren't winning, the teams I was on, we were always close. We were always able to pick each other up, get through whatever practice or whatever situation it was that day and I think at least for the seniors in my class that made it for the four years, we like to think that we probably had to go through two or three rough years. (It made) that senior year when we made it to the Sweet Sixteen well worth it.
ITH: How do you conflate things like having your best statistical seasons early in your career, during a time when the program was losing a lot?
Pritchard: It was tough. Especially the guys that were there, we were pretty naive. We had Kyle Taber coming back and Brett Finkelmeier, and a couple transfers that had played some junior college basketball. I think Devan Dumes had played a year at Eastern Michigan if I remember correctly.
We just really didn't know how much the competition level was going to rise as we went throughout the season. We were kind of just scrimmaging against ourselves, at least for me I believed we could be a middle of the road, lower-bottom Big Ten team. But obviously things changed when we went to Maui and opened up against Notre Dame and I think they were ranked top-25 at the time and I think the closest (that game) ever was was like 6-6, then all of a sudden we were down 20. And it didn't end very well.
So I think that was definitely a big wake up call. It was tough.
ITH: One of your lasting impacts at IU is the dunk against Minnesota at home in February 2011. It's kind of become a cult favorite moment among IU fans. What do you remember from that play and what's it like for a lot of people to distill your four-year IU career to just that one moment?
Pritchard: It was definitely a turning point. My freshman year was statistically my best year and most minutes played. Then I hit a real lull sophomore year and the fans were…things on Twitter…(I) had to delete the Twitter at that time. Obviously, if you're not producing I understand, the fans are going to come after you.
It almost seemed like that dunk junior year in the Big Ten season really turned things around for me. It might have not shown up in the stat book, but I think it helped me gain confidence. I turned into somewhat of a fan favorite there for a year or two.
When I'm in Indianapolis or Indiana somebody will come up to me, and there's only been one time that somebody has said something other than the dunk. One time some guy, and I'll always remember this, some guy a couple years ago told me I had back-to-back 'and-ones' against Iowa, and I was shocked he didn't bring up the dunk.
It's great to still be recognized for something. I still consider my entire career an accomplishment and obviously that dunk, it was a Top Ten SportsCenter play. I know Will Sheehey had one that year also, so we to this day continuously talk about it and whose was better and whose wasn't. I think it's great.
ITH: I'm guessing you think your dunk was better than Will's?
Pritchard: I do. But I saw there was a dunk voting contest that Indiana (Basketball) Twitter put on and he ended up beating me in the Final Four. I was actually on the court for three of the Final Four dunks so I'll take that.
ITH: In your career you went from being a guy who started and played a lot of minutes at the start of your career to not playing as much at the end of it. How difficult was it to transition from being a featured player to one who had to make an impact via hustle plays?
Pritchard: It was tough. I don't really remember the exact statistics but obviously I was scoring more and getting the ball more in my first year, but I think some of that confidence went away sophomore year. Really had a down year that year.
Then my junior year I think I had some ups and downs with some good games, but yeah it was tough. I wouldn't go back and change anything. I think I grew as a person, as a teammate while I was at Indiana. Even knowing the outcome, I would commit there again. I loved every moment of my time in Bloomington. So I would definitely do it again.
ITH: You had been around the program for a little while ahead of the 2011-12 season. Could you sense that something was building to where you would be over .500 and make the tournament and have a turnaround season?
Pritchard: Obviously with Cody (Zeller) and everybody else getting another year under their belt, I definitely thought that we were around the back end of the Top 25 or close to it.
There were a couple games that year, I want to say it was North Carolina State maybe, where we had always found ourselves on the road kind of in the game, maybe up one (or) down one and then that 8-minute timeout comes in the second half and (we would) run out of steam. There were a couple of games early in the season where instead of running out of steam, we really pushed through and ended up winning some of those games.
ITH: Since leaving the program, how closely have you been able to follow things and keep up with what Indiana does on the court?
Pritchard: Probably not as much as I'd like to. I'm not one of the guys that's checking out the high school guys that we're recruiting or top high school players in the country.
I'll probably watch two to three games a year, if they're on ESPN it's a little bit easier because I don't have Big Ten Network. It's a little bit harder to watch if they're not on national television. I went to the basketball alumni outing a couple years ago, was able to talk to Coach (Archie) Miller and see some of the guys that I played with, some of the guys from previous teams.
I'm definitely still involved. Now that we have a sports lull, I'm probably going to be watching a lot more sports, (I was) taking them for granted a bit there and hopefully watching some more games next year.
ITH: You mentioned being able to meet Archie Miller, what are your thoughts on what he's done at Indiana so far and where the program is right now compared to your experiences with it?
Pritchard: I think he's a great coach, a great person. I was pretty surprised, I went up to him and he remembered me because I was an Ohio high school kid and kind of just remembered who I was without me even introducing myself.
It kind of speaks to his character and how good of a person he is. Obviously, Indiana basketball has a lot of traditions and a lot of people expect things to go back to the way they used to be, but I know that takes time. I believe in Coach Miller and I look forward to them going ahead in the next couple years.
ITH: Looking back on your whole IU career, is there a sense of fulfillment now that you're done playing basketball about what you were able to accomplish both individually and in a team aspect during your time at Indiana?
Pritchard: I definitely think leadership qualities, learning experiences, I kind of saw it all. First (season) I was able to come in out of high school and dealt with a coaching change right away, then dealt with a six-win season, but it turned out to be a pretty positive season for me individually.
Then (it) kind of flipped over to, I think we had 11 or 12 wins the second year and a pretty horrible season for me, personally during sophomore year. Then obviously the dunk junior year, another high. (And) senior year we were able to make the Sweet Sixteen and have the Kentucky win so, just for a single person to kind of go through different adversities like that has definitely helped me grow and take it into my professional life.
I'm happy that I played for Indiana for four years and I'm proud of that. And I say I would go back and play, but if I put more thought into that and remembered all of the early-morning conditioning and getting off the plane at 2 a.m and the film sessions, etc. I probably would not be wanting to do that again.
But I'm proud of my time there and I've made great connections with teammates and people that I'll know for the rest of my life.
Filed to: Tom Pritchard