6-Banner Sunday: Win over Iowa keeps Indiana in NCAA tournament picture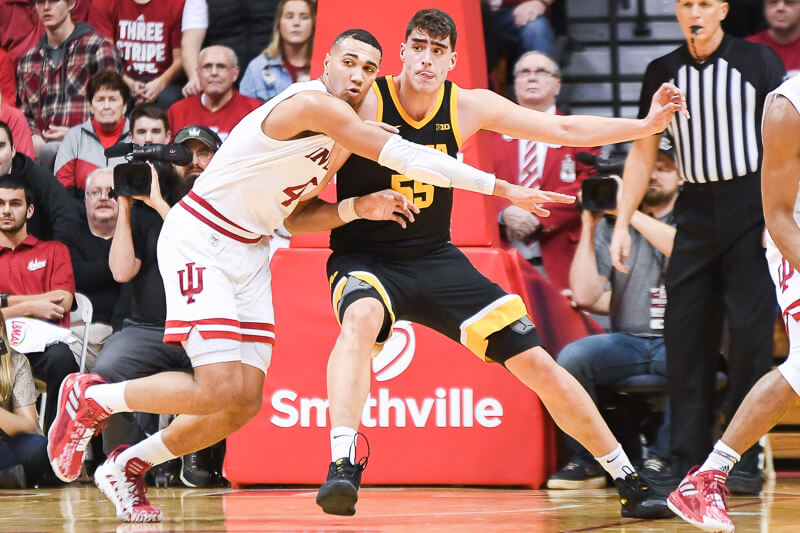 6-Banner Sunday is Inside the Hall's weekly newsletter in partnership with The Assembly Call. More than 7,000 Indiana fans receive the newsletter each week. In addition to appearing each week on the site, you can also opt to receive 6-Banner Sunday by email. A form to subscribe via email is available at the bottom of this week's 6-Banner Sunday.
Welcome to another edition of 6-Banner Sunday, a joint production between The Assembly Call and Inside the Hall where we highlight the five most essential IU basketball stories of the past week, plus take a look at how the other IU sports programs are doing.
After weeks of sputtering and falling down seed lines in NCAA Tournament projections following a four game losing streak, Indiana comfortably surged back into the 68-team field this week on the strength of a 12-point home win over No. 21 Iowa.
Everything that could go right for the Hoosiers in this game virtually did, starting with senior guard Devonte Green scoring 27 points thanks to seven made 3-pointers. Race Thompson, now fully healthy, was also instrumental in the win, which was Indiana's fourth this season against a ranked opponent.
That victory, along with continued fallout from Bob Knight's return to Assembly Hall last weekend and a look at a future Indiana basketball player in Anthony Leal of Bloomington South, highlights the past week in IU hoops news.
In this week's edition:
• Indiana scores home win over No. 21 Iowa
• Race Thompson is back to his gritty, selfless style of play
• Bob Knight's return quells unease around Assembly Hall
• IU signee Anthony Leal is committed to bringing a state title to Bloomington High School South
• State of Basketball: Part 4 – Lebanon's Memory Hall
• Hoosier Sports Roundup
Banner #1
Indiana scores home win over No. 21 Iowa
Thursday night was a gut-check game for Indiana and the Hoosiers responded in appropriate fashion.
An early 9-5 deficit was quickly turned on its head and Archie Miller's team went on to lead by double-digits for the final 31 minutes of the contest.
The aforementioned Green was phenomenal, splashing in shots from all over the court as part of a performance that reminded IU fans the Hoosiers will go as far as he can take them, according to Zach Osterman of The Indianapolis Star.
Green's sensational scoring night was also discussed on Assembly Call Radio following the win, but it wasn't the only takeaway from the game that the Hoosier faithful should notice.
Trayce Jackson-Davis continues to be a consistent, steady presence for Indiana, as he delivered 17 points and 10 rebounds as part of a another double-double performance.
Indiana's backcourt may still be turning the ball over at too frequent of a rate, but the offense has clicked back into place and for at least one week, the baskets seem to be falling for this team.
Banner #2
Race Thompson is back to his gritty, selfless style of play
Aside from Green, one of the other main talking points that came from Thursday's win was the effectiveness of Indiana redshirt sophomore forward Race Thompson.
Inside The Hall's Dylan Wallace took a look postgame at what many people consider Thompson's best all-around collegiate game. Zach Osterman of The Indianapolis Star followed suit a few days later.
Thompson stuffed the stat sheet with 10 points, four steals, four rebounds and two blocks, all of which came in a career-high 24 minutes played for the oft-injured big man.
It was apparent early on against Iowa that Joey Brunk had neither the strength or the speed to keep up with Luka Garza, Iowa's National Player of the Year candidate who can score from all over the court.
A quick hook on Brunk from Archie Miller led to Thompson's extended minutes, and while Garza still scored 38 points in the game, Thompson managed to slow him down enough while the rest of Iowa's starters outside of Joe Wieskamp, contributed little in the way of scoring.
Thompson's defensive versatility may also be seen later today when Indiana matches up against Michigan and another mobile big man in Jon Teske of the Wolverines.
Banner #3
Bob Knight's return quells unease around Assembly Hall
It's been a week since Bob Knight made his much-celebrated return to Assembly Hall during halftime of the in-state matchup between IU and Purdue, eliciting plenty of cheers and emotional reactions from those packed inside the arena.
But the importance of that moment extends beyond last Saturday for so many people, as they connected moments from their basketball lives to the return of "The General."
Matt Cohen of the Indiana Daily Student took a deep dive into the factors that led to Knight's return, first to Bloomington, then to the arena where he became a coaching legend.
Following the game I also explored the topic of Knight, but I looked at what Saturday meant to those still close to the Indiana program: People like Archie Miller and current and former players, who now no longer have to co-exist along with the elephant in the room that was Knight's absence.
Banner #4
IU signee Anthony Leal is committed to bringing a state title to Bloomington High School South
The future of Indiana basketball is already in Bloomington.
Senior guard Anthony Leal has been a fixture in the Bloomington community for years now, frequently attending Indiana home games when he's not running the offense for the Bloomington High School South Panthers.
Leal is now South's third all-time scorer following last week's home win over Martinsville, but the pressures associated with being a high school legend and a signee to the local university aren't apparent when speaking to Leal.
He remains focused on delivering a state basketball title to Bloomington, helping validate what his legacy will be from his time with the Panthers.
I caught up with Leal after that Martinsville game to talk about what he's done at South in his high school career and why winning a state title means so much to him ahead of joining the Hoosiers this summer.
Banner #5
State of Basketball: Part 4 – Lebanon's Memory Hall
The latest part in my State of Basketball series, based off the introduction video for the IU men's basketball team this season, took me to Lebanon, Indiana to explore Memory Hall.
The venue served as the home for Lebanon High School during the middle part of the 20th century and was home to a generational high school talent in Rick "The Rocket" Mount, who would go on to star at Purdue.
Memory Hall was also used in the filming of the iconic movie "Hoosiers" as well and its legacy has continued to live on in the community despite frequent changes in its use.
Despite these changes the gym has remained largely as it was, still with its traditional pale-brick interior and its notable baselines, one with "PURDUE" written on it and the other with the script "INDIANA" adorning the floor.
Banner #6
Hoosier Sports Roundup
This content was contributed by Aaron Shifron.
Winter and spring sports continue in full swing with mixed results. Leading the way was baseball, who opened their season with a win against a highly ranked LSU team and women's basketball who picked up two important wins this week. Assembly Call will have full coverage of the baseball season in the Community for those with a subscription starting next week with on-site coverage in Mobile (weather permitting) and continuing all season long with most home games and several road games.
• Baseball was picked to finish fifth in the Big Ten after many losses to the MLB draft. However, the Hoosiers showed no letdown from the roster turnover, winning the second game of a doubleheader at a highly ranked LSU team to begin the season, following a loss Friday.
• Women's Basketball picked up two important road wins this week at Nebraska and Illinois. Also, redshirt Junior Ali Patberg was named a candidate for the Nancy Lieberman award and the Citizen Naismith Trophy. The awards did not stop with Patberg though as senior Brenna Wise was honored as well.
• Softball lost their match Friday and both games Saturday in the Big Ten/ACC Challenge.
• Wrestling fell to Nebraska. IU President Michael McRobbie attended this match.
• Women's Tennis split matches losing to Tennessee but beating Eastern Michigan last weekend. McRobbie also attended the match against the Volunteers. This weekend they got a victory over Cornell.
• Water Polo finished eighth at the Triton Invitational before victories this weekend.
Women's Golf competed in Puerto Rico.
• Track and Field had an athlete recognized. They then competed at the Hoosier Hills and throughout the country.
• Men's Soccer announced their spring schedule.
Thanks for your continued support for The Assembly Call. We'll be back next weekend with a new roundup.
Now go enjoy yourself a 6-banner Sunday.
Filed to: