What to expect: Michigan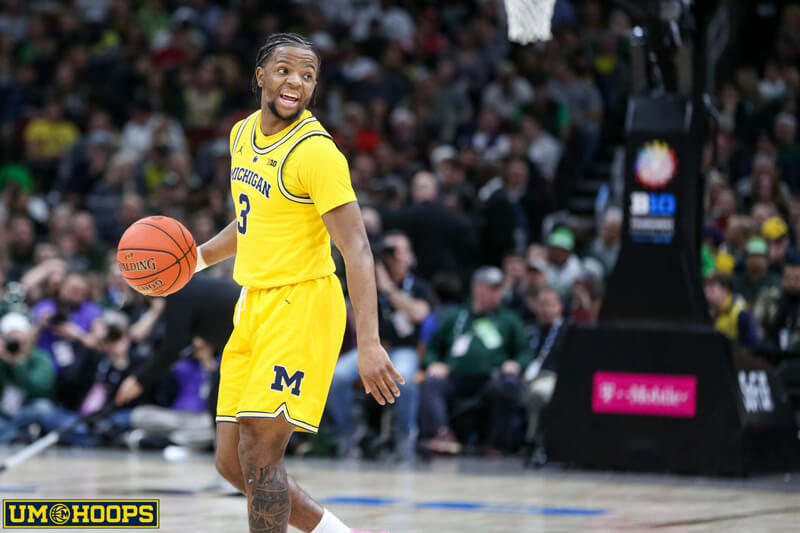 Indiana hits the road again for a Sunday matinee with Michigan at the Crisler Center. The Wolverines are 15-9 overall and 6-7 in Big Ten play.
Sunday's game will tip at 1 p.m. ET on CBS with Tom McCarthy and Dan Bonner on the call:
At 16-8 overall with quality wins over Florida State, Ohio State, Michigan State and Iowa, Indiana's NCAA tournament resume is solid. The Hoosiers don't have a "bad loss" that could haunt them on Selection Sunday and still have a shot to finish at or just below .500 in league play.
The reality for this team, however, is that it has been ridiculously bad away from Simon Skjodt Assembly Hall.
Indiana didn't play a road game in non-conference play and in its five road losses so far in league play, its average margin of defeat is 13.8 points. Indiana's three wins away from home this season – UConn, Notre Dame and Nebraska – are all against teams not expected to make the NCAA tournament. These facts don't exactly inspire confidence that Indiana is capable of going on the road and beating a good team.
Sunday's opponent – Michigan – has a deceiving record. The Wolverines have lost three home conference games, but all of those defeats came without Isaiah Livers in the lineup. Michigan has won four of its last five and Livers has been back for the last two victories. Had Livers stayed healthy, it's not inconceivable that the Wolverines would have been in the thick of the conference race.
MEET THE WOLVERINES
Juwan Howard, a member of Michigan's famed Fab Five teams who went on to play 19 seasons in the NBA, took over the program last spring after John Beilein departed for the NBA.
Beilein had built one of the league's most consistent programs during his time in Ann Arbor and Howard inherited a roster with three of the league's best upperclassmen.
Senior point guard Zavier Simpson has steadily improved over his career and is one of the best defenders and facilitators in the country. Simpson averages eight assists per game and has the best assist rate of any Big Ten player in league play at 39.2 percent.
Simpson can pick defenses apart in ball screen situations and Michigan's ability to surround him with capable scorers is going to present a significant challenge for an Indiana defense that has been inconsistent. Simpson is shooting a respectable 51.5 percent on 2s and 35.7 percent on 3s, but his ability to control the game with his playmaking for others has to be top of mind for the Hoosiers.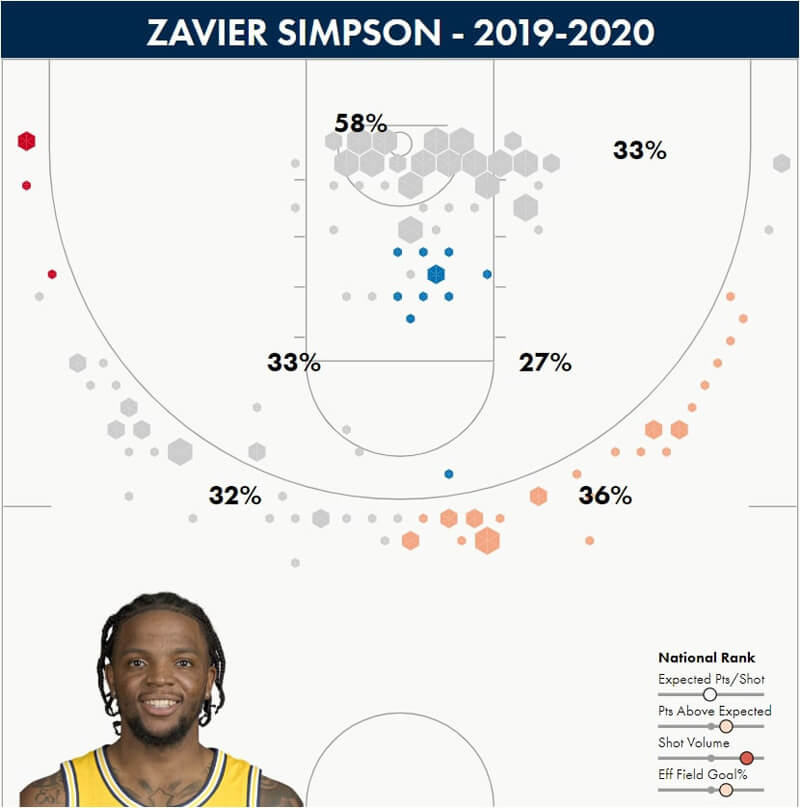 Livers is Michigan's leading scorer and a lethal four-man at the college level. Livers is 6-foot-7, can handle the ball and space the floor. He's shooting 45.7 percent on 3s and is a potential matchup nightmare for Indiana if the Hoosiers try to play two bigs with Justin Smith. How Indiana opts to guard Livers in pick-and-pop situations could be a significant factor in Sunday's outcome.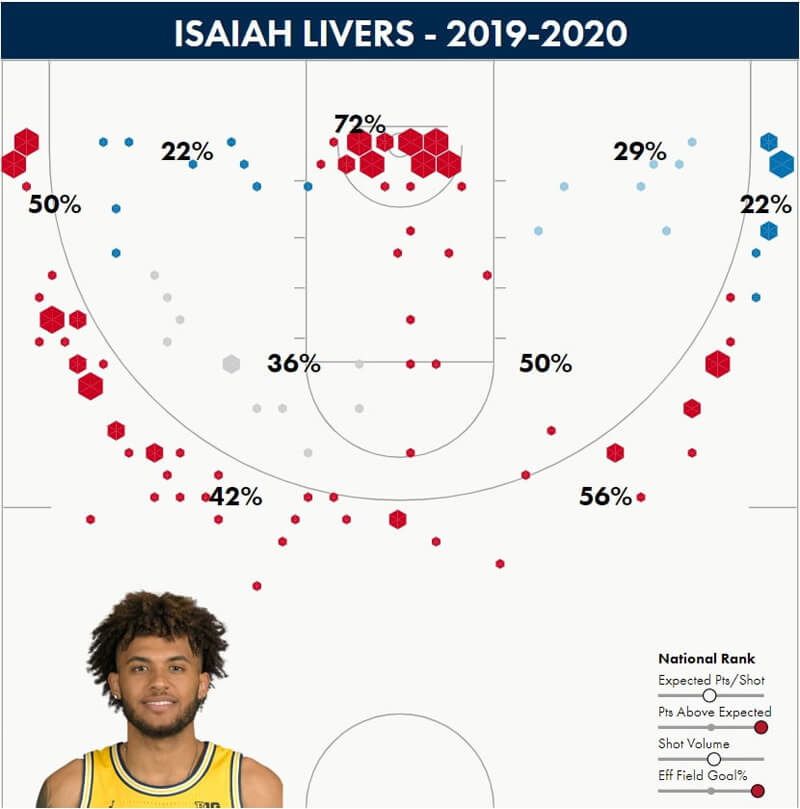 Senior center Jon Teske averages 12.6 points, which is second on the team, and likes to step out and take 3s despite being a poor shooter his entire career. Teske has taken 134 3s over four seasons and is only shooting 27.6 percent. He's a solid finisher – 56 percent on 2s – as well as a solid rebounder and shot blocker. His efficiency numbers are down across the board from his breakout junior season and if he can get hot this last month of the season, he has the potential to lift the ceiling for the Wolverines as a team.
Freshman forward Franz Wagner has been a disappointment in his first collegiate season after arriving with significant hype. Wagner missed the first four games of the season with a wrist injury and has yet to find his shooting stroke. He's shooting a dreadful 26 percent on 3s in league play (19-for-73).
Sophomore forward Brandon Johns Jr. has shifted back to reserve role with the return of Livers, which is where he's better suited. He's a low usage offensive player who is making 60 percent of his 2s and 42.9 percent of his 3s in Big Ten play.
Junior guard Eli Brooks starts alongside Simpson with sophomore guard David DeJulius coming off the bench. Brooks is a 38.8 percent 3-point shooter with DeJulius not far behind at 36.2 percent. Brooks is coming off an 18-point outing in Michigan's win at Northwestern in which he knocked down four of his eight 3-point attempts. Since the Iowa game on Jan. 17, DeJulius is just 5-for-21 on 3s.
TEMPO-FREE PREVIEW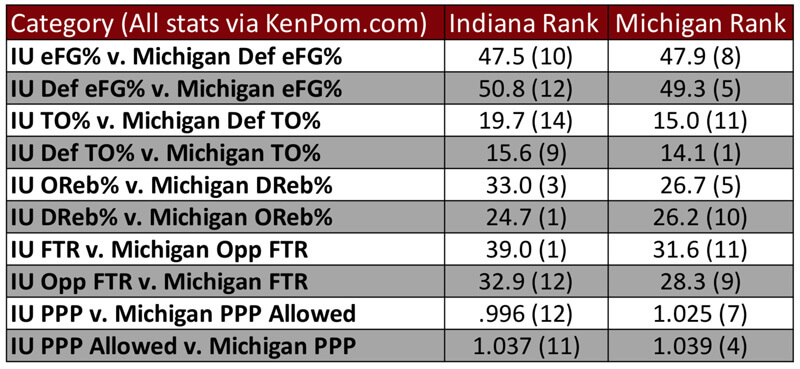 Indiana's turnover problems continue to be a major problem and coupled with Michigan's ability to take care of the ball and generate solid looks in the halfcourt, the Hoosiers could be fighting an uphill battle on Sunday.
The Hoosiers are last in the conference in turnover percentage (19.7) while Michigan is first at 14.1 percent. Points off of turnovers could be a telling stat in the lone regular season matchup between these teams.
Indiana's two strengths offensively are its ability to hit the glass and get to the foul line. The Wolverines have struggled at times to keep Big Ten opponents off the line, but Indiana is going to have to earn it by attacking the paint and the rim and not settling for 3s.
WHAT IT COMES DOWN TO
Michigan has won six straight against Indiana and KenPom projects that streak to grow to seven on Sunday. Pomeroy likes Michigan by seven over Indiana with a 27 percent chance at an upset for the Hoosiers. Sagarin likes Michigan by six.
Indiana has four road games remaining and Sunday's contest is its worst chance at a win, according to Pomeroy. Michigan lost four straight games from Jan. 12 through Jan. 25, but has won four of five since and needs Sunday's game with four of its last six regular season contests on the road (Rutgers, Purdue, Ohio State, Maryland).
"We definitely have not been right on the road," Archie Miller said Thursday. "And hopefully down the back stretch, which we have a few to go, we can play better on the road. And got to be more together and tougher to be able to go into Michigan on Sunday and have a chance."
Photo credit: UMHoops
Filed to: Michigan Wolverines