Anthony Leal is ready to help Indiana, but he first wants a state title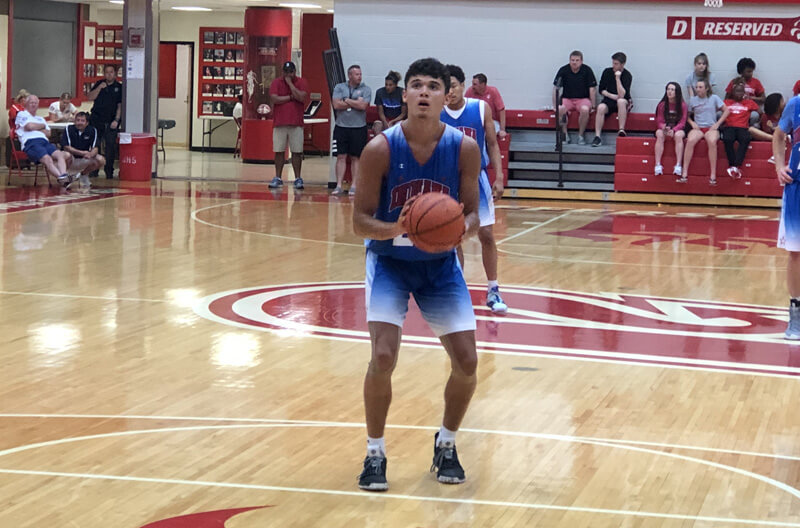 The shake of the head is quick and pronounced from Anthony Leal.
He's been informed that he's now the third all-time scorer in the history of Bloomington High School South basketball, trailing only Jon Holmes (who played at North Carolina) and Chance Coyle (currently at Southern Indiana) each by less than 100 points.
Leal notes the quality of the players he's joined at the top of South's scoring chart, and the impact players like Coyle and Holmes had on the tradition of Panther basketball.
At the same time, he doesn't feel like he's contributed enough to the Bloomington South basketball legacy. Not unless this season ends in a state title for the Panthers.
"I don't think I'll ever feel that unless we're able to hang a banner here," Leal said. "Hopefully we're able to accomplish that. But other than that, all the other stuff, it's whatever."
There's a good chance Leal's hopes will come to fruition over the next seven weeks to cap his senior season.
Bloomington South, ranked third in the state in Class 4A, is a perfect 19-0 this season. Last Thursday's 70-43 home win over Martinsville was indicative of the ease with which South can win games.
Most importantly to their state title hopes, it also showed that Leal doesn't have to always lift them to victory.
Junior guard Connor Hickman scored 28, including a career-high six 3-pointers, while Leal finished with just 11 points.
In fact, it was an off-night from the Indiana Class of 2020 commit.
He missed five straight free throws, an abnormality he could laugh about during and after the game, and also missed on two dunk attempts.
But South doesn't need high-flying heroics from Leal every night, and that's part of the reason why a state championship is the expectation for Leal and his teammates this season.
"That's the ultimate goal is winning state, and all the other personal awards can come with it," Leal said.
Plenty of those have already arrived for Leal, along with comparisons to past IU players who also went to South, like Jordan Hulls.
But it's also the aspect of reliability and trust, alongside Leal's hustle and 3-point shooting, that factors into the belief Archie Miller and his staff have in the 6-5, 195-pound prospect.
"Great motor, awesome worker, fantastic student," Miller said of Leal during his weekly radio show back in November. "Can shoot the three. He's a big guard, and with the way we're playing in transition and what we're doing off the ball, he kind of really fits in system-wise. He's a competitor, he really competes."
That's demonstrated in Leal's postgame routine, which features ice packs strapped to both of his knees while he wears an oversized blanket sweatshirt known as "The Comfy."
It can also be seen pregame, when all 11 Bloomington South players take part in a variant of a layup line. Each player tosses the ball off the backboard to the player behind them, with Leal the last man in line.
He then switches the ball from one side of the rim to the other, and the process repeats itself until Leal, again the last man in line, finishes the sequence by scoring off the glass.
Leal's spot in line is known as the "back" and he's done it for a few years now. He claims to have never missed the finishing layup.
His role in this pregame ritual is as much about his on-court ability as it is reflective of his teammates' trust in him.
"I think they just have the most confidence in me making it," Leal said. "Because if you're doing that in a warmup and you miss, you kind of look really stupid as a team."
There are four more opportunities in the regular season for Leal and Bloomington South to continue their execution of this drill, starting Friday night with their final Conference Indiana game against Columbus North.
Three out-of-conference games against Greencastle, Jennings County and Northview then follow, before the IHSAA state tournament begins.
Leal is already a Bloomington South legend, but the time will soon arrive when he can prove it to himself.
"It's all fun and games, but we got work to do," Leal explained. "And I have work to do."
Filed to: Anthony Leal, Bloomington South Panthers