Jordan Hulls: basketball, family and giving back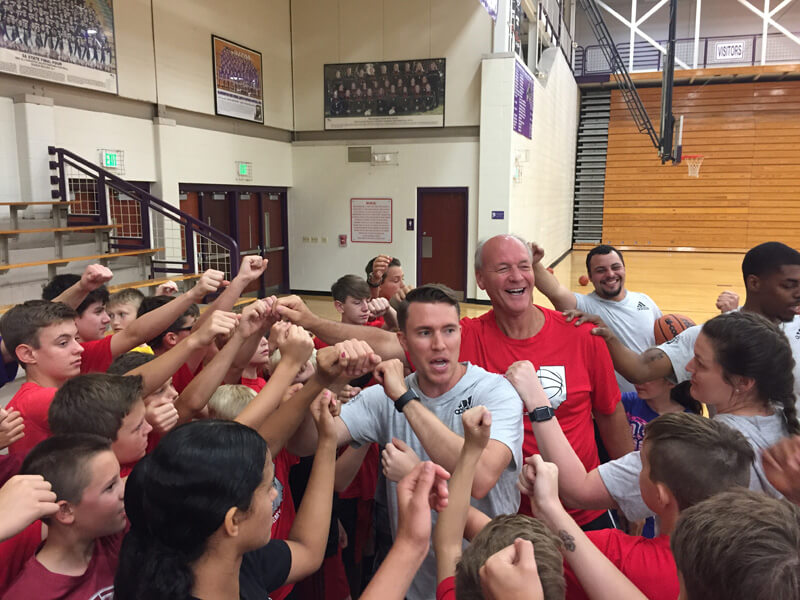 Jordan Hulls' 27th birthday was supposed to be more special than the ones that came before.
His wife, Aubrey, was scheduled to give birth to their first child on April 16, 2017.
During her pregnancy, Jordan was playing with Eisbaren Bremerhaven, a professional team in Germany that played in the BBL, the highest level league of professional club basketball in the country.
He had a plane ticket to come home during the season around the expected due date.
The season was going well for Jordan, the starting point guard of his team, leading them in assists and 3-point shooting throughout the first few months.
On Feb. 10, he was getting ready for a midseason matchup against Medi Bayreuth. But the text he got before the game from his wife wasn't the usual good luck.
Aubrey's water broke, and Jordan was 4,500 miles away.
"I was like, 'Let's finish the game, play as hard as I can, get home," Jordan said.
He scored a team-high 17 points in the game, shooting 7-10 from the field, 3-5 from three and playing the most minutes at 32:55.
The team took an eight-hour bus ride back to Bremerhaven, and two hours later, Jordan was at the airport. Twenty-four sleepless hours after his son Jackson was born, Jordan was at the Deaconess Women's Hospital in Evansville.
"It was very tough," Aubrey recalls, voice cracking. "But we got through it."
It was a risk both knew they were taking with Aubrey working as a nurse in the U.S. and Jordan playing overseas, but two months premature was something they didn't see coming.
On Feb. 12, Jordan was able to hold his son for the first time. Jackson was born with two holes in his heart and needed to stay in the NICU for two months, while Jordan was able to stay in Evansville for 10 days before having to go back to Germany.
"One of the harder things I had to do was leave him and my wife," Jordan said.
His first game back was Feb. 24. One game in March, he led his team in points, rebounds and assists with 30-8-5, then followed that up with a 28-point performance the next game.
Jackson was released from the hospital April 7, and Jordan's season ended May 1.
That experience made the Hulls realize they didn't want to be apart like that again. They decided to reside in Germany. So, when Jordan made the move in 2018 from Bremerhaven to Würzburg to play for s. Oliver Würzburg, Aubrey and Jackson moved with him.
***
John Hulls, Jordan's grandfather, came to Indiana from Army with Bob Knight to serve as a shooting coach in 1971.
J.C. Hulls, Jordan's dad, who is the national event director for Adidas Girls Basketball and owner of Indiana Elite Training, didn't allow his son to shoot a 3-pointer until the seventh grade, so his form didn't get muddled.
Jordan said he'd shoot correct reps every day, building muscle memory until he got strong enough to increase the distance. The legs were the only thing that changed, upper form stayed the same. He'd spend countless hours in the gym — eyes on the back of the rim, hand spread with a little pocket on his palm, elbow locked as he shot and his wrist flick occurring naturally following his release.
He was a product of his genetics as much as his environment. Jordan grew up 10 minutes from Indiana's campus, living and breathing the Hoosier hysteria.
Jordan's high school days proved his petite height wasn't a factor in his ability to become the preeminent hero.
His senior season he helped lead Bloomington High School South to a perfect 26-0 record en route to a class 4A state title. He was named 2009 Indiana Mr. Basketball and Gatorade State Player of the Year, becoming the first-ever player from his high school to earn both accolades.
His young, sharp-shooting, poised point guard profile was set for a new but familiar stage inside Assembly Hall.
"I knew going into it, I wanted to be a part of something that turned the program around," he said.
But patience proved to be the program's calling card early in Jordan's career. During his freshman season, Indiana lost 11 straight Big Ten games and finished with a 10-21 record. His sophomore season didn't get much better with three conference wins and 12-20 overall.
Everything turned around in Jordan's final two seasons with the Hoosiers.
After a program-validating, infamous Wat-Shot-celebrating victory over Kentucky in 2011, Indiana went from the hunting to the hunted as it became one of the best teams in the nation. Jordan and his teammates boasted the No. 1 ranking numerous times, appeared in two Sweet 16's and combed for a 56-16 record over his final two seasons.
Jordan played in every game in his Indiana career and started all of them from his sophomore season onward. He averaged 9.8 points per game over his four years and never shot below 40 percent from the field or from three. His junior season, when he averaged a career-best 11.7 points, he shot 50 percent from the field and 49 percent from three.
"For me to play at my hometown school was always something special to me," Jordan said. "I'm glad that the last two years the hard work was all worth it."
Making lifelong friendships also came with the package of basketball success. Jordan always loved the Phoenix Suns when growing up because he idolized Steve Nash, but when contemplating his favorite NBA teams now, he thinks of the Pacers for Victor Oladipo and the Charlotte Hornets for Cody Zeller. It was announced this summer that Jordan and Will Sheehey will be joining forces again at s. Oliver Würzburg.
Oladipo, Zeller, Sheehey and many others were included in Jordan's wedding, all of them donning the candy-striped pants.
At Indiana was also where Jordan met Aubrey. Growing up in Evansville, she always watched the Hoosiers with her parents.
"I never thought I'd marry an IU basketball player," Aubrey said.
***
During Jordan's junior year at IU, J.C. Hulls was diagnosed with throat cancer.
"It hit us hard," Jordan said.
His dad needed radiation, chemotherapy and surgery to remove the golf-sized tumor from his throat, and now he's doing just fine. But the experience motivated the Hulls family to make a difference.
In 2012, they founded Never Lose Hoop to assist kids affected by cancer.
"We raise money to help out families who have been involved in a tough situation because of cancer," Jordan said. "The money we raise goes toward providing them with a fun getaway from all the hardships they encounter when dealing with cancer. Whether that's a weekend getaway to camp or visit Niagara Falls. We try and just provide them the opportunity to relax and take their mind off what they're going through."
In addition to his involvement with Never Lose Hoop, Jordan launched his own academy, JH1 Skills Academy, and AAU teams, JH1 Elite Basketball.
Since he's been playing professionally overseas, Jordan hosts a basketball camp at Bloomington High School South once every summer. June 19-21 was his sixth year running the camp and it was filled with young, excited kids ranging from grades 2-11.
"I always wanted to give back to the community in some way, shape or form," Jordan said. "Basketball has always been what I've done, so it was easy for me to say, 'Hey, let's do a basketball camp.'"
The experience at a JH1 Skills Academy isn't filled with scrimmages and Stephen Curry imitations. The camp is meant to be hard. The focal point is skill work and fundamentals.
At camp last month, different stations were set up across the gym, including shooting, passing, dribbling, boxing out and defense.
"It's what I grew up on," Jordan said. "Kids need that. You can't just come out here and shoot threes."
From 11 a.m. to 5 p.m., Jordan would be constantly checking on the stations, being as involved as he can. He said he wants to be present when he puts on these types of events and not just show up and leave.
"I've been in their shoes," he said. "I've never been the biggest, strongest, fastest, but I want them to see me and say, 'Well, that guy can play professional basketball, so anybody can.'"
But it all starts with the fundamentals, which is what Jordan preached to the campers every day before the station-work started.
As for JH1 Elite Basketball, he has teams in Indiana, Wisconsin and Ohio, which he just started last year. He said it has always been something he wanted to do, and every time he's back in the country, he tries to go see some JH1 games.
The balancing act of husband, father, professional basketball player and overseeing his own brand is difficult at times, but Jordan credits the people surrounding him that help make it doable and worth it.
"My supporting cast is awesome," he said. "When you have good people around you it makes it fun."
***
Jordan and Aubrey's second child, Leo, was born in March in Würzburg.
Jackson is now 2 years old and one hole in his heart closed on its own, the other didn't. He recently had surgery in May to close the other one up and at the JH1 camp, Jackson was waddling around wanting to be a part of the action and, more importantly, healthy.
Jackson will be attending Kita (preschool) in the fall and follows German pretty well, while Jordan and Aubrey try to learn as much as Duolingo can teach them.
"I think it's a cool experience for us as a family," Aubrey said. "We really rely on each other a lot."
Jordan is coming off a season in which he was named 2019 FIBA Europe Cup MVP, receiving 4,748 votes for a 39.6 percent share of the total, after leading his team to a runner-up finish in the FIBA Europe Cup. He averaged 14.8 points, 3.1 rebounds and 3.7 assists per game while shooting 52.5 percent from the field and 49 percent from 3-point range.
He was also voted best guard, becoming the only player to win in multiple categories last season.
"It was pretty special," he said.
Before beginning his overseas career, Jordan treaded the NBA waters briefly, having tryouts with the Pacers, Chicago Bulls and Detroit Pistons.
Playing in the NBA has always been his goal, and it still remains that way. He knows with his stature it will be difficult, but the way he shoots the ball gives him hope that at the right time, right situation it can still happen.
"I still feel like I can play at a high level," he said. "I just turned 29, and I feel like I'm playing my best basketball."
But he admits that whenever his wife wants to come home for good, he'll step down from the game if he needs to.
"She's everything for us," Jordan said.
Basketball will always be a part of Jordan's life, whether that means playing, coaching, running his academy or playing on a mini Tikes hoop with Jackson.
No matter what the future holds for Jordan, he will always remember his experience playing at Indiana and how it changed his life.
When he goes back to Germany to begin his seventh professional season, he'll have the things most important to him — basketball, Aubrey, Jackson and Leo.
"I honestly never thought (basketball) would be this big in my life," Aubrey said. "Life's crazy. It's fun, and I love it. I wouldn't have it any other way."
(Photos courtesy of the Hulls family.)
Filed to: Jordan Hulls