Bracketology: NCAA tournament projection as of February 11, 2020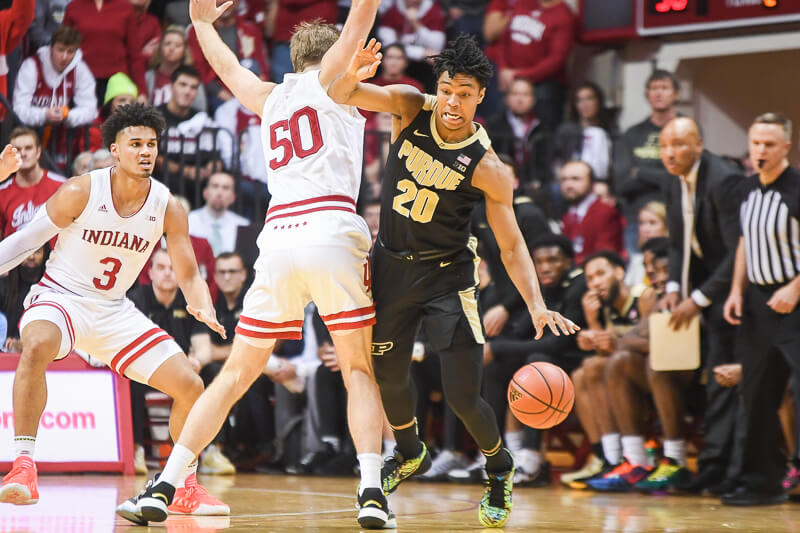 As mentioned last week, the Selection Committee released its Top 16 seeds on Saturday. The one seeds were of no surprise, but it did confirm that for now, the committee ranks one-loss Gonzaga ahead of undefeated San Diego State in the race for the one seed out West.
The biggest surprises to me were Dayton as a two seed, Auburn as the 13th team on the seed list, and Michigan State as a four seed.
The Flyers have strong computer numbers, and their only losses have come against Kansas and Colorado in overtime at neutral sites, but I was still surprised they were slotted at sixth overall. Dayton does have eight wins against the top two quadrants, although none of them have come against teams in the top 30 of the NET.
Auburn has compiled a gaudy record, but just two of their 21 victories have come against teams I'd consider locks for the tournament (Kentucky and LSU). The Tigers do have seven Quad 2 wins, and both losses came in Quad 1 opportunities. The remaining schedule is very favorable outside of a trip to Lexington, so a high seed seems likely for Auburn at this point.
Michigan State lost at Michigan on Saturday, so MSU's stay as a protected seed quickly came to an end, but even before that loss, I'm not sure the Spartans deserved to be that high on the seed list. They now sit at 2-7 in Q1 games, and the early loss to Virginia Tech in Maui is not aging well. Michigan State has racked up seven Q2 victories, thanks in large part to their play at home in the Big Ten. The next six games will be challenging with road games against Illinois, Maryland, and Penn State as well as home dates with Maryland and Iowa.
Given the IU-centric nature of Inside the Hall and the way the Hoosiers have played of late, it also makes sense to address their standing. I currently have them as the last 10th seed in the field. In terms of positives, the home wins over Florida State, Michigan State, and Ohio State are obviously important, and the neutral court victory against Notre Dame is looking better as well. The non-conference strength of schedule sits at 68th, which may be a surprise to some fans, and there aren't any bad losses with the Arkansas game falling in Q2 and all other losses in Q1.
That being said, at some point the volume of losses and poor record in Q1 games (currently 3-7) will come into play with a number of other tough games awaiting the Hoosiers in the coming weeks. The bubble is soft, and there are plenty of team vying for a spot that don't have top-end victories that rival Indiana's. I would also reiterate that the committee no longer places added value on the most recent games, but with a NET rating that's dropped into the 60s, the overall record and number of losses may end up being too much to overcome if the Hoosiers keep playing the way they have in recent weeks.
Before looking at the one seeds, I wanted to give a quick reminder about how the NCAA selection committee classifies wins based on the NET Rating.
A breakdown of the four tiers:
· Tier 1: Home vs. teams ranked 1-30 / Neutral vs. teams ranked 1-50 / Road vs. teams ranked 1-75
· Tier 2: Home vs. teams ranked 31-75 / Neutral vs. teams ranked 51-100 / Road vs. teams ranked 76-135
· Tier 3: Home vs. teams ranked 76-160 / Neutral vs. teams ranked 101-200 / Road vs. teams ranked 136-240
· Tier 4: Home vs. teams ranked 161-351 / Neutral vs. teams ranked 201-351 / Road vs. teams ranked 241-351
One Seeds
Since none of the top seeds lost since the committee's reveal, there were no changes on the top line with Baylor, Kansas, Gonzaga, and San Diego State atop the seed list in that order.
The Bracket
The projections below are based on all games played through February 10th, 2020. Please note that BYU had to be bumped up a seed line to accommodate the fact that they have to play in a Thursday-Saturday pod and regional. Rutgers was moved from a seven seed to an eight seed to accommodate that. Following the bracket, I included a few thoughts on the last four in and first four out.
| | | |
| --- | --- | --- |
| SOUTH (HOUSTON) | | WEST (LOS ANGELES) |
| St. Louis – March 19/21 | | Spokane – March 19/21 |
| 1) Baylor | | 1) Gonzaga |
| 16) Robert Morris / NC Central | | 16) Montana |
| 8) Rutgers | | 8) Wisconsin |
| 9) Rhode Island | | 9) USC |
| | | |
| Spokane – March 19/21 | | Omaha – March 20/22 |
| 5) Creighton | | 5) Iowa |
| 12) Yale | | 12) ETSU |
| 4) Oregon | | 4) Butler |
| 13) North Texas | | 13) Liberty |
| | | |
| Tampa – March 19/21 | | Cleveland – March 20/22 |
| 6) Illinois | | 6) Colorado |
| 11) Virginia / Stanford | | 11) Florida |
| 3) Auburn | | 3) West Virginia |
| 14) Little Rock | | 14) Wright St. |
| | | |
| St. Louis – March 19/21 | | Albany – March 19/21 |
| 7) Arizona | | 7) BYU |
| 10) Indiana | | 10) Xavier |
| 2) Louisville | | 2) Maryland |
| 15) South Dakota St. | | 15) Winthrop |
| | | |
| EAST (NEW YORK CITY) | | MIDWEST (INDIANAPOLIS) |
| Sacramento – March 20/22 | | Omaha – March 20/22 |
| 1) San Diego St. | | 1) Kansas |
| 16) UC Irvine | | 16) Rider / Prairie View A&M |
| 8) Texas Tech | | 8) Houston |
| 9) Saint Mary's | | 9) Purdue |
| | | |
| Sacramento – March 20/22 | | Greensboro – March 20/22 |
| 5) Penn St. | | 5) Michigan St. |
| 12) Stephen F. Austin | | 12) Arizona St. / VCU |
| 4) Kentucky | | 4) Villanova |
| 13) New Mexico St. | | 13) Vermont |
| | | |
| Albany – March 19/21 | | Tampa – March 19/21 |
| 6) LSU | | 6) Marquette |
| 11) Northern Iowa | | 11) Wichita St. |
| 3) Seton Hall | | 3) Florida St. |
| 14) Colgate | | 14) Bowling Green |
| | | |
| Greensboro – March 20/22 | | Cleveland – March 20/22 |
| 7) Michigan | | 7) Ohio St. |
| 10) Arkansas | | 10) Oklahoma |
| 2) Duke | | 2) Dayton |
| 15) Hofstra | | 15) Murray St. |
Last Four In:
Virginia – The Cavaliers split their games last week, knocking off Clemson at home before playing relatively well in a road loss to Louisville. A Q3 loss at Boston College is the biggest blemish on UVA's profile, but a weaker than usual ACC provides limited opportunities for marquee wins. The 'Hoos host Notre Dame this week before heading to North Carolina on Saturday.
Arizona State – A sweep of USC and UCLA propelled the Sun Devils back into this week's field. They now own seven wins in the top two quadrants and have yet to suffer a Q3 or Q4 loss. In fact, ASU has just one loss to a team not in this week's projected field. This week features a road trip to Stanford and California, with the Thursday matchup against the Cardinal shaping up as a big one for bubble purposes.
Stanford – Speaking of the Cardinal, they rank 30th in the NET despite a lackluster profile and a 1-5 record in the last six games. Stanford's best wins came at home against Oregon and on a neutral floor against Oklahoma, but those are the only victories over tournament caliber teams. A road loss at Cal doesn't help matters, and this weekend could prove to be make or break with the Arizona schools coming to town.
VCU – I wound up giving the Rams the nod for the final spot, but I'm definitely not confident with that pick. They won their lone game last week, knocking off Davidson at home by double-digits. A non-conference win over LSU continues to look even better, but that is VCU's only win against a team safely in the field. The Rams have a home game against George Mason this week before a key three-game stretch that features a road trip to Richmond, a home game against Dayton, and a trip to Saint Louis.
First Four Out:
Mississippi State – The resurgent Bulldogs split their games last week, falling on the road to Kentucky before beating Vandy by 10 in Starkville. Mississippi State also played its first 10 games without Nick Weatherspoon, which included a home loss to Louisiana Tech. The Bulldogs will play three of their next four games on the road, starting with this week's trips to Ole Miss and Arkansas.
Memphis – Saturday's home loss to South Florida essentially bumped the Tigers from the field. Like many of their AAC brethren, the lack of Quad 1 wins is an issue, as Memphis' lone such win came on the road at Tennessee. They now have two losses outside of the top two quadrants, but they also have no victories over teams solidly in the field. The remaining schedule is relatively tough, starting with road games at Cincinnati and Connecticut this week.
Cincinnati – The Bearcats saw their five-game win streak snapped on Sunday, as they lost at UConn by one point in overtime. A trio of Quad 3 losses aren't doing Cincinnati any favors, but seven victories in the top two quadrants are helping to offset that for now. Thursday's home game with Memphis starts a stretch where the Bearcats will play three of their next four at home.
Georgetown – Seven wins in the top two quadrants are decent, but just one of those came against a team in the at-large conversation, which was a home win over Creighton. The Hoyas have some other decent victories to fall back on as well, and nine of their 10 losses fall in Quad 1. Georgetown's lone game this week comes on the road at Butler on Saturday.
Conference Breakdown:
Big Ten (11): Illinois, Indiana, Iowa, Maryland, Michigan, Michigan State, Ohio State, Penn State, Purdue, Rutgers, Wisconsin
Big East (6): Butler, Creighton, Marquette, Seton Hall, Villanova, Xavier
Pac-12 (6): Arizona, Arizona State, Colorado, Oregon, Stanford, USC
Big 12 (5): Baylor, Kansas, Oklahoma, Texas Tech, West Virginia
SEC (5): Arkansas, Auburn, Florida, Kentucky, LSU
ACC (4): Duke, Florida State, Louisville, Virginia
Atlantic 10 (3): Dayton, Rhode Island, VCU
West Coast (3): BYU, Gonzaga, Saint Mary's
American (2): Houston, Wichita State
America East: Vermont
Atlantic Sun: Liberty
Big Sky: Montana
Big South: Winthrop
Big West: UC Irvine
Colonial: Hofstra
Conference USA: North Texas
Horizon: Wright State
Ivy: Yale
MAAC: Rider
MAC: Bowling Green
MEAC: North Carolina Central
Missouri Valley: Northern Iowa
Mountain West: San Diego State
Northeast: Robert Morris
Ohio Valley: Murray State
Patriot: Colgate
Southern: ETSU
Southland: Stephen F. Austin
SWAC: Prairie View A&M
Summit: South Dakota State
Sun Belt: Little Rock
WAC: New Mexico State
Follow Andy on Twitter (@andybottoms) for more thoughts on college hoops and to receive an update whenever new brackets are posted.
Filed to: