2019-2020 ITH Season Preview: Michigan State Spartans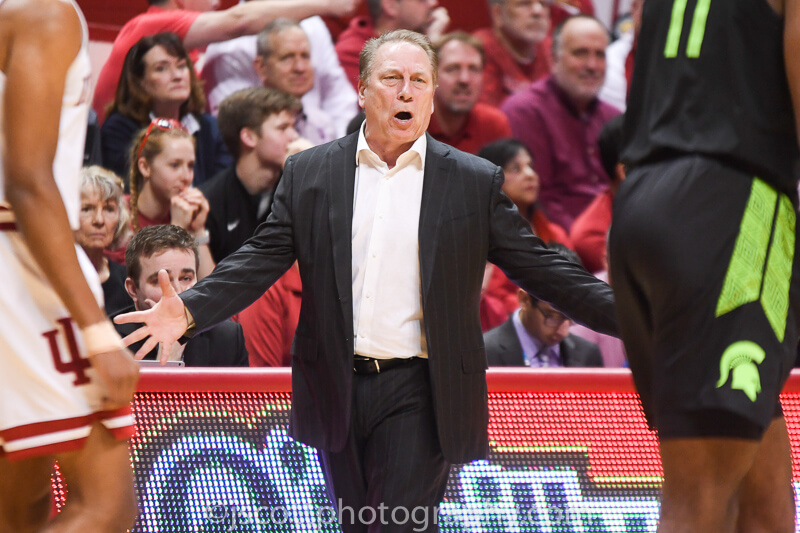 With the start of college basketball season on the horizon, we'll be taking a long look at the conference at large as well as Indiana's roster over the next month. Today, our Big Ten team previews conclude with a look at Michigan State.
(Previously: Rutgers Scarlet Knights, Northwestern Wildcats, Minnesota Golden Gophers, Nebraska Cornhuskers, Iowa Hawkeyes, Michigan Wolverines, Wisconsin Badgers, Penn State Nittany Lions, Ohio State Buckeyes, Illinois Fighting Illini, Purdue Boilermakers, Maryland Terrapins)
Michigan State is the clear favorite to win the Big Ten this year, and all other 13 conference foes know it.
After Tom Izzo finished speaking at the podium Wednesday at Big Ten media day in Rosemont, Fran McCaffery followed him up by talking about all the new faces on his team this year and how it will be a challenge, especially with a team like the Spartans as the preconceived front runners.
It's no surprise, either. With reigning Big Ten player of the year Cassius Winston back for his senior year, a talented and redemption-driven Joshua Langford back from foot surgery and skilled big man Xavier Tillman evolving into an upperclassman, it gives Michigan State perhaps the strongest core of returning players from last season.
That, mixed with a coach who has proven himself — one national championship, eight Final Fours, nine Big Ten regular season titles and six Big Ten tournament titles — makes it obvious why the Spartans are picked as No. 1 in just about every single conference poll.
The driving force of this team is the 6-foot-1 guard out of Detroit. Izzo called him "cool, casual, Cassius" on Wednesday, and rightfully so. The team goes as Winston goes, and considering the ball is almost always in his hands — he had an offensive rating of 120 last season per KenPom — the smallest guy on the floor is the biggest leader.
Winston has a casual demeanor about him throughout games and no moment is too big for him as he started all 39 games last season and led the team in scoring with 18.8 points per game. He helped lead the team to a Big Ten regular season title, which they shared with Purdue, a Big Ten tournament championship and a Final Four appearance without Langford and a banged up Nick Ward.
Winston was selected unanimously as the preseason conference player of the year and said Wednesday he has to go out and prove it.
By his side will be Langford, a 6-foot-5 guard who was averaging 15 points in 13 games last season before going down with the injury. Then there's Tillman, who took a massive leap last season in terms of production with 10 points and 5.1 rebounds per game. And finally, sophomore Aaron Henry, who played in all 39 games as a freshman last season, averaging 6.1 points per game.
Without Ward, Kenny Goins and Matt McQuaid, Langford, Tillman and Henry will be expected to carry the load offensively along with Winston.
When it comes to the Spartans' role players, there's a lot of youth outside of senior Kyle Ahrens (4.7 points per game last season) and forwards Braden Burke and Connor George.
Sophomore Foster Loyer appeared in 36 games last season and had his best game in the Big Ten tournament against Ohio State when he went 4-for-5 from deep and scored 14 points in a 77-70 victory.
The rest of the young assets include Rocket Watts, Brock Washington, Julius Marble, Malik Hall, Marcus Bingham Jr. and Gabe Brown.
There are two Big Ten coaches' sons on the Spartan roster — Jack Hoiberg, son of Nebraska's Fred Hoiberg, and Steven Izzo, son of Tom.
Sophomore Thomas Kithier will likely serve as Tillman's backup as he played in 31 games a season ago. Perhaps the biggest acquisition in the offseason for Izzo was Joey Hauser, who played in 34 games and averaged 9.7 points and 5.3 rebounds for Marquette last season. Per NCAA rules, Hauser must sit out, although Michigan State is attempting to get a waiver to get him eligible for the upcoming season.
Michigan State has two marquee matchups in the nonconference slate with Kentucky in the Champions Classic to open the season and Duke in the Big Ten-ACC Challenge. The Spartans will also face Seton Hall in New Jersey and could play Kansas in the Maui Invitational.
Bottom line: Time will tell how deep the Spartans bench can be, but the core of players Izzo has back this season makes them the most talented team in the Big Ten. Tillman and Henry will have bigger roles on the offensive end, and having Langford back will only aid Winston in having weapons around him while running the point. Obviously, nothing can be set in stone before the season actually gets underway, but right now, the regular season conference championship is Michigan State's to lose.
Quotable: "I've got a good team that I like with still a lot of question marks. Josh Langford, health, question mark. What we do at the 4, question mark. And probably the other one is we did lose 30 points and 15 rebounds and trying to figure out how we get those. And yet with Winston, Henry, and Xavier Tillman, we have three guys that played awfully well at the end of the year, and hopefully they've grown some now. Excited to be back and excited to get started." — Izzo at the podium during Wednesday's Big Ten media day.
Subscribe to Inside the Hall's YouTube channel and like our page over on Facebook.
Filed to: 2019-2020 Big Ten preview, Michigan State Sparatans