2019-2020 ITH Season Preview: Purdue Boilermakers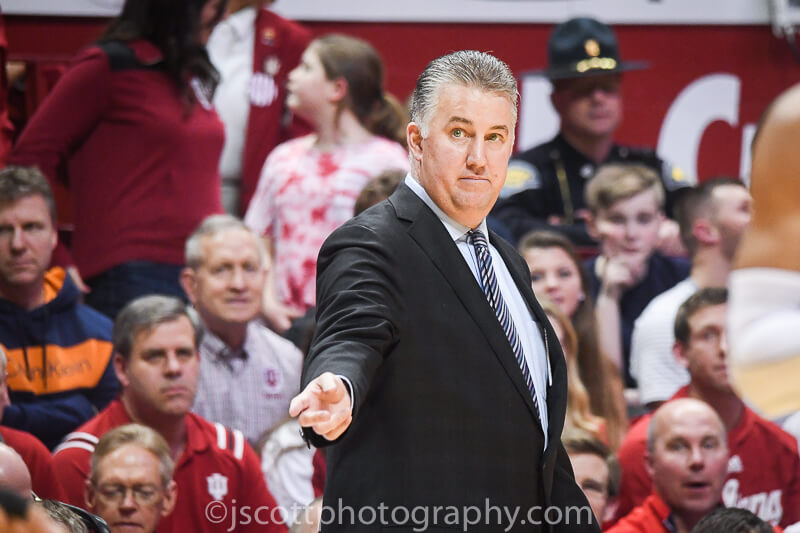 With the start of college basketball season on the horizon, we'll be taking a long look at the conference at large as well as Indiana's roster over the next month. Today, our Big Ten team previews continue with a look at Purdue.
(Previously: Rutgers Scarlet Knights, Northwestern Wildcats, Minnesota Golden Gophers, Nebraska Cornhuskers, Iowa Hawkeyes, Michigan Wolverines, Wisconsin Badgers, Penn State Nittany Lions, Ohio State Buckeyes, Illinois Fighting Illini)
Purdue might not have been the Big Ten team to advance the furthest in the NCAA tournament last year, but the Boilermakers provided some of the most exciting games put on throughout March.
The 99-94 overtime shootout win over Tennessee and the 80-75 overtime thriller against the future champs Virginia highlighted Purdue's tournament run.
Coming off that Elite Eight season heading into this year, Purdue's expectations remain optimistic, but it's not set in stone that Purdue will be a top team in the Big Ten.
No Carsen Edwards. No Ryan Cline. No Grady Eifert. Those are three big reasons Purdue can struggle this season.
Edwards alone is a detrimental loss. His ability to create shots by himself and light it up from the outside made him one of the most explosive players in the Big Ten, and even NCAA, last season. But after dropping 42 points (on 10 made 3-pointers) in the Elite Eight loss to Virginia, Edwards chose to forego his senior season and got drafted 33rd by the Boston Celtics, teaming up with Indiana's Romeo Langford.
Not having Cline's sharp shooting from the outside — he made over 40 3-pointers in each season as a Boilermaker — can hinder Purdue's ability to space the floor this season. And even though Eifert didn't score a whole lot, his hard-nosed hustle plays will be missed.
So, what does head coach Matt Painter have to work with this season?
For one, Painter still has his big, and now more improved, front court with the 7-foot-3 Matt Haarms and 6-foot-9 Trevion Williams. Haarms nearly doubled his points per game from freshman to sophomore year, averaging 9.4 points per game last season. Haarms will most likely be looked at to maintain that production this season, as well as continue his eccentric style to energize his team.
As for Williams, he was able to chip in 5.2 points per game in his inaugural season and will have to carry a larger scoring role in the post this year. Redshirt freshman Emmanuel Dowuona could potentially add to this large frontcourt standing at 6-foot-10.
Junior guard Nojel Eastern increased his production last season averaging 7.5 points per game. Eastern, 6-foot-7 and 225 pounds, is one of the Big Ten's premiere on-ball defenders and spent some time running the point for Purdue last season. His outside shooting is an area that needs improvement — just 3-for-13 in two years — but Eastern can typically post up smaller guards and finish at a high rate around the rim. Look for Eastern to be more aggressive on the offensive end this season.
Sophomore guards Aaron Wheeler and Eric Hunter Jr. were bright spots for Purdue in their freshman campaigns. Both are tall, athletic guards who can defend well but need work on offense.
Senior Evan Boudreaux provided good minutes last season, appearing in 25 games and scoring 5.2 points per game. Sophomore Sasha Stefanovic could be a spark from beyond the arc this season, and senior transfer Jahaad Proctor could be an experience boost as he averaged 19.4 points per game at High Point last season.
As for Purdue's freshman class, Painter has brought in a multitude of talented guards. Brandon Newman, Mason Gillis and Isaiah Thompson (younger brother of P.J. Thompson) all could have instant roles on the court this season.
Purdue will be tested early and often this season as it plays the likes of Texas, Marquette, VCU, one of Tennessee or Florida State, Virginia and Butler in the non-conference slate.
Bottom line: Painter has a proven track record in the Big Ten to exceed expectations and make the Boilermakers one of the top teams. So, if anyone can take uncertainties mixed with youth and turn it into something special, Painter can. Purdue's front court will remain solid, but it will be up to some of the younger guards on the roster to collectively fill the void left by Edwards, as well as try to be effective with 3-point shooting to give the bigs space to go to work. Don't be surprised if the black and gold have some growing pains early and take awhile to get into a rhythm. If those presumed struggles continue into Big Ten play, the Boilermakers might not be competing for a Big Ten title like it has the past three seasons.
Quotable: "It should come to you from an organic standpoint. Just organically working toward getting better. You'd like to think that their production and how they play in practice will shape how I think. I think that's just an important part of a team. As a coach, if you have a predetermined thought on what you're going to do, you probably have a really experienced team. We don't have a really experienced team. We have a lot of guys who have played, but not a lot of guys who have played the roles they're going to play this year." — Painter after the team's first official practice Sept. 26.
Subscribe to Inside the Hall's YouTube channel and like our page over on Facebook.
Filed to: 2019-2020 season preview, Purdue Boilermakers