That's A Wrap: Team defense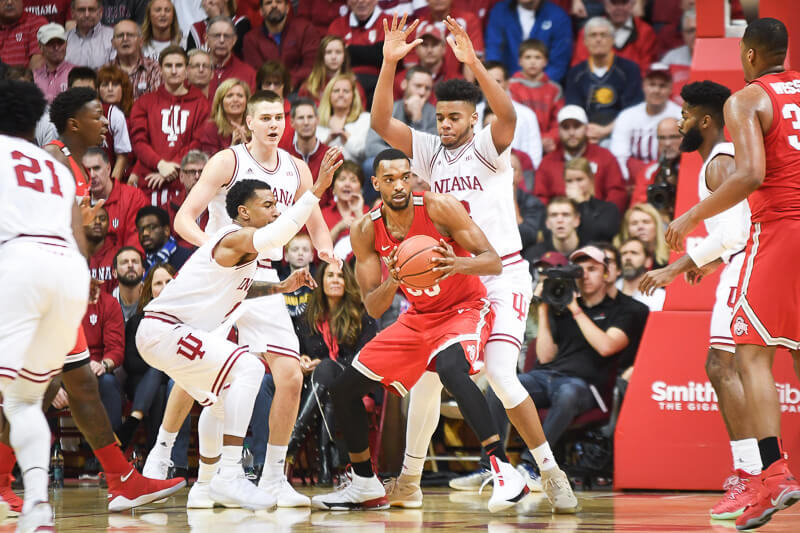 Welcome to "That's A Wrap," our recap of the 2017-2018 Indiana Hoosiers. Today, we conclude the series with a look at the team defense.
Final stats (31 games): 70.3 ppg, 44.1 FG%, 50.8 eFG%, 36.7 3PFG%, 19.7 TO%, 32.2% opponent FTR.
Indiana's defense underwent significant changes in year one of the Archie Miller era.
After a 2016-2017 campaign in which the Hoosiers ranked just 104th nationally in Ken Pomeroy's adjusted defensive efficiency statistic, Indiana made measurable progress in the pack line defense.
The progress, however, didn't come without plenty of pain points along the way. In Indiana's season opener, the Hoosiers were torched for 90 points by Indiana State in a stunning home loss. A little more than a month later, Fort Wayne came into Simon Skjodt Assembly Hall and hung 92 points on Indiana in another stunning defeat.
The final numbers, however, tell a story of a team that improved as the season moved along. Indiana finished 65th nationally in adjusted defensive efficiency, according to Pomeroy. That was up 39 spots from last season's final ranking.
And in Big Ten play, Indiana had the league's fifth best defense at 1.004 points per possession allowed. In Tom Crean's final season in Bloomington, the Hoosiers allowed 1.11 points per trip in conference play, the worst mark in the league.
Two of the main improvements the Hoosiers made defensively were a newfound ability to force turnovers and major progress in keeping opponents off of the foul line.
Indiana's defensive turnover percentage of 19.7 ranked in the top 100 nationally. And in Big Ten play, IU's 20.3 turnover percentage ranked second in the conference. No Indiana team under Crean had a defensive turnover percentage over 20 in Big Ten play.
Indiana's opponent free throw rate (FGA/FGA) went back to average, which was meaningful given last season's final numbers. In 2016-2017, the Hoosiers allowed an opponent free throw rate of 45.6 percent in Big Ten play. It was the worst mark in the league by over 12 percent. In season one of the Miller era, IU's opponent free throw rate in league play was 31.8 percent. That mark was good for eighth in the conference.
A few other numbers worth mentioning: Indiana's block percentage of 12.1 ranked 48th nationally and came without a legitimate post presence for half of the season. The Hoosiers were also 105th in the country in 2-point field goal percentage and steal percentage.
While the numbers in aggregate tell the story of progress, Indiana still has plenty of room to grow and improve defensively. The Hoosiers allowed a defensive 3-point field goal percentage of 36.7, which ranked 267th nationally. When Indiana wasn't connected and got away from the basic pack line principles, it was susceptible to opponents going off from distance. The Hoosiers had 11 games in which their opponent shot 40 percent or better from behind the 3-point line and lost seven of those contests.
Bottom Line: Moving up 39 spots nationally in defense is major progress, particularly when you consider that Indiana was adjusting to a completely new system. As the season moved on, the Hoosiers became more comfortable in the pack line and at one point late in conference play, Indiana had the Big Ten's best defense before finishing fifth. With more length and athleticism coming to Bloomington, the improvement should continue in future seasons.
Quotable: "The energy level is up. Guys are really working on the ball, which is something we struggled with at times this year, just not tough enough on the ball. From a positioning standpoint, from an energy level off the ball, guys are really aware. You see a lot more deflections, a lot more blocked shots. I think defensively we've done a better job just understanding how we play. We've got more experience playing with one another now." – Miller after an 80-56 win over Minnesota on February 9.
Previously: Justin Smith, Al Durham Jr., Clifton Moore, Devonte Green, De'Ron Davis, Zach McRoberts, Juwan Morgan, Freddie McSwain, Tim Priller, Josh Newkirk, Collin Hartman, Robert Johnson, Team offense
Filed to: