That's A Wrap: Team offense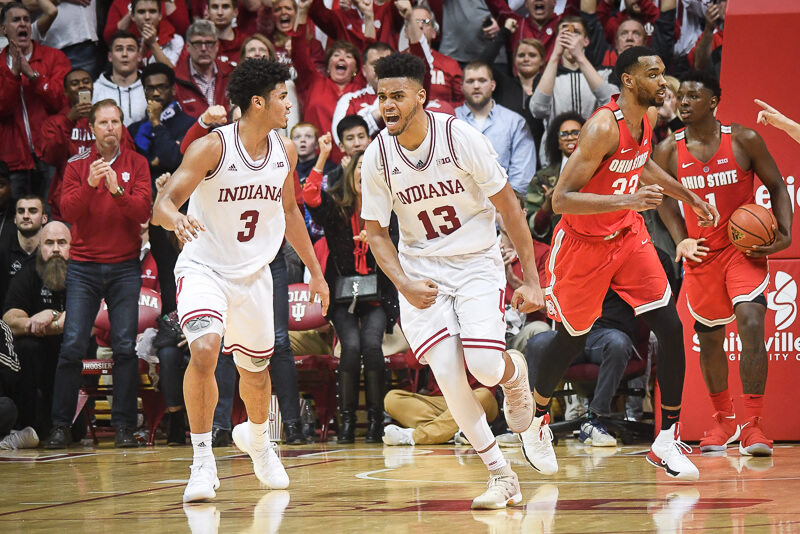 Welcome to "That's A Wrap," our recap of the 2017-2018 Indiana Hoosiers. Up next: Team offense.
Final stats (31 games): 71.9 ppg, 45.6 FG%, 51.1 eFG%, 32.2 3PFG%, 18.2 TO%, 31.8 OR%, 36.4% FTR.
As is typically the case following a coaching change, Indiana's offense underwent significant changes in the 2017-18 season.
Under Tom Crean, the Hoosiers frequently put an efficient offensive team on the floor with one major caveat. Crean's Indiana teams often posted some of the best shooting numbers in the country, but struggled with turnovers. And in the instances when Indiana wasn't hitting from the perimeter under Crean, the Hoosiers didn't have much to fall back on. It was, at times, a feast or famine style of offense.
Archie Miller's first Indiana team wasn't elite offensively, but the Hoosiers still finished in the top 100 in Ken Pomeroy's adjusted offensive efficiency metric.
The one major improvement Indiana exhibited in year one of the Miller era was improvement in taking care of the ball. After finishing 322nd nationally in turnover percentage in the 2016-2017 season, Indiana moved up to 164th nationally in 2017-2018. The team turnover percentage dropped from 21.4 percent to 18.2 percent.
The Hoosiers played a more controlled, deliberate pace under Miller, which was an adjustment for many of the players on the roster. For the season, Indiana played the 251st fastest pace in the country.
Two other strengths of Indiana's offense this past season were getting to the free throw line and offensive rebounding. Indiana ranked 89th nationally in free throw rate (FTA/FGA) and in conference games, the Hoosiers were fifth in free throw rate. However, Indiana failed to capitalize on those numbers because of poor free throw shooting. The Hoosiers ranked just 331st nationally in free throw percentage at 65.7.
Indiana finished the season ranked 74th in the country in offensive rebounding percentage. In conference play, the Hoosiers had the Big Ten's seventh best offensive rebounding percentage. The best example of IU's strength on the offensive glass came in a narrow 63-60 loss to Michigan State on Feb. 3 when the Hoosiers grabbed 49 percent of their missed shots.
A major area of regression for Indiana's offense was its perimeter shooting. After ranking in the top 50 nationally in each of the previous three seasons in 3-point shooting, the Hoosiers fell all the way down to 307th nationally in Miller's first season. No player on the roster finished with a 3-point shooting percentage over 40 and the team's 3-point percentage was 32.2.
Bottom Line: One frequent complaint from Indiana fans in the Crean era was Indiana's inability to take care of the ball and Miller went right to work in correcting that problem in his first season on the job. The Hoosiers still weren't great at taking care of the ball, but did make significant strides. The shooting woes, however, really limited Indiana's ability to play with elite teams. There were several contests in which Indiana played elite competition close – Duke, Purdue and Michigan State, to name a few – but the Hoosiers simply didn't have the offensive firepower late in games to keep pace. That problem should be rectified in future seasons as Indiana's talent level is upgraded via recruiting.
Quotable: "I thought we played extremely hard and we brought the fight to the game that we needed. Offensively they had a lot to do with the numbers, just in terms of impacting the rim and the field goal percentage offense with their shot blocking and their size, made it hard on us. And clearly we weren't able to dial it up from 3 again. But credit our guys. I thought they really fought hard and played hard. We're getting, especially against some really good teams right now, you know, the last two to three minutes just having to find a way to make a couple of plays. And I think that's what teams who know how to win do, teams like Michigan State and Purdue. With two minutes on the line they know they're going to win." – Miller after Indiana's loss against Michigan State and IU's inability to make offensive plays late in close games.
Previously: Justin Smith, Al Durham Jr., Clifton Moore, Devonte Green, De'Ron Davis, Zach McRoberts, Juwan Morgan, Freddie McSwain, Tim Priller, Josh Newkirk, Collin Hartman, Robert Johnson
Filed to: