2017-18 Player Profile: Collin Hartman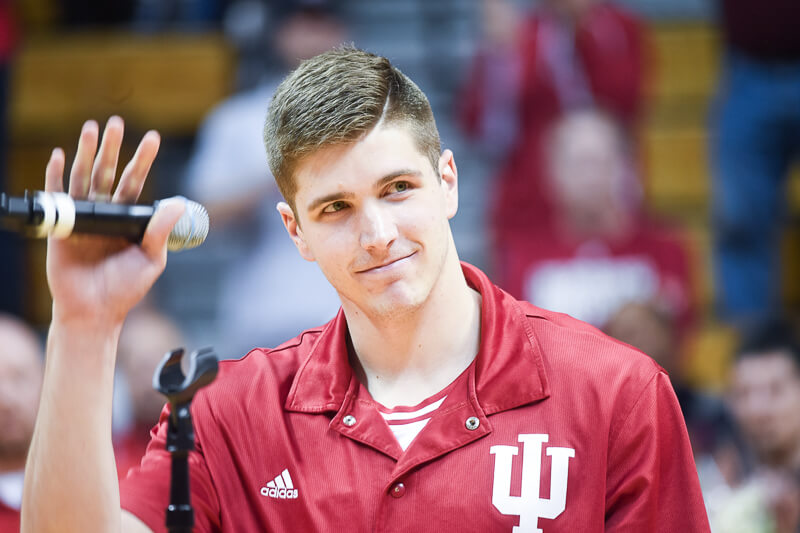 With the start of college basketball season on the horizon, we've transitioned from our look at other Big Ten programs to our player-by-player previews of the 2017-18 Indiana roster. Today, our profiles conclude with a look at Collin Hartman.
After his first go as a senior ended with a non-contact knee injury in a preseason workout last September, Collin Hartman is back in Bloomington for another season.
Hartman, who committed to the Hoosiers in November of 2010, will become the only member of IU's six-man 2013 recruiting class to exhaust all of his eligibility in Bloomington.
His decision to return for a redshirt season was a major coup for Archie Miller, who moved quickly after accepting the Indiana job last March to keep the Cathedral product in the fold. The 6-foot-7 forward will now have the unique opportunity to go through senior night for a second time.
Over three seasons and 83 career games in Bloomington, Hartman has averaged 4.1 points and 2.7 rebounds. His impact, however, extends beyond the box score.
As a sophomore, Hartman filled in at times as a small ball center and posted the 12th best offensive rating in the country, according to KenPom. He followed that up with a productive junior season in which he started 24 times and averaged five points and 3.1 rebounds as Indiana won the outright Big Ten title. Hartman played with a fractured wrist in the 2016 NCAA tournament.
Now as a 23-year old senior, Miller will rely on Hartman for leadership and as an extension of the coaching staff on the floor.
"I think the great thing about him is, and it's what everybody told me about him, the confidence that he can give a locker room, the experience level that he has, what he's about personally in terms of his commitment to his teammates and what not, there's very few guys that can come off that way all the time," Miller said in the offseason. "He's like having another coach. He really is. He's like having another coach in the weight room, he's like having another coach in the locker room. He's got a great vibe about him as a competitor."
With the start of the regular season just one week away, Indiana fans are still eagerly awaiting the return of Hartman.
He missed the Hoosier Hysteria scrimmage and the Marian University exhibition with an ankle injury, but appears to be close to returning. Miller said on Thursday night at his first radio show that Hartman could play in IU's second exhibition game on a minutes restriction.
Whether the return happens on Sunday or for the season opener against Indiana State on Nov. 10, the goal for Hartman in his second chance as a senior is clear: a better finish.
"Everything that stands out, everything that was told to me about him as a person, as a leader, he's a key cog in the program's wheel was true," Miller said in April. "It didn't take long to figure out what he's about, what he's been through, and what he wants to be about now is, I think, a better finish. An opportunity to help establish something here on the front end where he can be attached to something new."
Bottom Line: Hartman hasn't played in a game since IU's NCAA tournament loss to North Carolina in March of 2016, so it might take some time for him to shake off the rust early in the season. He will, however, be an pivotal contributor this season because of his leadership and his ability on both ends of the floor. Hartman is a career 40 percent 3-point shooter and an underrated passer. He'll also embrace Indiana's new defensive philosophy and help hold his teammates accountable.
Quotable: "It was a very, very tough decision for me personally to initially make the decision if I was going to leave. But I was still — my rehab was going well, and my knee was starting to feel good. I was still getting up shots and stuff. I was shooting one day in Cook (Hall), and I was thinking to myself, like, if I got one more shot at it, why not do it? Because you can't come back and do it. That's what my mom kept telling me and everybody. So I talked to my high school coach and a lot of people that I trust that were close to me, and at the end of the day, I was like I don't get this chance again. My rehab came along really, really well. Ultimately, that was the deciding factor." – Hartman at IU's media day on his decision to return.
Previously: Justin Smith, Clifton Moore, Al Durham Jr., De'Ron Davis, Curtis Jones, Devonte Green, Juwan Morgan, Zach McRoberts, Robert Johnson, Tim Priller, Freddie McSwain, Josh Newkirk
Filed to: 2017-2018 season preview, Collin Hartman