2017-2018 Player Profile: Clifton Moore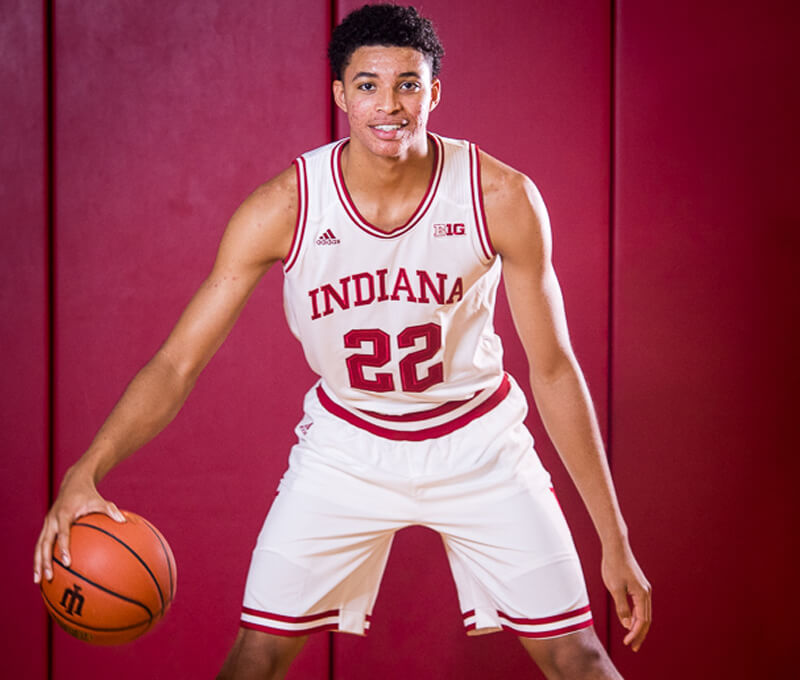 With the start of college basketball season on the horizon, we've transitioned from our look at other Big Ten programs to our player-by-player previews of the 2017-18 Indiana roster. Today, our profiles continue with a look at Clifton Moore.
At the time of his commitment to Indiana in October of 2016, Hatboro-Horsham (Pa.) forward Clifton Moore was the least heralded of Indiana's three class of 2017 commits.
A little more than a year later, Moore looks like he could be the next under recruited Hoosier to land on the NBA radar.
As was the case with Justin Smith and Al Durham Jr., Archie Miller and the new Indiana coaching staff made it a priority to keep Moore in the fold after taking over in Bloomington last March.
Moore's AAU coach, Jonathan Michels, told Inside the Hall in late August that IU's sincere approach went a long way in keeping the talented forward in the fold.
"When we met with Archie, it was a very sincere feeling," Michels said. "You didn't feel like you were getting sold. You just felt like what he was selling you was legitimate."
As a senior at Hatboro-Horsham, Moore averaged 20 points and 10 rebounds and had a 22-point, 13 rebound and 10 block triple-double.
At 6-foot-10 and 220 pounds, he's unique because of his ability to shoot from the perimeter and put the ball on the floor. Moore also has the size and length to block shots, but he's going to have to continue adding strength to physically compete in the paint against Big Ten opponents.
"Early on here — I don't want to say he's wet behind the ears or a little young, but he's like a slippery guy on ice skates out there at times, just getting his footing," Miller said last month. "But you've seen him go in big, big jumps week to week where he is. From a conditioning level, from a mobility standpoint, he's as gifted as any player I've ever been around, and I think that speaks volumes. His length is something that you can't really judge offensively and defensively in terms of being able to make some plays."
The mobility for his size and skillset is what has drawn attention to Moore from NBA scouts. He grew seven inches from his sophomore year of high school until graduation, which helps to explain why his ball handling is above average for a big man.
Jonathan Givony and Mike Schmitz called Moore the best NBA prospect in the Jordan Brand Regional Game last spring and included him in their initial 2019 mock draft at ESPN.com.
"Long term, I think Clifton's got a chance of being an NBA player,"Michels said. "I think while he's (at Indiana), everybody is going to kind of be surprised at how competitive he is. I think that gets minimized because he's a bit of a suburban kid. I think you're going to realize he's very competitive, he's a much tougher guy than people give him credit for and he's an absolute work guy. He'll work all day long if you allow him to. It's what's made him improve the way he's improved."
Bottom Line: Moore is one of the most intriguing players on the roster entering the season because of his potential to make major improvements as the season goes along. Early on, Moore should show glimpses of his long term upside while also struggling at times like most freshmen do. He's a mystery to many because he didn't play on one of the shoe company sponsored AAU programs and was relatively unknown nationally until the summer before his senior year. Long term, he appears to have a legitimate shot at becoming the next unheralded IU player to make the NBA.
Quotable: "I feel as though Cliff, because of the way he works and is gifted athletically and talented, will show glimpses as a freshman of what he can be. My hope is that he can help us with multiple positions in the frontcourt with our depth, and I think that, as the season goes into January, February, March, you can see a guy really blossom into what we think is going to be a star here one day." – Miller on Moore in late September.
Previously: Justin Smith
Filed to: 2017-2018 season preview, Clifton Moore